Deer Hide Collection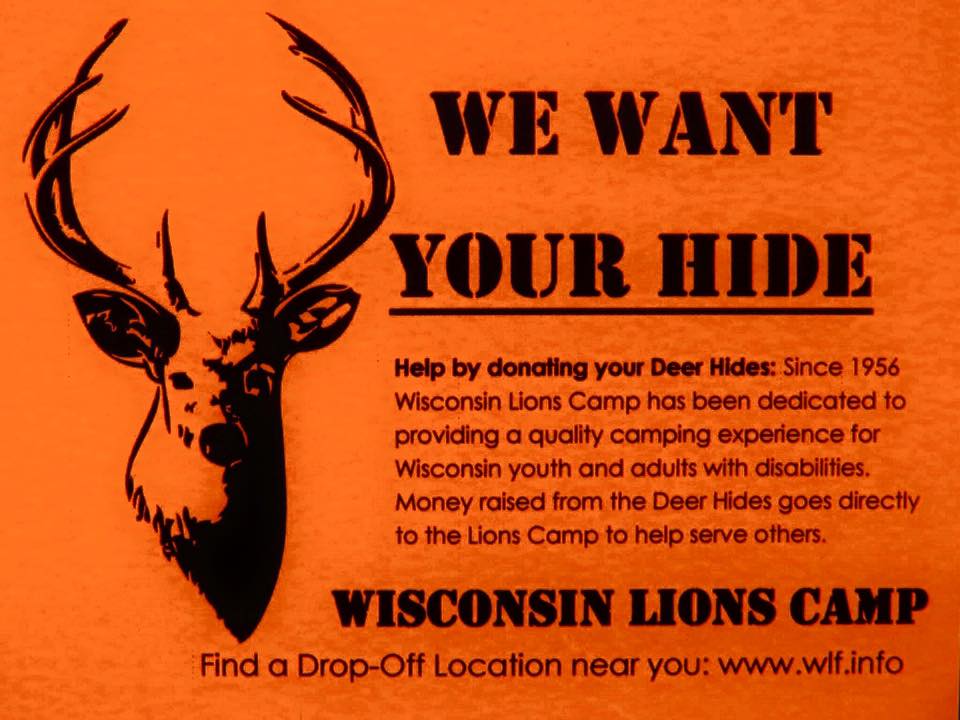 Project Chairman – Environmental Chairman
PDG Virgil Thompson
342 Neshonoc Road
West Salem Wi. 54669
(608) 799 – 3897
thomsrv@gmail.com
Deer Hides Collected in 2018
27D2 District Lion Clubs collected 2601 resulting in $11,396.25 for Camp! See below how the overall monies break down.
Clubs involved in collecting Deer Hides for District 27D2
Bangor, Barre Co-ed, Brice Prairie, Coon Valley, French Island, Gays Mills, Genoa, Holmen, Kendall, Mindoro, Mormon Coulee, Onalaska, Seneca, Soldiers Grove, St Joseph Ridge, Seneca, Stoddard, Tomah, West Salem, Wonewoc
2018 District Goal - 2000 Deer Hides - exceeded with 2601 - THANK YOU!
27D2 District Deer Hide Collection Information
Find a Drop Off Center here (PDF List)
Wisconsin Lions Deer Hide 2018 Collection Results
Deer hunting can many times take a lot of patience and waiting for the right moment. Likewise waiting to get the final numbers on deer hides collected by the Wisconsin Lions thru donations by our Wisconsin deer hunters takes time and patience.
The biggest fact for Wisconsin Lions is a big thank you to all hunters who donated their deer hides. We almost collected twice as many deer hides as last year, but the hide prices were almost half of what they were last year. Many hunters also found fewer places that were collecting deer hides in exchange for money or gloves.
To the final numbers! Wisconsin Lions received $88,331.75 which is used for the Wisconsin Lions Camp. This camp serves our youth with sight problems, hearing problems, diabetes problems, and cognitively disabling problems at no cost to them. That is over 1,350 campers each year. The over 20,200 plus hides brought in $82,598.25. The tails that were separated brought in $2,021.00. The several lions clubs that collected hides and sold them on their own donated $5,733.00. Again this totaled to $88,331.75 for the operation of our Wisconsin Lions camp.
Our Wisconsin Lions District (27D2), which includes the counties of LaCrosse, Monroe, Juneau, Vernon, Crawford, Richland, and Sauk were able to contribute $11,356.25 to this project. We had 2083 deer hides donated to us and we seperated 1524 tails from these hides. This brought in $9,206. We also had 5 lions clubs that collected and sold hides on their own. This was another $2,190.25 in donated money. Our final donation figure as District 27D2 was $11,396.25.
Once more a big THANK YOU to all deer hunters who donated their deer hides. Thank you to the La Crosse Ag Society for allowing us to use the LaCrosse fairgrounds as our major collection and hide pick-up point. Thank you to all business in our 27D2 district that allowed us to use their properties as collection points. The last thank you goes out to Lions clubs that took this on as a project and helped salt and skid all of these deer hides. It is a great project, serves an excellent camp, and keeps deer hides from many times just being disposed of in some matter or another.

Promote Deer Hide Collection for your club! Here are useful links for information, posters, etc.
Poster Information - Fill in with Your Club Info
Poster Option 2 - Fill in with Your Club and Collection Location Info
Deer Hide Poster and Pen Order Form for Clubs