2018 6th Annual Fishability Day
On June 9th 2018, 25 children descended on the Genoa National Fish Hatchery for the 6th annual 27D-2 Fishability Day.The children who attended were given a medal and tackle box to take home along with a Hot Dog, Cookie, Chips and Water for lunch. The fishing poles are owned by the Genoa Fish Hatchery. Each child had a three trout limit. The fish were cleaned by Lions, put in plastic bags and given to the children to take home. It truly is an amazing event to participate in.
Many thanks to the Genoa Federal Fish Hatchery for giving us the perfect location for this event over the last six years and also for the "Goodie Bag" they gave to each of the participants. Thank you as well to PDG Lion Mike Bankes and the Viroqua Lions for bringing down their tent and to PDG Lion Gary Daines for printing the T-shirts given to the children as well.
The cost incurred for the event is supported by many of our 27-D2 Clubs. All Clubs have been asked to donate a minimum of $25.00 per club each of the past six years of the event.
Special thanks to the Oakdale, Prairie Du Chien, La Crosse, Stoddard, Tomah, Gays Mills, Cashton, Onalaska, West Salem, Warrens, Seneca, Bangor, Barre Co-Ed, Wauzeka, Genoa and Viroqua clubs for your contributions this year. That leaves 33clubs that did not contribute! - Maybe next year?
Next Years date is Saturday June 8th 2019. Fishing begins at 9:00am. The goal of the committee is to make more Lions in the district aware of the event. This includes having something at the District Convention in Richland Center.

Along with 23 Lions are 3 Fish Hatchery employees who donated their Saturday June 9, 2018 for the kids who attended. One Lions member not present was West Salem Lion Marvel Greene who has been there since the begining. We're sure she watched with a smile from up above. We lost her this spring.
Thank you to all who were able to show up and help out with this great event!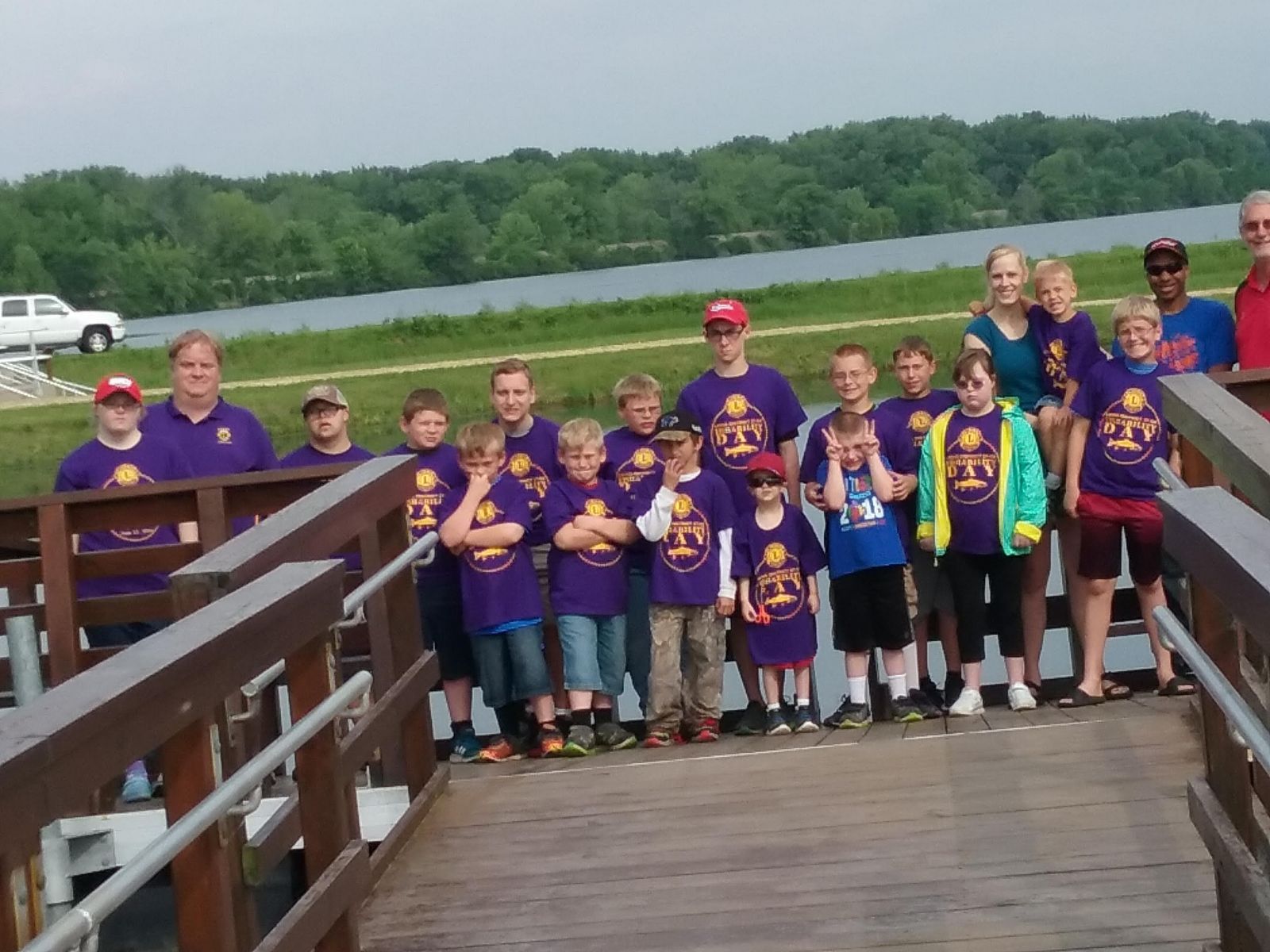 2018 6th Annual Lions Fishability Day - Some of the children who participated posed nicely on the dock at Genoa Fish Hatchery on June 9, 2018. What a great group!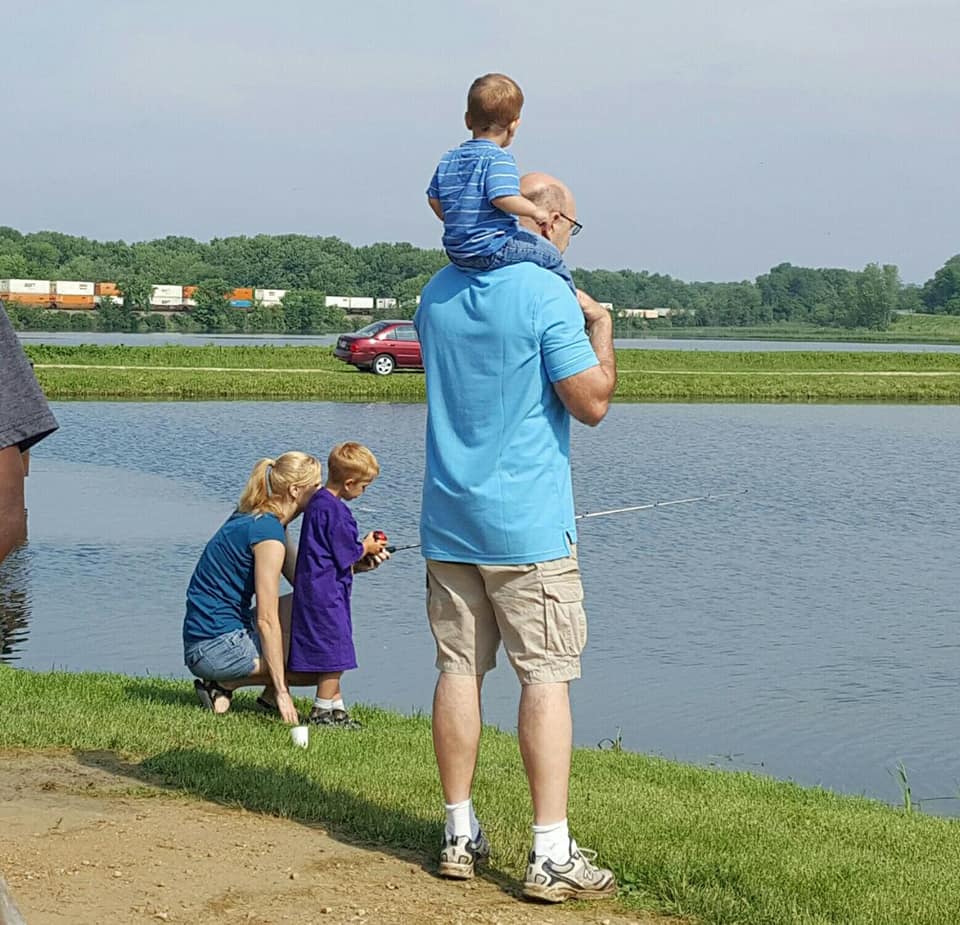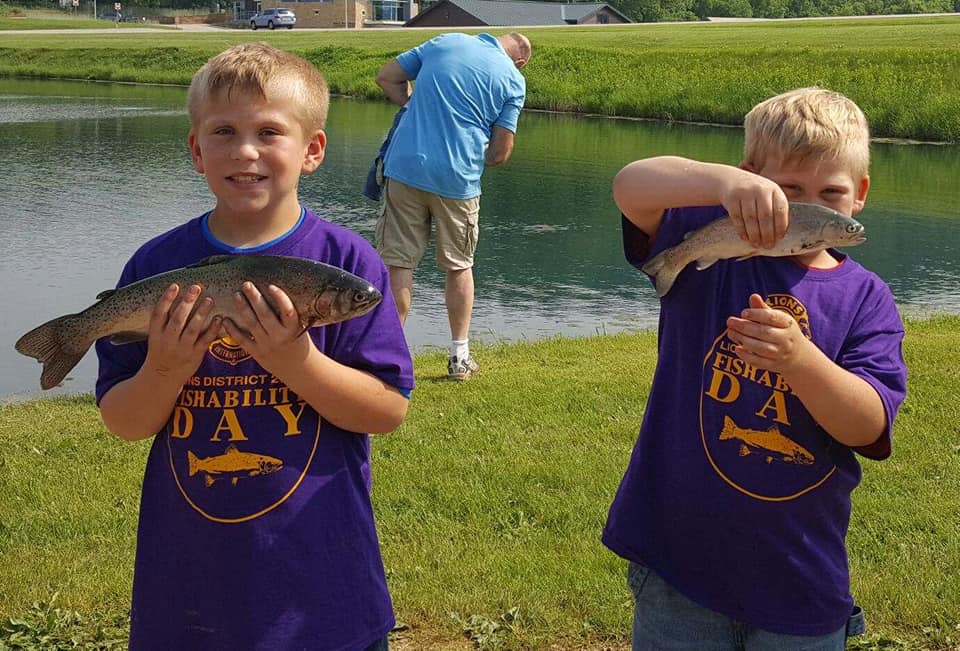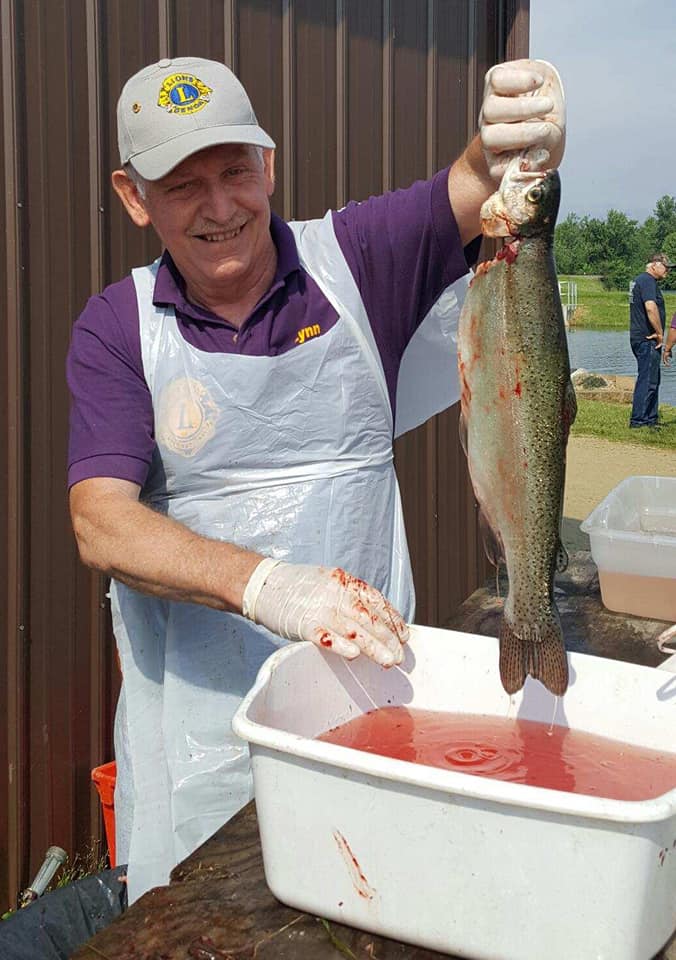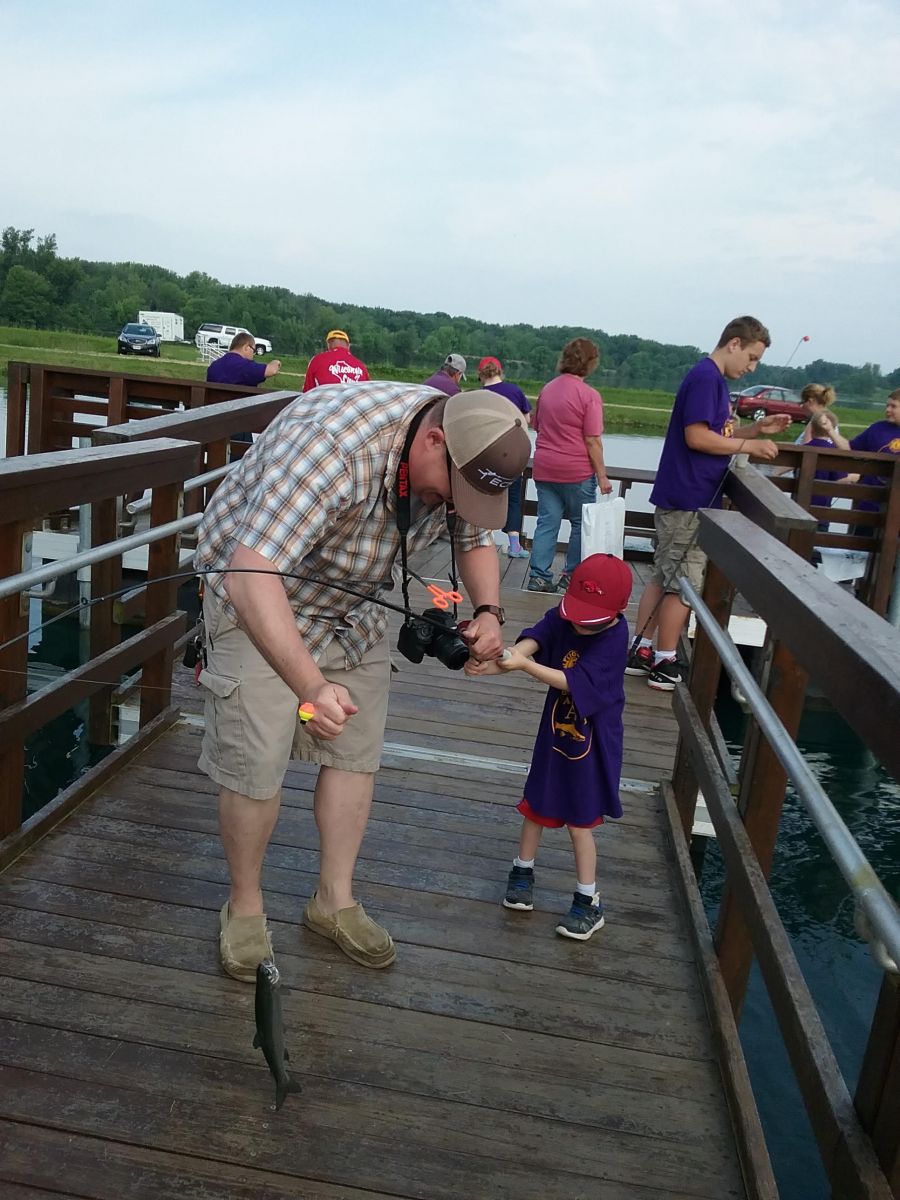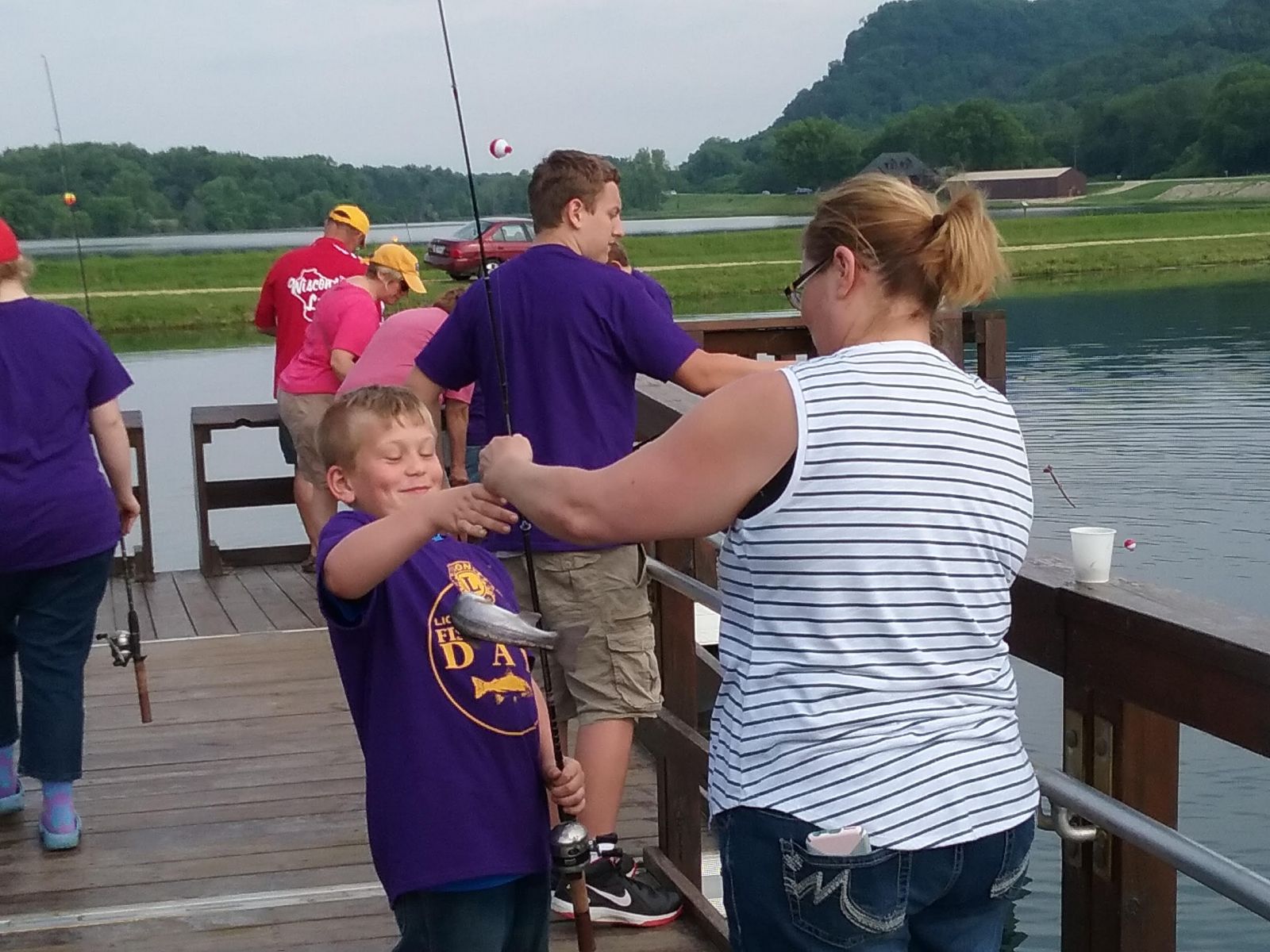 If you have questions contact Lion Dan Wolfe dwolfe9760@aol.com, 608-457-2365.
Would you like to hold a Fishability Day in your area? Let's discuss how to make this happen.
Thanks for all that you do as a Lion
2018 Flyer (PDF)
2018 Article by Lion Dan Wolfe (PDF)
2018 Registration Form (PDF) - May 20, 2018 deadline for registration/signup
2018 Photo Release (PDF)
Fishability Cheat Sheet (PDF)