WELCOME TO DISTRICT 2-T2
District 2-T2 includes 22 counties in the Panhandle-South Plains region of Texas. We have more than 1,300 members in 43 clubs who are dedicated to serving their communities and meeting humanitarian needs.
"We Serve and You Can Too!"
Our District 2-T2 website is now part of the Lions e-Clubhouse network. We are currently in the process of updating the site for the 2017-2018 fiscal year. Because of this, some links may not be active. We appreciate your understanding and patience during the next few weeks.
---
DISTRICT 2-T2 REMEMBERS LION CURTIS LAY
Lion Curtis Lay Jr passed away Sept. 11, 2017 in Lubbock. He was 72. A graveside service will be held Sept. 13, 2017 at 2:00 PM (Mountain Standard Time), at the Melrose Cemetery, 820 E. Center Avenue, in Melrose, New Mexico.
He was born Dec. 13, 1945 to Curtis and Ora Lay in Wasco, California.
A longtime member of the Lubbock Redbud Lions Club, he regularly attended District 2-T2 Cabinet Meetings and conferences. He also had a love of traveling -- which gave him the opportunity to attend the Lions Clubs International conventions in Boston and New York.
Survivors include two brothers, a sister, and many nieces and nephews. He was preceded in death by his parents and a brother.
He was a dedicated Lion who will be missed by District 2-T2.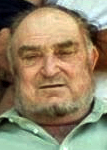 Lion Curtis Lay Jr.
---
2017-2018 DISTRICT ACTIVITIES AND CONTEST FORMS
CLUB SECRETARIES: The 2017-2018 District Activities Contest Form and the District Governor's Humanitarian Contest form are now available on the "Officer Resource" page.
---
JULY 22 DISTRICT 2-T2 CABINET MEETING BIG SUCCESS!!
Our thanks to Lubbock Hub Lions Club and Lip Lipscomb Lions Club for hosting the first 2017-2018 District 2-T2 Cabinet Meeting at the South Plains Food Bank.
With the theme of "Relieving Hunger," District Governor Vance Gipson shared his goals for the year with the 71 Lions and guests in attendance. The group had the opportunity to tour the new South Plains Food Bank facility, which has been in operation about one and a half years.
It's great to be a Lion! WE SERVE!
---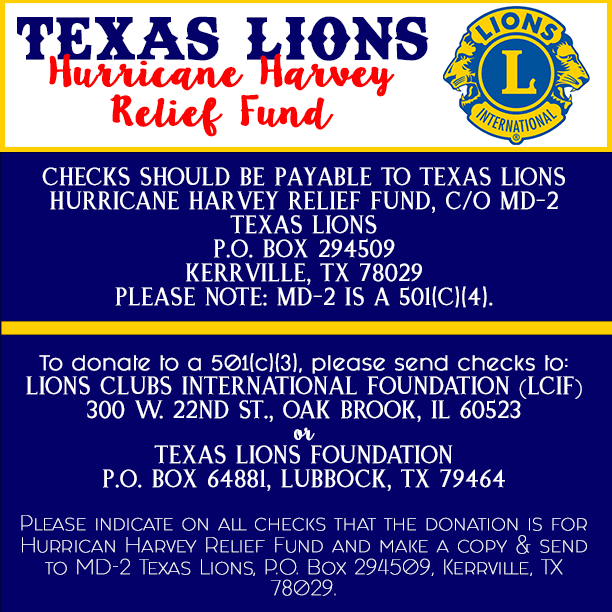 ---
2017-2018 DISTRICT 2-T2 GOALS
To initiate district-wide projects relating to hunger and diabetes. These can include preparation of food boxes during the holidays, assisting local Meals on Wheels, and participation in the American Diabetes Association's annual Diabetes walk.
To have all clubs involved in service projects that meet the needs of their community.
To have all clubs support the Texas Lions Camp at Kerrville.
To have all clubs participate in the Lions' Legacy Centennial Project.
To improve new member orientation and service involvement of new members throughout the district.
To provide training opportunities for club and district officers.
---
Lions Clubs International is the world's largest service club organization with more than 1.4 million members in approximately 46,000 clubs in more than 200 countries and geographical areas around the world.