Welcome to the District 5M13 e-district Page
District 5M13 is Geographically the largest district in the MD5M Multiple.
We are also the only all-Canadian District in the 5M multiple district.
Welcome to our New District Governor for 2017-2018!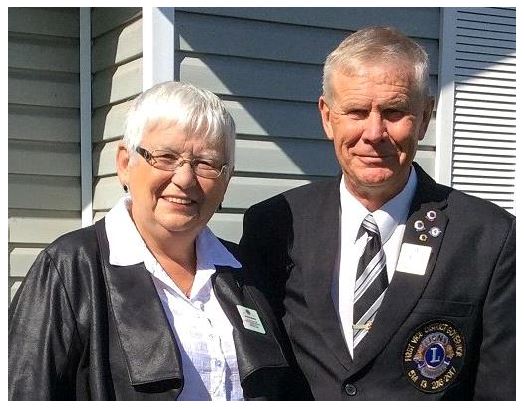 District Governor Helmut Neufeld with his wife, Lion Rosana Neufeld. Lion Helmut and Lion Rosana are both members of the Shoal Lake Lions Club.
100 Years of Happy Days 5M13 District Convention:
November 17-19 2017
---
It's Speak Off Time!
The Lions Speak Off is a highlight of the Annual Lions Convention, this year scheduled for Saturday, November 18 in Winkler. This is a wonderful opportunity for student speakers to hone their skills and receive experience and recognition, while competing for some great prizes. It's not too late to apply!
Memories of the 2016 Annual Convention - Brandon, MB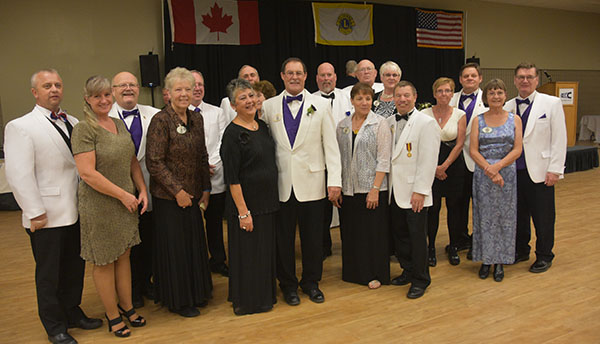 It is so hard to believe that our 5M13 District Annual convention held in Brandon November 4-6, 2016 has come and gone so quickly.
From the time the Minnedosa Lions Club were first given the green light to plan for this last February, we started out with nervous anticipation, which soon turned to excitement.
As this Convention was at the start of our Lions' year, it was our goal that we bring some inspiration and motivation to our delegates. We also wanted to remind ourselves that as we continue to do the work that was begun 100 years ago by "Serving those in need", we can have fun doing it.
What a weekend it turned out to be. As our delegates arrived they were welcomed by the Rapid City Lions Club in our "Meet and Greet" room.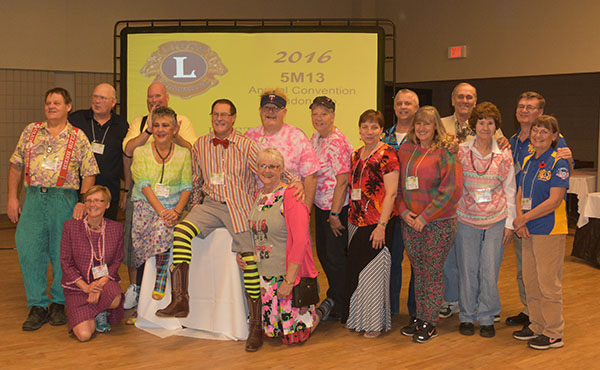 What a weekend it turned out to be. As our delegates arrived they were welcomed by the Rapid City Lions Club in our "Meet and Greet" room.

Friday night kicked off with everyone "PUTTING THEIR UGLY ON" to the music of Back 40 Drifters. We were so pleased to see so many "pretty" outfits – well, not exactly pretty but certainly ones that we will remember!

Did you know that it was possible to sing and laugh at the same time? We didn't either.

The evening climaxed with the crowning of our "King – DG Gord Kingdon and our Queen – Mary Lou Melinder". What good sports they were.

Saturday morning started with a surprise visit from MPs Larry Maguire, James Bezan and Aaron O'Toole who welcomed everyone to Brandon.
| | |
| --- | --- |
| | We switched things around a little this year and opened our day with our "Service of Remembrance" and the lighting of our Memory candle. This was followed by a moment of silence as we remembered those who were no longer among us. |
Once the morning business of the convention was finished, we were delighted to have four young people join us for the Speak-Off contest. A huge congratulation goes out to Lion Willie Brown for organizing this great event. We recognized that this was one of the events that would have some challenges with the timing of the convention being changed to November.
| | |
| --- | --- |
| | These young people are such a delight. The confidence and skill that they showed is inspiring. This year's winner in the Grade 6 – 10 Division was Tess Derksen sponsored by the Stonewall & District Lions Club and the winner in the Grade 11 – 12 Division was Sela Ross (photo left) sponsored by the Prairie Pride Lions Club. Did you know that Sela has been competing in the Speak-Off contest since she was in Grade 5 and is going to graduate this year? |
We were also delighted to have three entries in the Peace Poster contest. This was another one of those events that was a challenge due to the timing of convention. Our hats off to Lion Aletha Riegel for facing this head on. This year's winner was Hallie McLean sponsored by the Pipestone Lions Club. Her entry has been sent on to Multiple District for further judging. Good Luck!!!
The afternoon was filled with sessions from Joanne McQuiggan about Lions Quest and Dennis Kelly "Who's on First". The last session of the day was our service project – "Sleeping mats for the homeless". We had many members come thru and try their hand preparing and weaving the plarn.
The Governor's Banquet began with our Head Table guests being led in by Piper Brent Lowrie and escorted by Officer Luane Gibb. A wonderful evening was enjoyed by all.
| | |
| --- | --- |
| | Our guest speaker for the evening was International Robert Libin. Two well-deserving Lion's members were awarded for their service to our organization. Cheryl McKitrick was awarded the International President's Medal of Service and Lion Louise Kernested was given a Melvin Jones Fellowship. Congratulations to you both!!! We ended the evening by "Roaring at the Roadhouse" – an evening filled with much laughter – more dancing to our favorite music and visiting with our old friends and making new ones!! |
Our final day of convention ended with a rousing, inspirational session by Brian Sheehan "JUST ASK!!". This truly was the best send-off we could have asked for!!!
We are all looking forward to next year's convention in Winkler!!! Mark your calendars as we prepare For "Happy Days!"
Lions are active. Our motto is "We Serve." Lions are part of a global service network, doing whatever is necessary to help our local communities.
For more about Lions Clubs, go to www.lionsclubs.org
Looking for ways to grow your membership? Check out this link:
Lions Clubs, please email Chris Miles (Website administrator) to post your upcoming activities and/or newsletters.
Lions Clubs International is the world's largest service club organization with more than 1.4 million members in approximately 46,000 clubs in more than 200 countries and geographical areas around the world.