COUNCIL CHAIRPERSON, Lion Arlen Fetch and Spouse Sherry welcome you to the MD5 Web Site!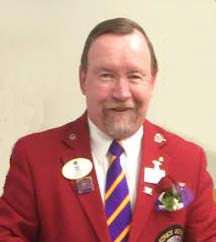 Arlen joined Lions in 2007 as the first male member of the Mandan Dacotah Lions Club (previously a Lioness club). The Mandan Dacotah Lions Club is the only club he has belonged to. In his third year as a Lion he served as Cabinet Treasurer for District 5NW. He also served as a Region Chair in the same year that he was his club's president. That same year the Mandan Dacotah Lions were the proud winners of the MD5 Club of the Year award for the second year in a row. While serving as Zone Chair for a second year, he ran for 2nd Vice District Governor. Arlen has attended every Spring Rally in his district since joining and has been a presenter more than once. He co-chaired the North Dakota State Convention in 2011 when the convention was moved from Minot to Bismarck due to the flooding. He has attended four MD5 conventions and six State conventions. He and Sherry attended the USA/Canada Forum in Kansas City. He is a graduate of the Great Plains Lions Leadership Institute and the Advanced Lions Leadership Institute.
On his wall at home, he proudly displays an International President's Certificate of Appreciation, which he received in 2009 and his Melvin Jones Fellowship which he received at the 2014 ND State Convention.
In 2015, Arlen was selected to serve as 2015-2016 Council Chair for Multiple District 5, for which he gladly accepted.
Past and Future MD5 Conventions
Lions Clubs International is the world's largest service club organization with more than 1.4 million members in approximately 46,000 clubs in more than 200 countries and geographical areas around the world.