2019-2020
| | |
| --- | --- |
| Council Chairperson, PDG Pauline Cooper | Picture & Bio |
| Vice Council Chairperson, IPDG Tyler Bray | Picture & Bio |
| District Governor C-1, Lion Terry Kozma | Picture & Bio |
| 1 Vice District Governor C-1, Lion Prince Bewaja | Picture & Bio |
| 2 Vice Disttict Governor C-1, Lion Melodie Franko | Picture & Bio |
| District Governor C-2, Lion Brent Johnson | Picture & Bio |
| 1 Vice District Governor C-2, Lion Dustin Southgate | Picture & Bio |
| 2 Vice District Governor C-2, Lion Michelle Harris | Picture & Bio |
| MD Secretary, PCC Betty Ann Robson | Picture & Bio |
| MD treasurer, Lion Sandra Goodrich | Picture & Bio |
| MDC Council Advisors | Pictures & Bios |

My deepest thanks and appreciation to the Lions of MD C for the confidence extended to me with my election as the MDC Vice Council Chairperson for the Lionistic year 2018-2019.
I've been a Lion for more than 20 years, starting in the Cardston Lions Club, and am currently a member of the Lethbridge West Lethbridge Lions Club. My life of service began officially with 27 years in the Canadian Armed Forces and I am proud to continue to serve as a member of Lions Clubs International.
I read a quote the other day that strikes a chord with me: Ask yourself, "Can I give more?" The answer is usually "Yes". I asked that question - I believe I still have much to offer the Lions of MD C and appreciate the opportunity to prove my worth to you as Vice Council Chairperson for MD C for the Lionistic Year 2018-2019.
I have been honoured in recognition with Presidential Medals and Certificates, various Fellowships including the Progressive Melvin Jones Fellow. I was also given the great honour to have been elected as the District C-2 candidate for Vice Council Chairperson.
Ours is an association of service and the manner in which the service is rendered is fully as important as the service itself. We should expect honest and ethical conduct from everyone – and this conduct is defined by the 4 core values that serve as the foundation for our Ethical Standards. – Integrity, Accountability, Teamwork and Excellence.
The VCC has a different set of goals from those of the District Governors – they are more personal because part of the job of the Vice Council Chairperson is to facilitate the business of the Multiple District so that the District Governors can concentrate on achieving their goals and serving their Districts.
In terms of visibility, the CC may be seen to be in the front of the room- at the head table – but the reality is that the most important work is in the background.
It would be MY job as CC to safeguard the interests and financial well-being of all the Lions in our Multiple District – and to do it to the best of my ability in accordance with our Association's Ethical Standards. Another favourite quote is something that I will think about every day in my role as Vice Council Chair: "Am I doing justice to the position I hold?" If you don't think I am – TELL ME!!
Together WE SERVE – and as your Council Chairperson, I will do my very best to SERVE by supporting and promoting the interests and well-being of the Lions in MDC.
Respectfully submitted
Pauline Cooper, PDG
---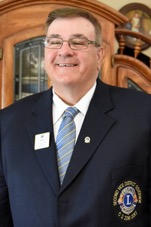 Lion Tyler was born and raised in Montreal, Quebec. In 1975 he joined the RCMP and completed his training in Regina, Saskatchewan. His first posting was Ottawa, Ontario where he was involved with duties related to the Montreal Olympics. In 1976 he transferred to Red Deer, Alberta. His postings included Red Deer, Sylvan Lake, Mannville, Calgary Immigration & Passport, Slave Lake, Morinville, and Turner Valley, Alberta. In 2007 he retired after 32 years of service. His last post was that of Detachment Commander, Sergeant, in Turner Valley, Alberta.
Along the way he met and married, Diane, his wife of Forty-Four Years. They have three children and Eight Grand Children and one Great Grand Child.
Lion Tyler first joined Lions in 1986-89 in Mannville, Alberta. He held several positions including that of Club Treasurer.
In 2004, Lion Tyler joined the Foothills Lions Club, and held several positions in the club executive including club president 2007-2008 and again in 2013-2014. He was also the club trail twister in 2009. He has sponsored Six new Lions to date.
Lion Tyler attended and completed the Lions advanced Leadership Training Course held in Calgary, Alberta in 2015. He also completed the Guiding Lions Training in February 2018. In recognition of Lion Tyler`s service he has received a Melvin Jones Fellow, a Lion Lionel Bird Youth Camp Award, a Judge Brian Stevenson Fellowship, and an International Lions President Leadership Medal, along with many club and District recognition certificates.
Lion Tyler was the District C-2 District Governor for 2018-2019.
Lion Tyler has been appointed the 2022 USA/Canada Leadership Forum Host Chairperson.
---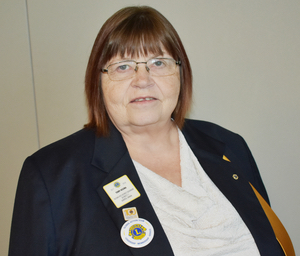 Lion Terry was born and raised in B.C. She relocated to Alberta in 1982 when her husband received a job offer he couldn't refuse. To this day, they both say it was one of the best decisions they ever made.
After several years of helping Roger in his business as well as a short stint in real estate, Lion Terry joined Shell Canada and spent the next 24 years as a manager and retailer in their network. She also worked as a contract trainer for new retailers as well as the occasional stint doing forensic operations and bookkeeping analysis for Shell.
In 1997, she joined the Edmonton Host Lions Club just to help out. Since joining, she has served as a club director, vice president, president, secretary, treasurer as well as chair of the Lions Dream Home project. At the District level, she has served as Cabinet Secretary, Leader Dog Chair, Youth Chair and is currently serving as LFC Chair for the second year. She has helped with club officer training for several years and firmly believes that you can always learn more, regardless of how many times you go. She has attended Lions Leadership Institute and is a Certified Guiding Lion.
Lion Terry has attended District Conventions every year since joining Lions and most of the MD Conventions, business permitting. She has also attended 11 Canada/USA Leadership Forums and 6 International Conventions.
She is a Melvin Jones Fellow, Jack and Denise Isaman Fellow, and a Dr. Patti Hill Fellow. She has received a District Governors Certificate of Appreciation, a Certificate of Excellence (Secretary) and an Extension Award for helping to start a new club.
Lion Terry is also active in the Central Lions Seniors Association and is the Past Chair of that organization. She served for six years on the Board of Safe and Caring Schools and Communities, an organization that was founded by the Lions and the Alberta Teachers Association working in partnership with other interested community groups.
She served as a member of the provincial task force charged with reviewing the Blind Person's Rights Act and recommending changes to improve the protection of the rights of our blind and visually impaired citizens.
Now that she and her husband, PDG Roger, have retired, they look forward to many more years of service to their clubs and their community.

Bio to follow
Lion Melodie was born in Drayton Valley, Alberta and raised on an acreage East of Ardrossan. She graduated high school in 1986 then college in 1994 from Canadian University College (now Burman University) in Lacombe, Alberta. Upon completion of her studies, she went to work in finance and administration for an upholstery company where she met her future life mate, Kirk. Lion Kirk brought her into The Stony Plain Lions Club in 1996,
where they were engaged and then married in 1997. Their only daughter, Loreen was born in 1999.
Lions Kirk and Melodie live in Stony Plain, Alberta and made the decision to have at least one stay-at-home parent, so Lion Melodie started 3CPO Accounting Services Ltd. in 2001. She continues to work part-time as an accountant and bookkeeper.
Lion Melodie served as Club Treasurer of The Stony Plain Lions Club for 11 years and received 100% attendance for those 11 years. Served as Club Convention Chair in 2008 where she received an International President's Certificate of Appreciation and a Melvin Jones Fellowship. She is also a recipient of a Bill Webber Fellowship and a Lion's Quest Fellowship. She has received numerous Club awards. She was appointed Zone Chair under her mentor, the late PDG Bill Ingram. At the District level, she has served as Lions Quest
Chair and has taken the teacher's training. She has also attended a USA/Canada Leadership Forum.
The Franko's have hosted three youth exchange students from Peru, Brazil and Finland.
Lions Kirk and Melodie Franko transferred their membership to The St. Albert Host Lions Club in 2009 where Lion Melodie continues to serve. She has served as Club Director, Vice President and President 3 times. She also serves on various committees.
Lions Kirk and Melodie love to camp and you will find them soaking up the rays at their cottage at Lessard Lake. As the Franko's move towards retirement, they look forward to many more years of service to their Club.

Born in Lethbridge AB. Raised in Cowley AB. I attended Livingstone School, following that by attending the University of Lethbridge. During the summer months I worked for my father in the family business Johnson Bros. Sawmills.
I have worked for 34 year as a Financial Advisor for Sun Life Financial, this has been a great career and I still enjoy going to work every day. Over the years I have been proud to serve with my professional association, Advocis "The Financial Advisors Association of Canada". I have served in all positions in my Local Lethbridge Chapter. I was really honoured to serve with the National Association representing Alberta as the provincial representative on the Chapter Leadership Council for 6 years.
In May of 1990 I married Luciana Paladino, this is also the year in which I joined the Lethbridge West Lethbridge Lions Club. I was very happy to Introduce Lions to Lion Lucy. She is not only a great spouse but has been as a fantastic partner in our Lions service.
I have been blessed with numerous awards in Lions of which I am very proud. I have received two International Presidents Certificates of Appreciation, I am a Progressive Melvin Jones Fellow, Judge Brian Stevenson Fellow, Lions Foundation of Canada Fellow.
Lions has also given Lucy and I a great opportunity to travel. We have really enjoyed meeting all the clubs on district visitations and have attended two International Conventions (Las Vegas and Milan) three USA Canada Leadership Forums (Portland, Columbus, and Spokane).
I firmly believe that collaboration is one of the greatest assets for our clubs. I want to make sure that District C-2 collaborates with all our Clubs. We also need to collaborate with all Lions Committees, and Lions Groups. IE: Youth Camps and exchanges, our Leos, and CLERC just to name a few.
In summary, I feel that my love for Lions began at the age of 8. My Father PDG Earl Johnson would round up our family and haul us to the Cowley Lions Rodeo. We would sell pop and candy bars, pick up trash and many other volunteer positions. It is great to be in a family that has had 7 Lions members totaling over 190 years of Lions Service. Clearly, "We Serve".

Lion Dustin was born in Calgary, Alberta. He spent his early childhood in Okotoks until his family moved to Nanton in 1978. He still resides in Nanton with his wife, Brenda, and their three sons, Morgan, Trey and Dallon. After working as a Journeyman Automotive Technician for a few years, he hired on with Canadian Pacific Railway in 1994 as a Trainman, and later became a Conductor and an Engineer.
Lion Dustin has been involved with many local organizations for many years in Nanton, both as a participant and a volunteer. These include the Nanton Volunteer Fire Department and Ambulance Service, J.T. Foster School Queen's Ball Program, Nanton Night Rodeo, Pine Coulee Bow Benders, Willow Creek Junior Dancers, Nanton Minor Hockey, Nanton Minor Ball and Nanton Minor Lacrosse. Lion Dustin is also a certified instructor of the Canadian Firearms Safety Course as well as the Alberta Hunter Education Program.
Following in the footsteps of his grandfather, father and uncle, Lion Dustin joined the Nanton and District Lions Club in December of 2001. He has held many club officer positions including serving as President a total five times between 2005 and 2014, has been Club Membership Chairperson since 2011 and Skatepark Chairperson from 2010 to 2015. Lion Dustin, at the District Level, has served as Zone Chairperson for Multiple District 37-0 and Multiple District C-2.
In 2010, with the goal of engaging the youth, Lion Dustin organized the charter of the Nanton & District LEO Club. The club grew very quickly, increasing from eight members to twenty-two in just over two years. Lion Dustin was key in establishing the LEO Clubs status as a society in 2017.
Lion Dustin has attended the Club Officer Training in Strathmore multiple times. In March of 2017, he became a certified Guiding Lion. In April 2017, Lion Dustin completed the MDC Regional Lions Leadership Institute program.
In recognition of Lion Dustin's distinguished achievements, he received the International President's Certificate of Appreciation at the MDC Convention in May of 2017. At the MDC convention in May of 2018, he received the International President's recognition of Distinguished Leadership medal. The Nanton JT Foster High school presented Dustin and his wife the Volunteer Of The Year award in both 2017 and 2018.
"Having fun is a fantastic way to motivate and inspire confidence and sustainability within our LION/LEO Clubs."
Biogragphy
Lion Michelle was born and raised in Fort Macleod. She has lived Lions as long as she can remember, with her dad being a Lion and her mom being a Lionette and then becoming a Lioness, then a Lion. Michelle and her three younger sisters always knew what the Lions Motto "We Serve" meant.
Michelle enjoys her position as the Front Store Manager for a Local Pharmacy, where she has been for over 14 years.
Michelle joined the Fort Macleod Lioness Club when they charted in 1986. In 1992 she became a Charter member of the Lethbridge Coulee Lions. She moved her membership to the Fort Macleod Lions in 2002.
Michelle has held many positions at the Club level including, Director, Secretary, and President. At the District Level, District Convention Chair and two terms as Zone Chair.
Her numerous awards for service include District Governor's Certificate of Appreciation, International President's Certificate, a PID Bill Webber Fellowship, and a Melvin Jones Fellowship.
In addition to her Lions activities Michele is involved with several sports groups and other community organizations in the Fort Macleod area. Every year she volunteers to help with the Fort Macleod Triathlon.
Lion Michelle and husband Murray Sopher, also a Lion, have 6 children, 10 grandchildren, 1 dog, and a cat. (A houseful)
---
MULTIPLE DISTRICT C SUPPORT STAFF

Lion Betty Ann was born and raised in Bassano, Alberta. She received all her schooling there and was active with 4-H, Girl Guides and the church choir.
In 1977, she joined the Brooks Lioness Club as a chartered member. In 1981 she moved to Drumheller and again helped to charter a Lioness club. In 1989, Rick was transferred north and they settled in Beaverlodge. Lion Betty Ann joined the Trumpeter Lioness club in Grande Prairie. In 1992, the club chartered as a Lions Club. In April 2000 she transferred to the Wembley & District Lions club. With the folding of that club in 2009, Lion Betty Ann joined the Grande Prairie Lions club, where she is currently the secretary.
Lion Betty Ann has held all club positions, some many times over. Lion Betty Ann and her family are very active with the Youth Exchange program, hosting over 34 students, as well as her work as Northern Alberta Lions International Youth camp as director. Lion Betty Ann served as District Governor 2002-2003 and again 2010-2011.
Lion Betty Ann has recently retired as a Licensed Practical nurse, working on a pediatrics/neonatal care unit at the QE II Hospital in Grande Prairie for 31 years.
Lion Betty Ann has numerous awards and fellowships, an International President's Medal and recently an International President's Leadership Medal. Lion Betty Ann has 40 years perfect attendance.
Lion Betty Ann has attended many USA/Canada forums, International Conventions and one Europa Forum in Romania. She has also participated in a Regional Lions Leadership Institute, Faculty Development Institute and a Faculty Development Excellence Series. Lion Betty is currently the MDC Global Leadership Coordinator.
Lion Betty Ann has three children, six grandchildren and two great grandchildren. In her spare time she enjoys working with STARS, travelling, big game hunting and spending time with her family.
---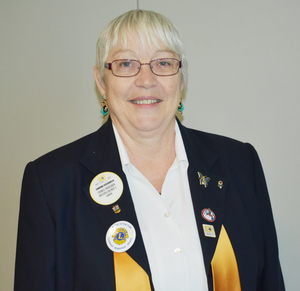 Bowness Lions/Sundre Lions
Member of Lions for 10 Years
I have served as fundraising Chair, Membership Chair, Vice President, Club President, Chair Stampede Parade & Breakfast, Public Relations Committee and Assistant to the Casino Treasurer.
Cabinet Positions, Zone Chair, LFOC Chair
Most of my career has been spent in the accounting field , banking and the customs clearance field.
I am happily married to PDG John Goodrich , we have 4 children, 11 grandchildren, and 2 great grandchildren. Our best days are spent with the family camping, teaching the grandchildren, working at the campground and golfing.
I have received numerous awards thru Lions and I am proud of each one. I love to volunteer and make our community a better place to live in and reach out and help people in need.
It is an honour to attend training for Lions such as the Alli and ELLI to learn how to be an amazing asset to Lions. The best part is to be able to go to Forums and Conventions to renew your belief by meeting people who give you the spirit and confidence to do our job as a Lion 100% all the time.
---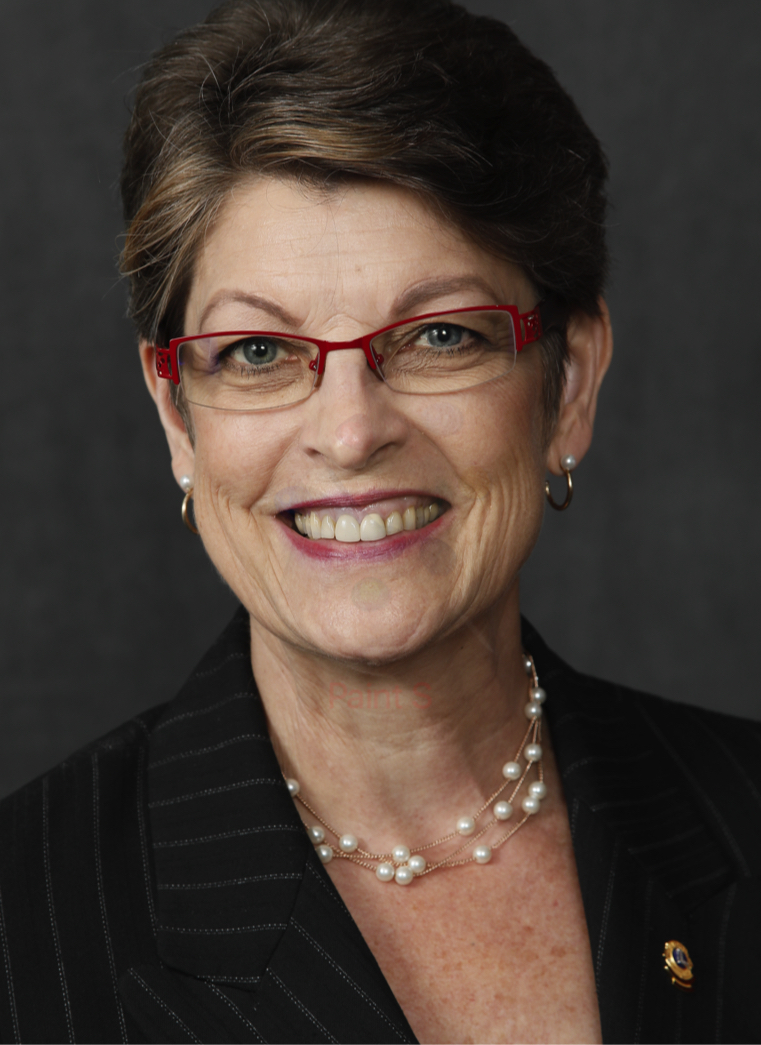 DR. PATRICIA HILL THIRD VICE PRESIDENT
Dr. Patricia Hill from Edmonton, Alberta, Canada was elected to serve as third vice president of Lions Clubs International at the association's 102nd International Convention, held in Milan, Italy, July 5 through July 9,2019.
Vice President Hill is president of H.I. Consulting. With 30 years of experience as a psychologist she has mentored graduate students and psychologists in training. She has also championed the rights of children and youth who are deaf and/or blind.
A member of the Edmonton Host Lions Club since 1990, Vice President Hill has held many offices within the association, including district chairperson for Membership, Environment, Convention and International Cooperation and Understanding. Additionally she has served as a committee member for the USA/Canada Lions Leadership Forum, multinational coordinator for Campaign SightFirst II, secretary for the Lions Eyebank (Alberta) Society, Vice President of the Lions Eye Research Institute of Northern Alberta and presenter and multiple forums and conventions.
In recognition of her service to the association, Vice President Hill has received numerous awards, including several International President's Awards. She has been honored with the Ambassador of Good Will Award, the highest honor the association bestows upon its members. She is also a Bill Webber Fellow, Judge Brian Stevenson Fellow, Denise and Jack Isaman Fellow and a Progressive Melvin Jones Fellow.
In addition to her Lions activities, Vice President Hill is active in numerous professional and community organizations. She is a member of the Psychologists Association of Alberta, the Canadian Psychological Association and the Community League. In the past, she served as president of the Alberta Association of Psychologists and the Association of Canadian Educators of the Hearing Impaired.
Vice President Hill and her husband, Gregory Holmes, also a Lion, have two children.
R-7/19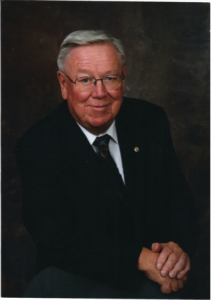 Past International President Judge Brian Stevenson
Judge Brian Stevenson, of Calgary, Alberta, Canada, was elected to serve as president of The International Association of Lions Clubs following his election at the association's 70th International Convention, held in Taipei, Taiwan, Republic of China, July 1-4, 1987.
Past President Stevenson has served in private law practice and as a special prosecutor in the Canadian Department of Justice. In 1974, he was appointed for life as a Judge to the Provincial Court of Alberta. He recently retired as Assistant Chief Judge of the Criminal Division of that court in Calgary.
A Lion since 1966 and currently a member of the Calgary (Northeast Eyeopener) Lions Club, Past President Stevenson has held numerous offices in the association. These include terms as district governor, a member of the association's board of directors from 1977-79 and as a presidential appointee to the international board from 1979-81 and again from 1998-1999. He also served a three-year term as the chairperson of Campaign SightFirst, one of the largest and most successful fundraising campaigns in the history of the association.
In recognition of his many contributions to the association, Past President Stevenson has received numerous awards including the 100% District Governor Award, the Membership Advancement Key, 18 International President's Awards and the Ambassador of Good Will Award, the highest honor granted by the association to its members. He is also a Progressive Melvin Jones Fellow.
In addition to his work as a Lion, Past President Stevenson has served as president of the Calgary Social Planning Council, as a board member of the Calgary United Way and as a member of the City of Calgary Social Services Committee. He has also served as president of the Alberta Provincial Judges Association and as chairperson of the International Year of Disabled Persons Committee for the Province of Alberta. In 1996, the City of Calgary recognized his numerous voluntary contributions by awarding him the Grant MacEwan Lifetime Achievement Award of Merit.
Past President Stevenson is a member of numerous professional organizations and has authored a number of articles on legal matters. He and his wife, Patricia, have four daughters, eight granddaughters and two grandsons.
Back to Top of page

Past International Director Bill Webber
Bill W. Webber, of St. Albert, Alberta, Canada, was elected to serve a two-year term as a director of The International Association of Lions Clubs at the association's 72nd annual convention, held in Miami/Miami Beach, Florida, USA, June 21-24, 1989.
Past Director Webber is a retired district manager of a utility company.
A Lion and member of the St. Albert Host Lions Club since 1964, Past Director Webber has held the positions of club president, district governor and council chair. He serves as a director and vice chair of Lions Quest Canada, as coordinator of Lions Project Pride, and director and past chair of his multiple district eye bank. He also served as a national coordinator for Campaign SightFirst.
For his contributions to the association, Past Director Webber has received the 100% District Governor Award, six International Certificates of Appreciation, eight International President's Awards and the Ambassador of Good Will Award, the highest honor granted by the association to its members. He is a progressive Melvin Jones Fellow.
Active in the community, Past Director Webber has served on the Edmonton Emergency Planning Committee, the Canadian Gas Association Customer Service Committee and the St. Albert Board of Education.
Past Director Webber and his wife, Joan, also a progressive Melvin Jones Fellow, have two daughters, two sons and six grandchildren.