Officer Training is scheduled for May 24th at the Library in Bluffton, May 26th at the UMC (16021 Lima Road) Huntertown and June 2nd at the Firehouse in Pleasant Lake. Mark your calendar now and plan to attend.
On March 29th the Monroeville Lions Club sent $250 worth of new items to Mayville, Kentucky for those devastated by recent tornados. Pictured below is Monroeville Lion Sherry Kill and DG Jerry Zeigler.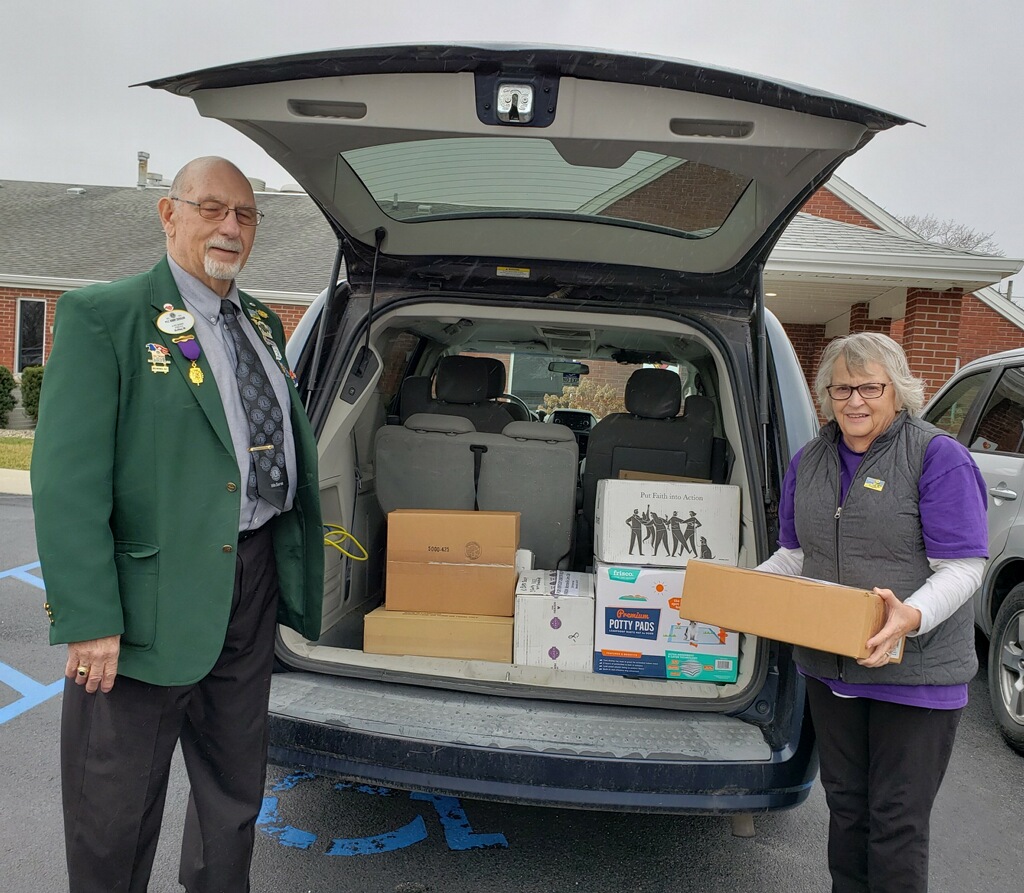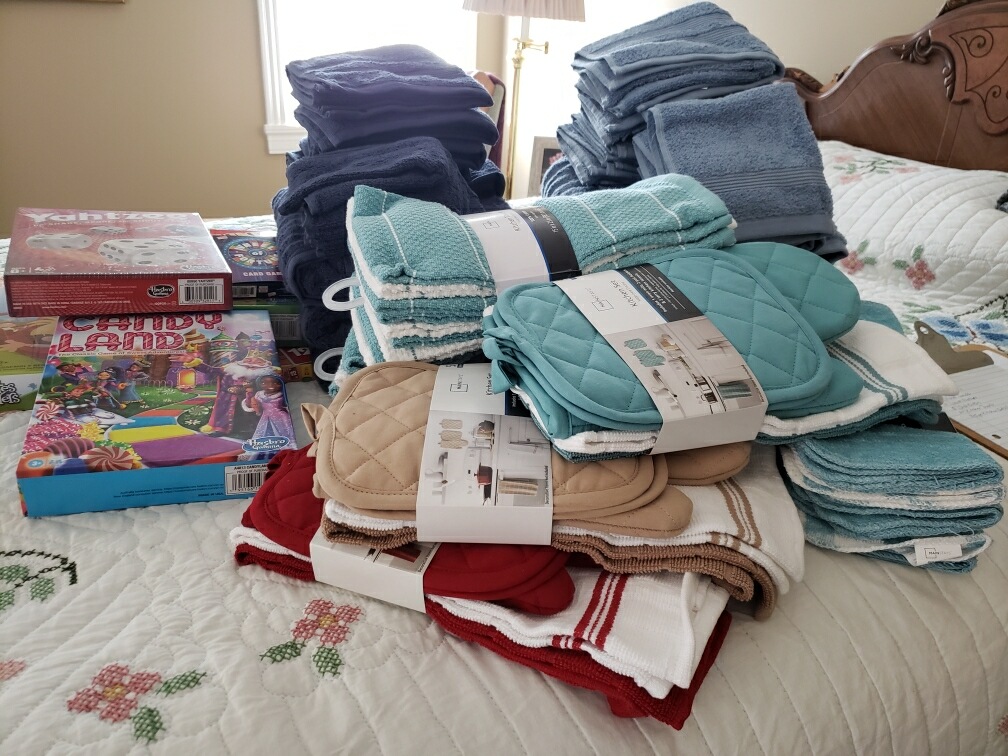 Mark your calendar for the Tri-Lake Lions Fish Fry on April 9th.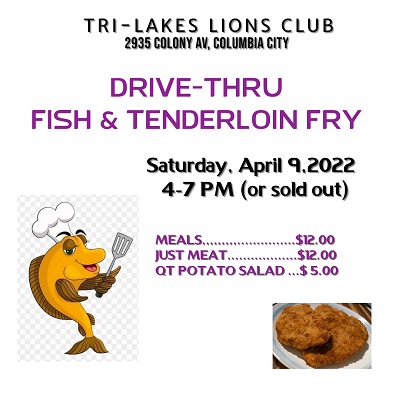 At the March 10, 2022 meeting of the Tri-Lake Lions Club PDG Herb Gaff presented W.P. Woods Fellowship plaques to Lion Pam Maske, Lion Marcy Gaerte and Club President Larry Weiss.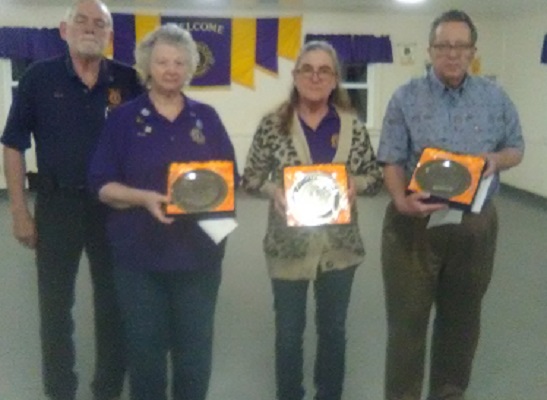 Does your club need new or additional eye glass recycle boxes? If so you can order the wooden one fro PDG R Cash. The boxes are 12 inches by 12 inches by 10 inches deep. They can be lableds as your club desires like the Ossian Club box. Piced at $22.50 .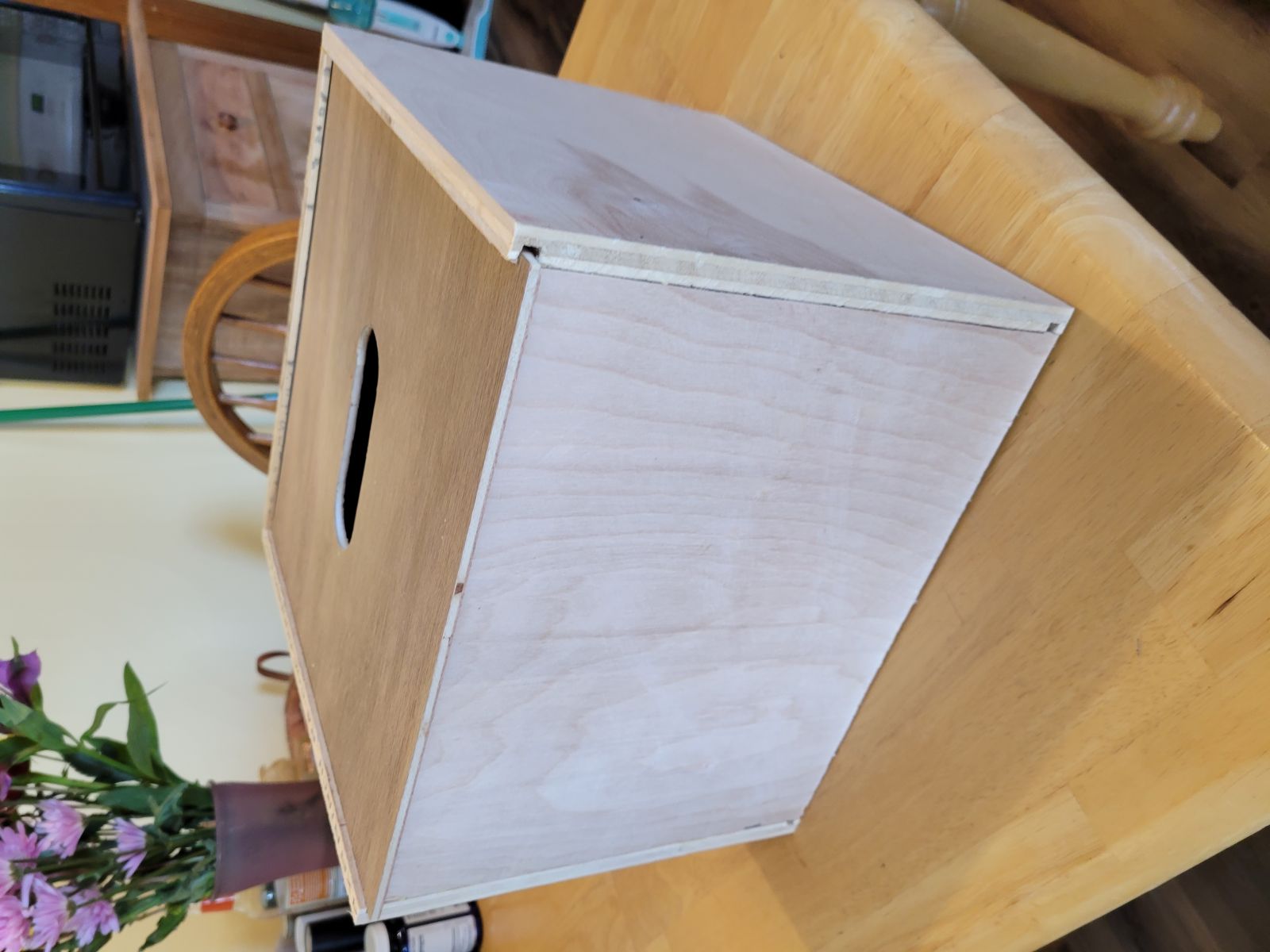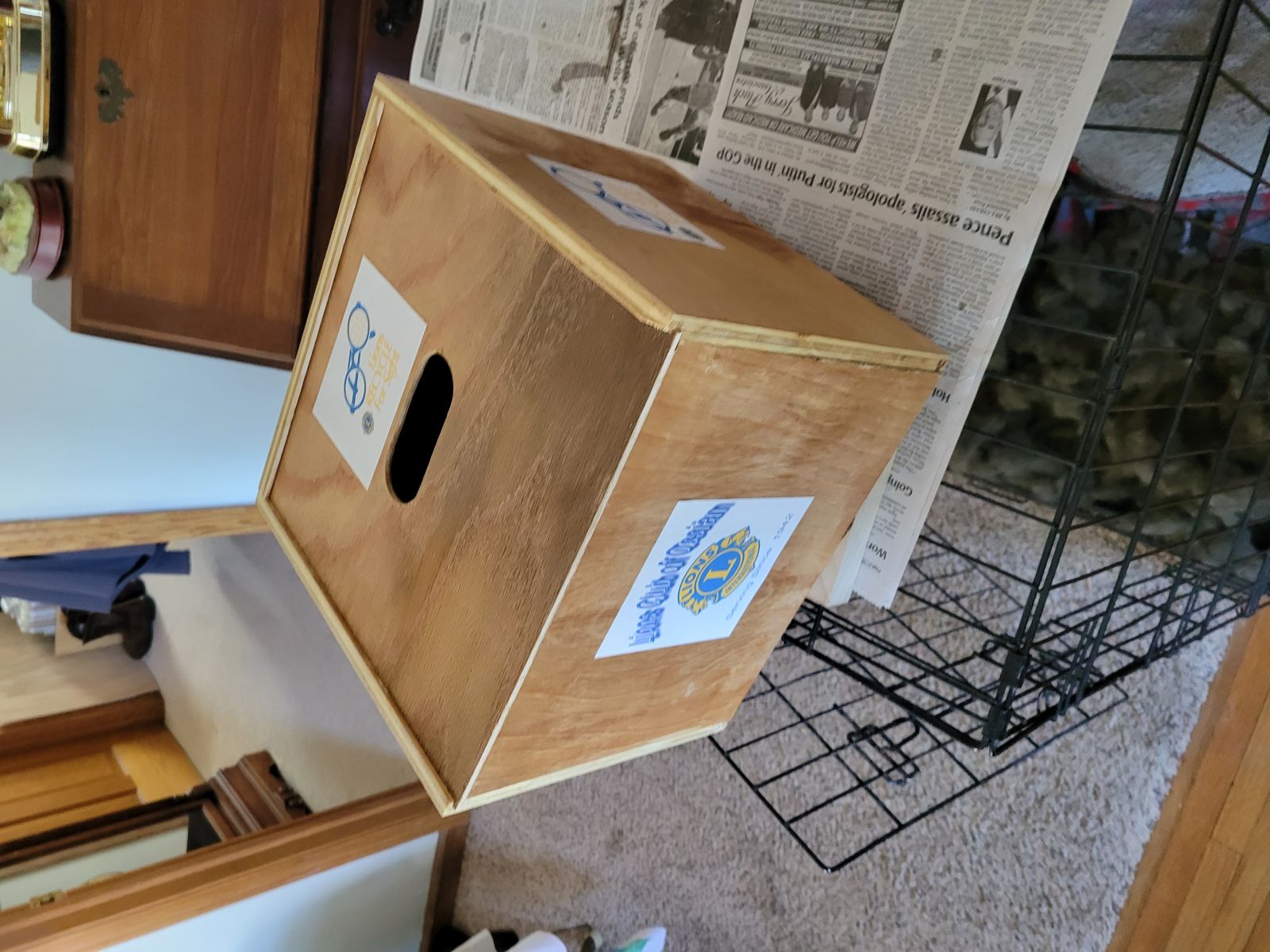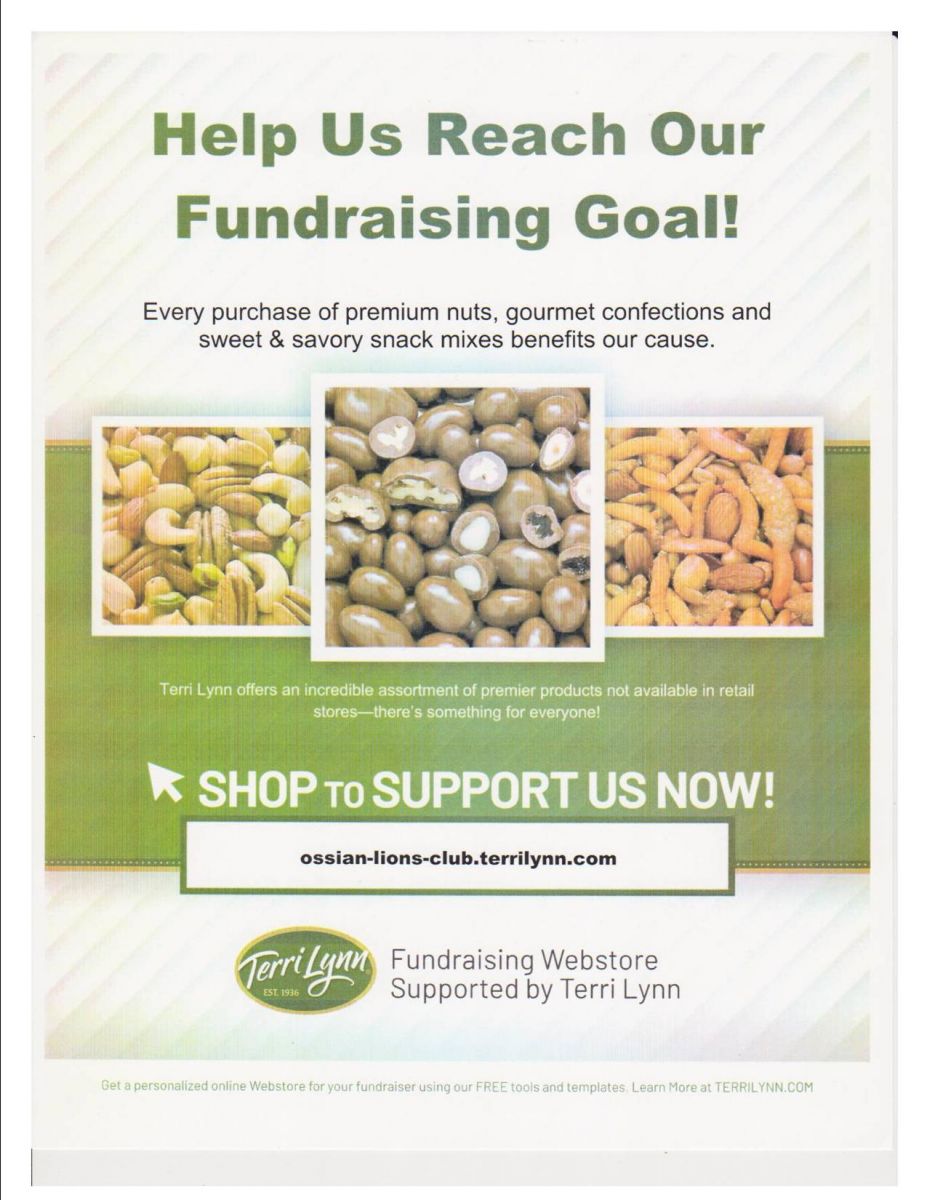 The Ossian Lions Club has started a new fund raiser with Terri Lynn. You can order directly off of the web site and a portion of the purchase price goes to the club.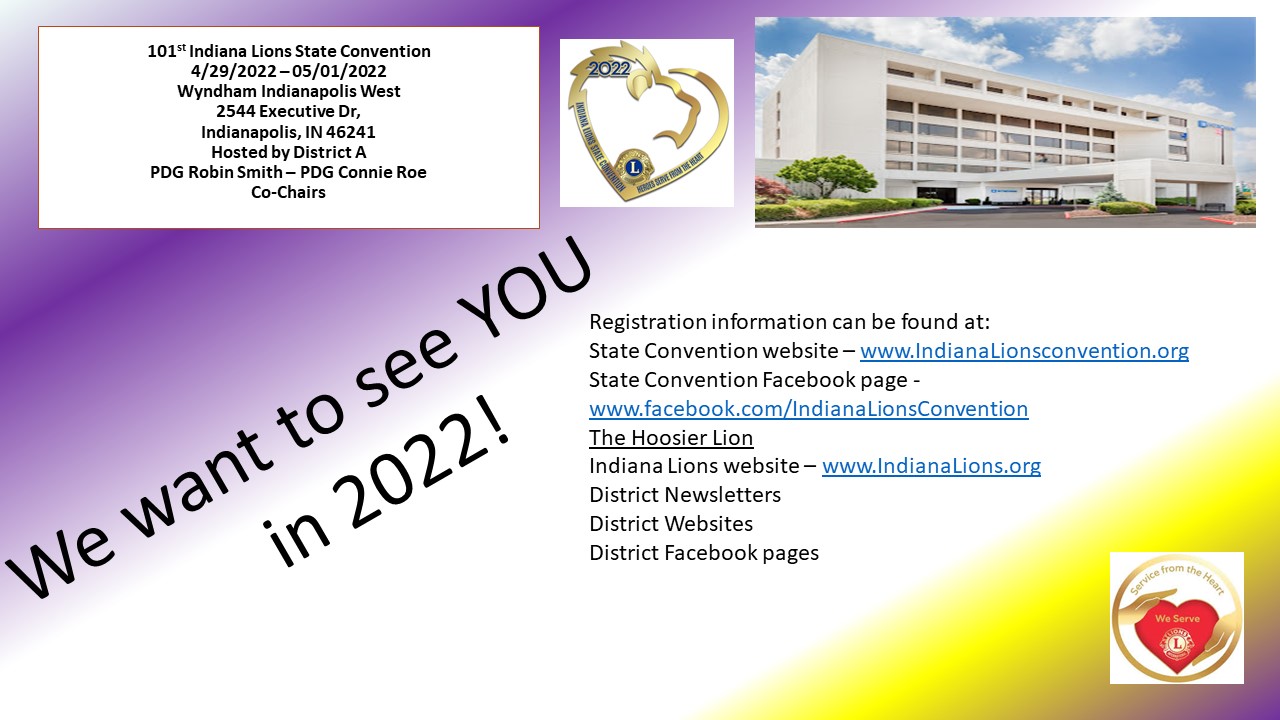 On Monday, Dec. 6th, PDG, Pres. Don Cooper presented two W. P. Woods Awards to deserving New Haven Lions Club Members. Receiving awards and pictured below are Lion Terry Elser (left) and Lion Vice Pres.Aaron Nedd (right).
Thanks so much.
Lion Bob Hudson, Secretary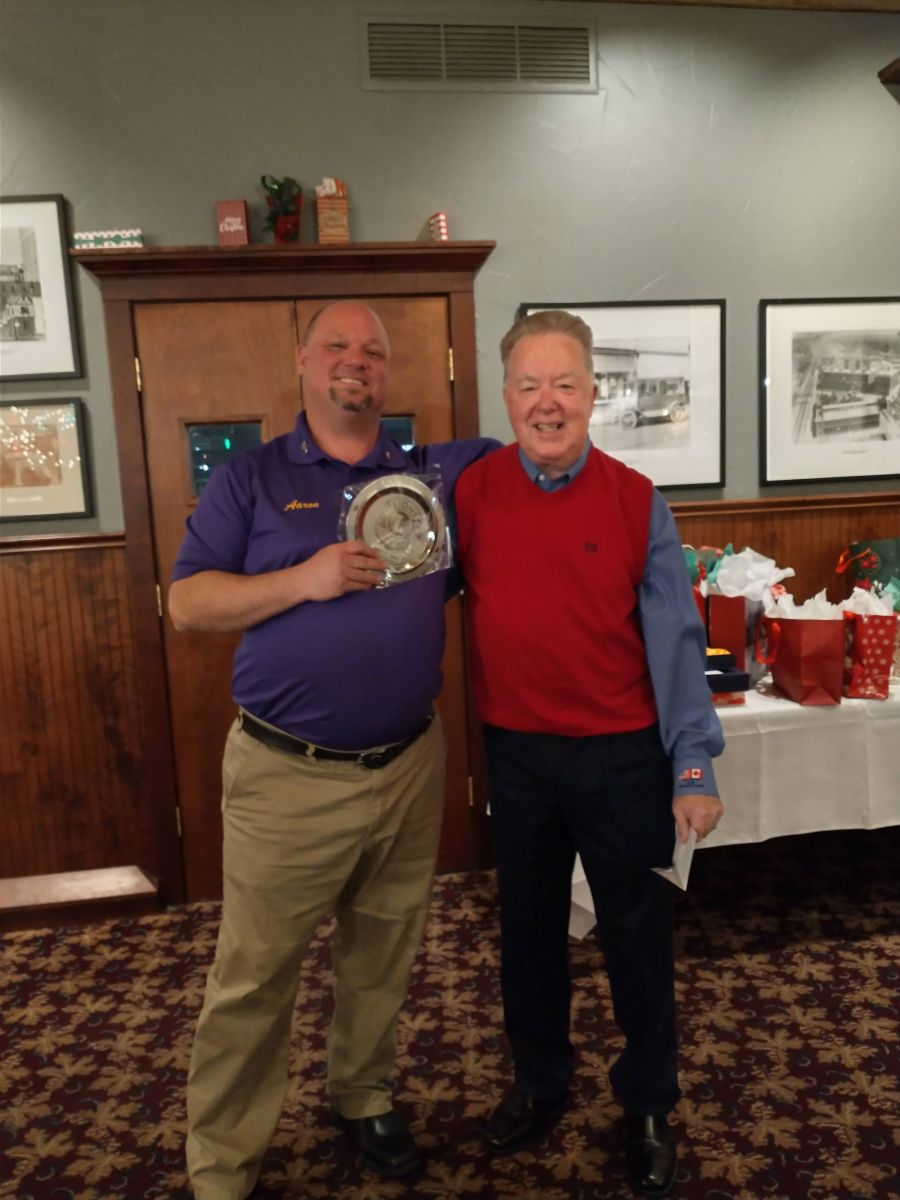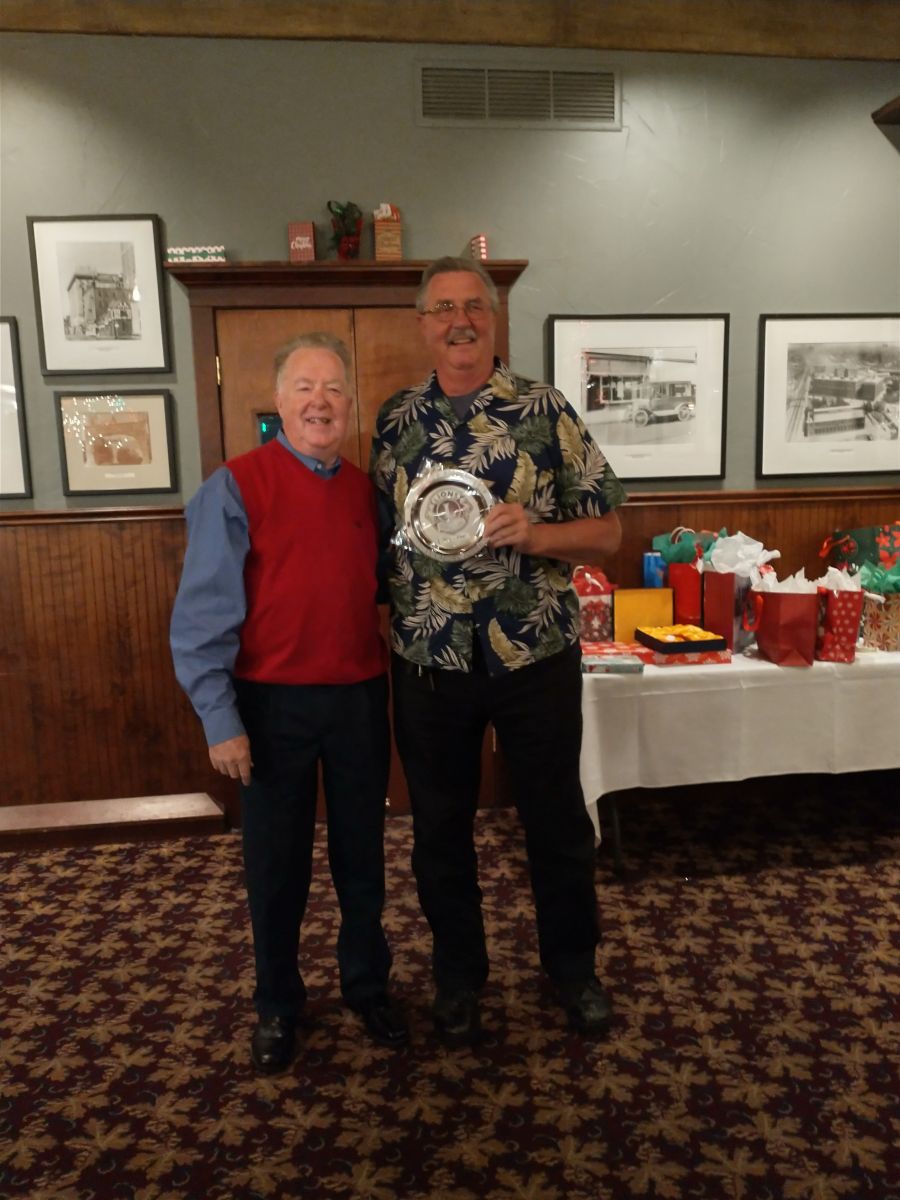 The Ligonier Lions Club will be selling oranges and grapefruits throughout the month of December. They are located in the Ace Harware parking lot in Ligonier, just North of highway US 6. Stop by and help them help the community.
The Bluffton Lions Club is currently holding a fund raiser by selling Pissa Hut Card. See any club memeber for yours.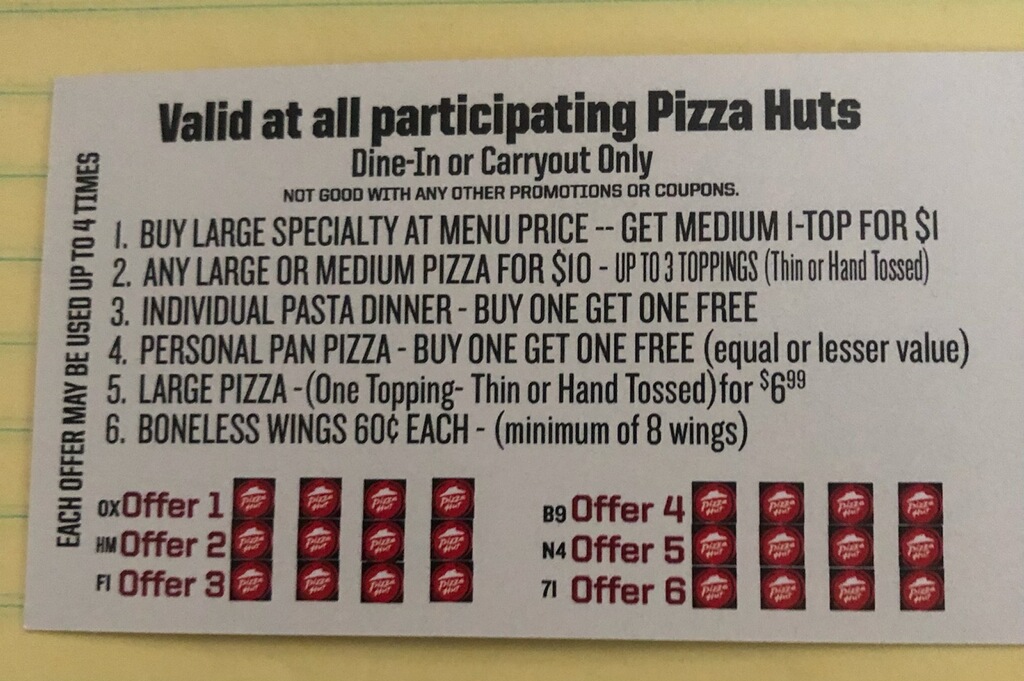 Club Secretary Lion Gaye presented PDG Roger Cash his Life Membership in Lions International during the November 7th Club meeting.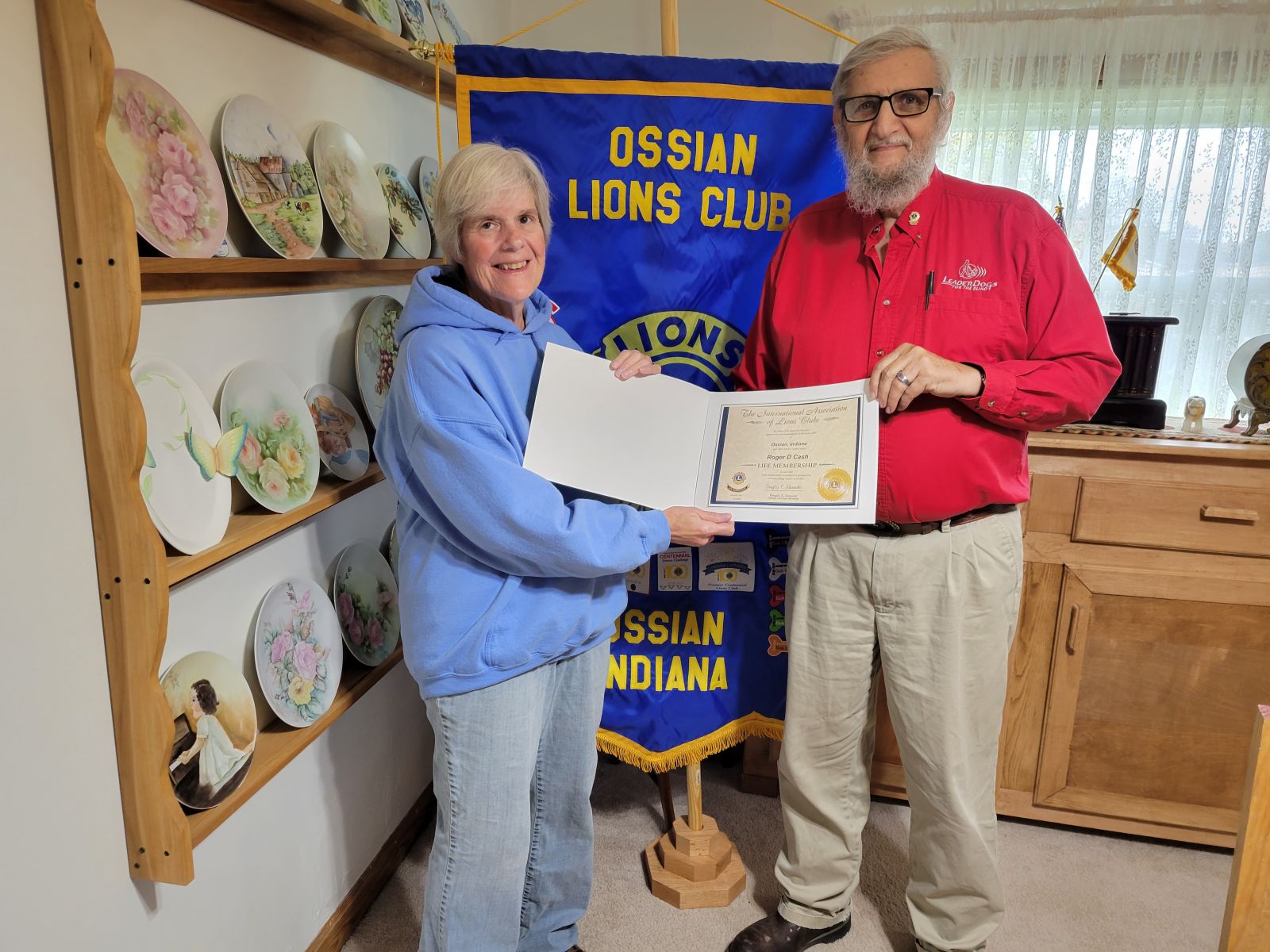 Tri Lake Lions will be holding a drive through Fish/Tenderloin Fry November 13th.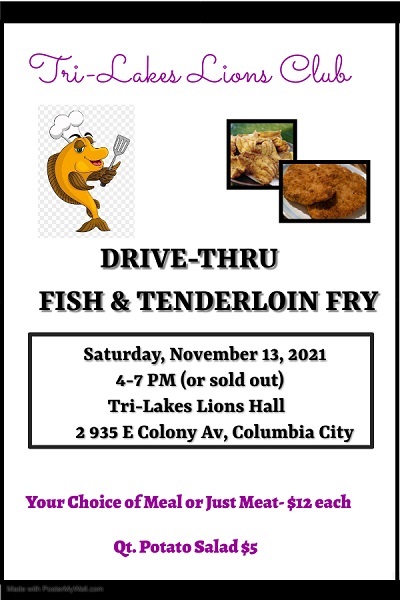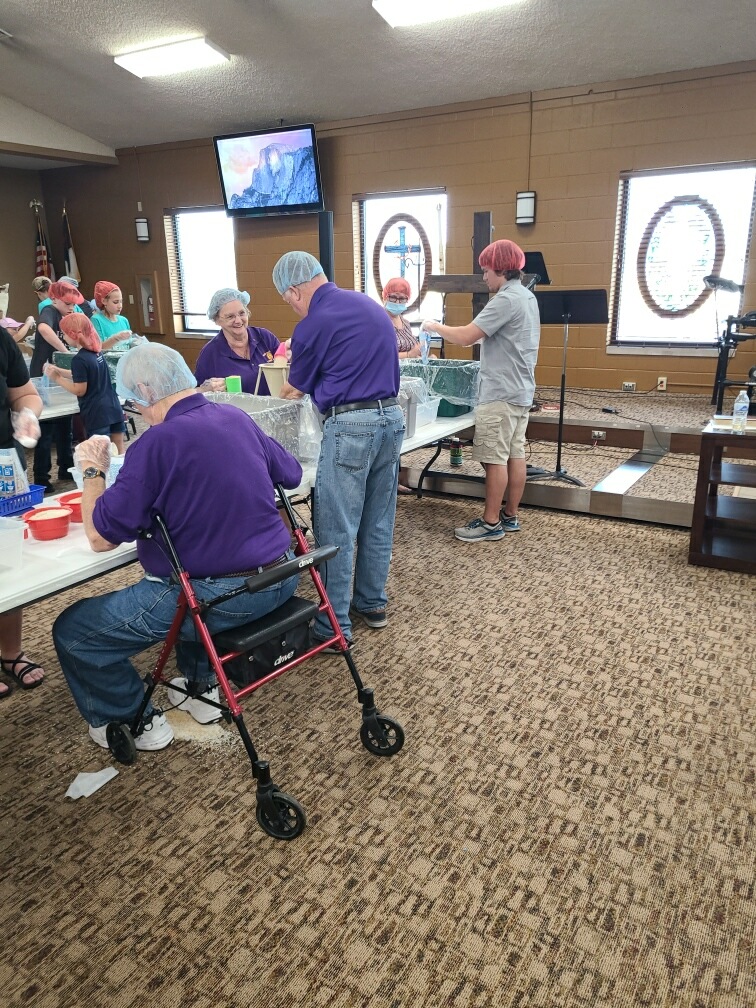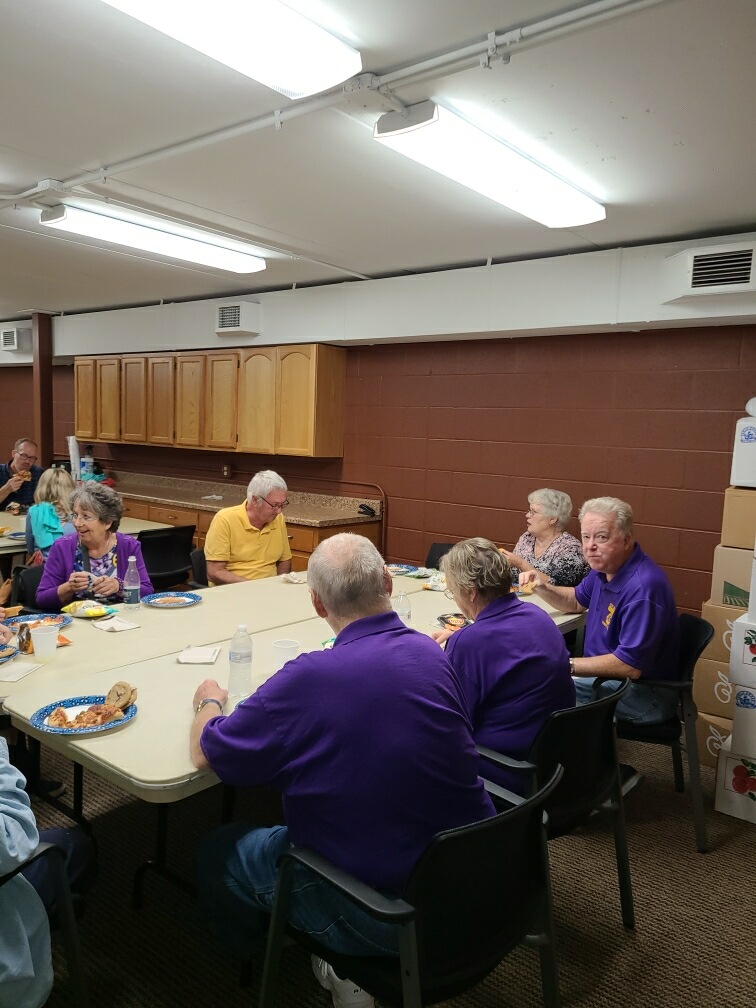 ON SUNDAY, SEPT 12TH, PDG DON COOPER AND LIONS BOB AND SUSIE HUDSON HELPED PACK MEALS WITH ABOUT 90 OTHER VOLUNTEERS FROM ST JOHNS LUTHERAN CHURCH IN FORT WAYNE, IN.
THESE MEALS WILL BE SENT TO THE NEEDY IN HAITI.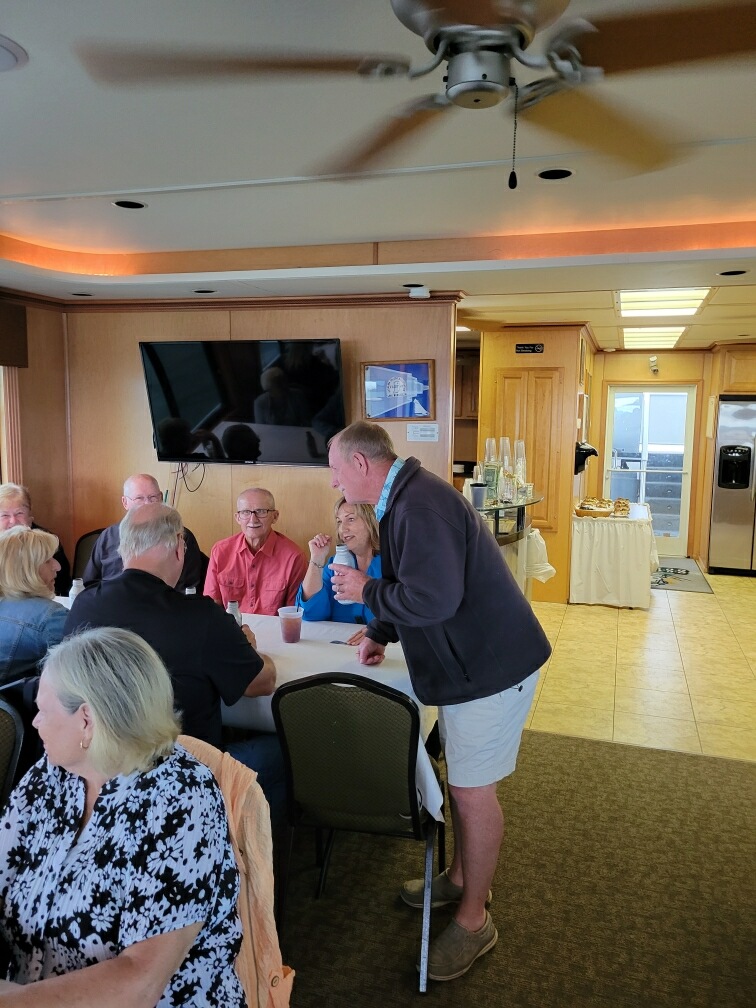 This was the Ligionier Lions Club year end social on board the Frog's SS Lillypad on Lake Wawasee.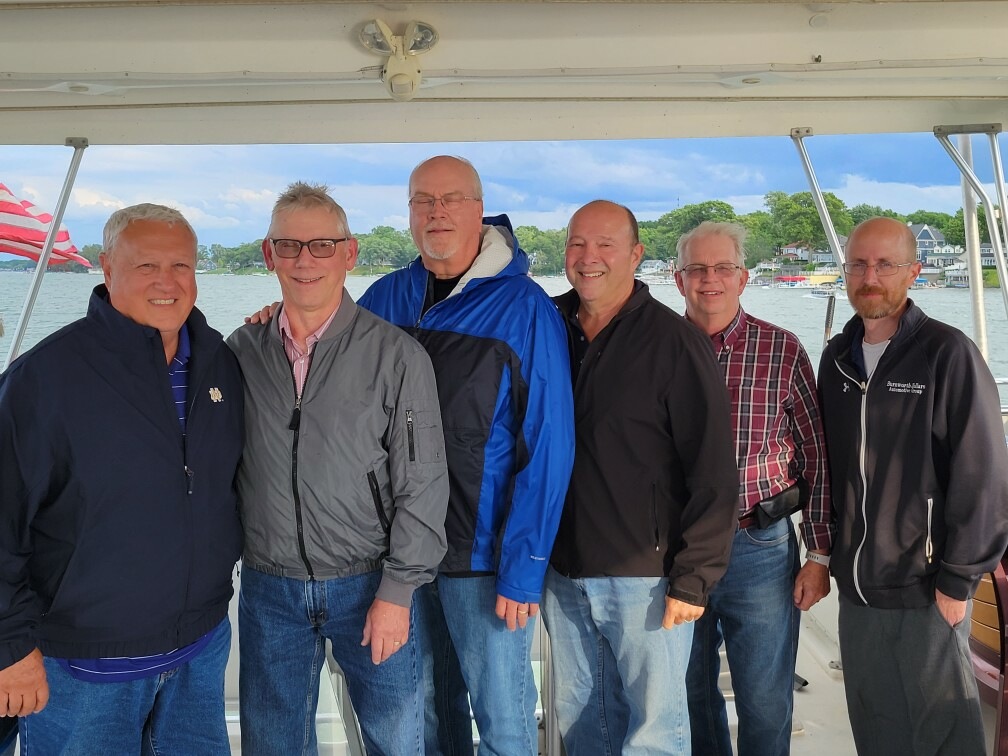 Congratulations to the 2021-2022 Ligonier Lions Club officers, Tail Twister Ron Fritz, Treasurer Dennis Butler, President Kent Saggers, Sectretary Phil Fought, 1Vice President Larry Stahly and 2Vice President Troy Mullins.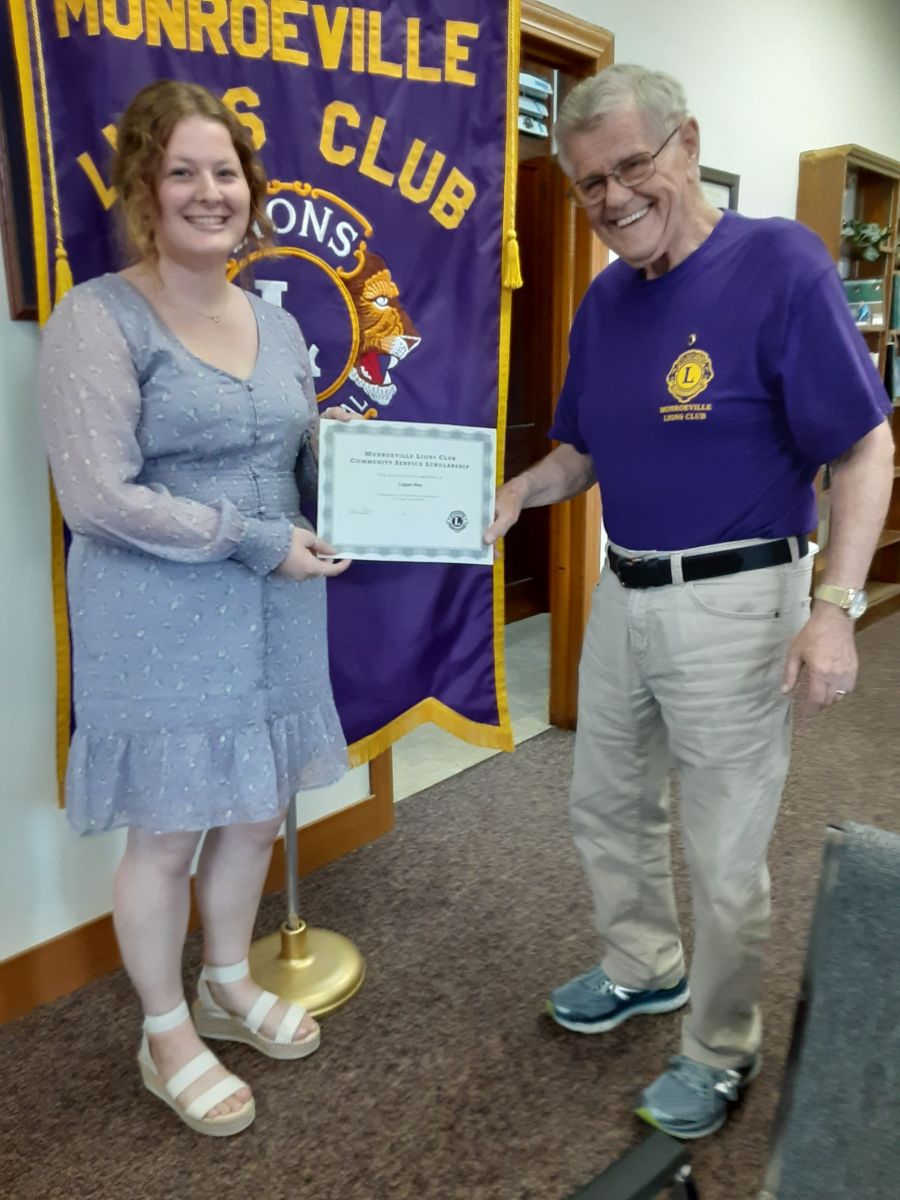 Ralph Klinker, President of the Monroeville Lions Club, presents Logan Roy a $1,000 scholarship certificate for post-secondary education in the Fall. Logan is a 2021 Heritage High School graduate and plans to attend Ball State University and major in Elementary Education. Her parents are Matt and Amanda Roy.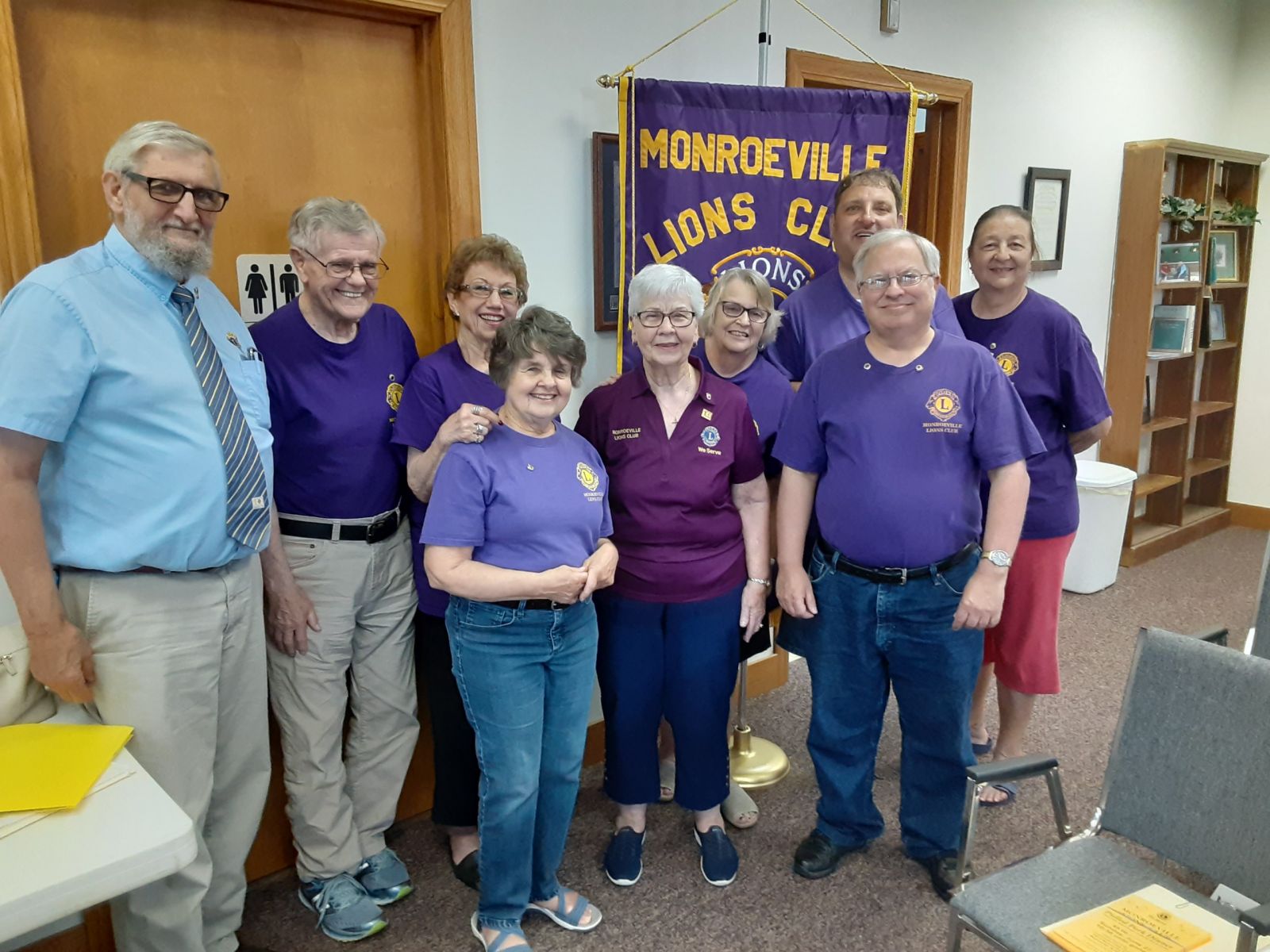 The Monroeville Lions Club officers for 2021-2022 were installed by Lions District Governor Roger Cash at their June meeting. Pictured left to right: DG Roger Cash, Ralph Klinker, 2nd VP; Colleen Grabner, Secretary; Yvonne Wills, Publicity; Susan Hoffman, President; Sherry Kill, Treasurer; Kevin House, Membership; Tom Shull, Tail Twister; Judy Kill, Lion Tamer. Absent: Terri Berry, 1st VP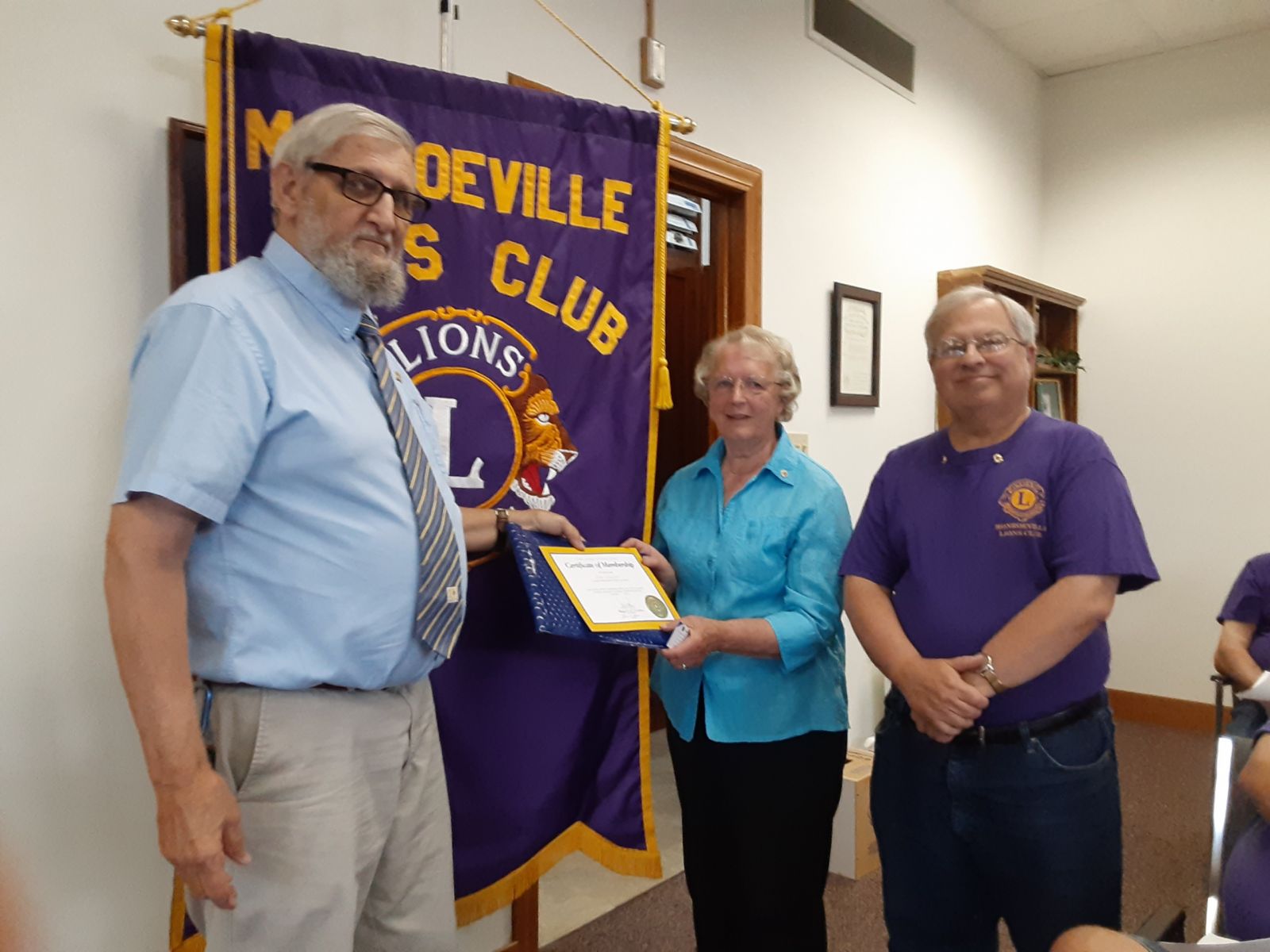 The Monroeville Lions welcomed a new member, Judy Wagner, at their June meeting. Pictured are DG Roger Cash, Judy, and her sponsor, Kevin House.
DG Roger Cash had the pleasure of induction the new officers for the New Haven Lions Club on Monday June 14. Pictured below are most of the incoming officers.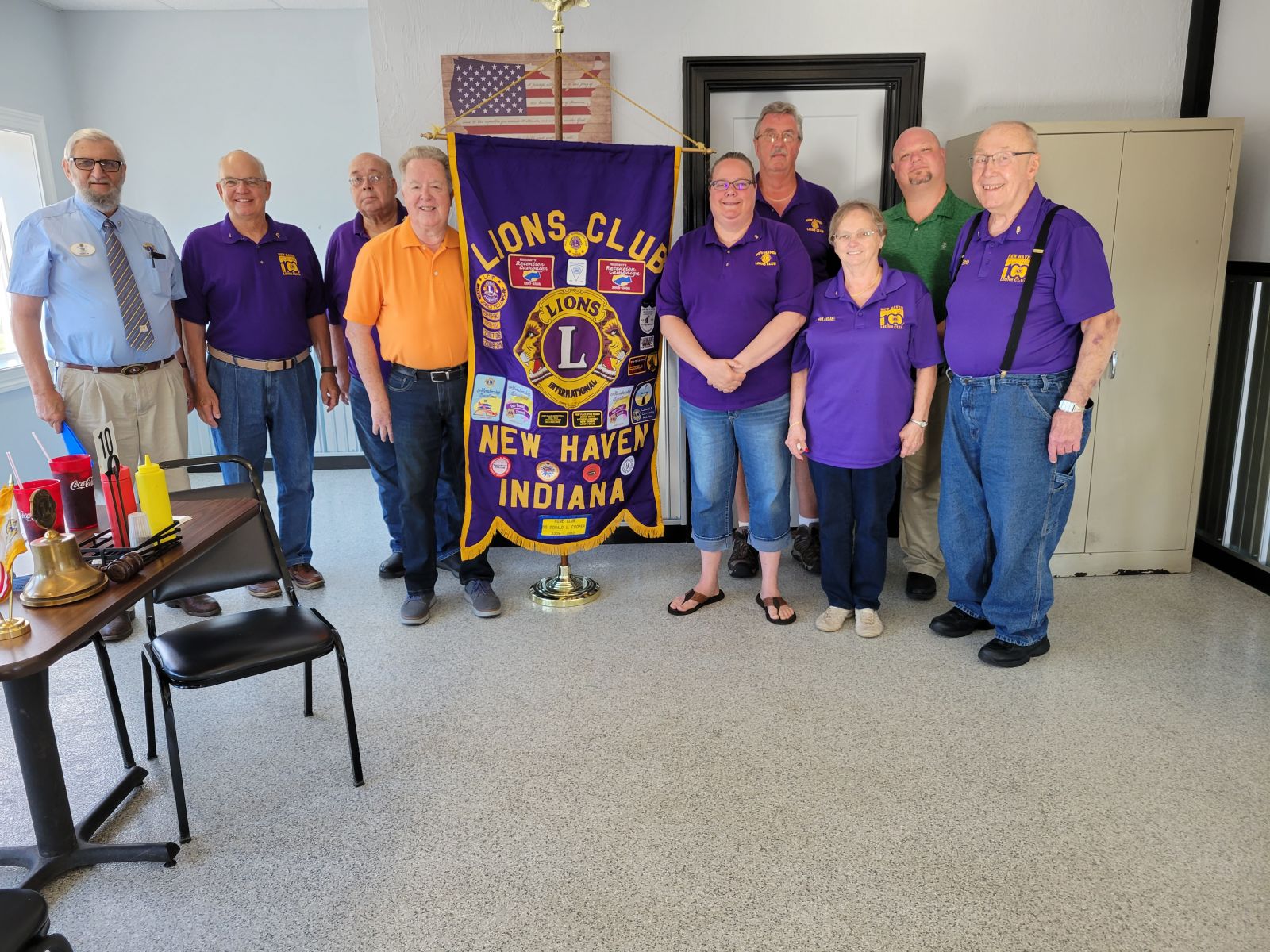 OFFICER REPORTING
We are requesting all club to report their offices for the 2021-2022 Lion Year to LCI NLT June 15th. This is to aid in putting togeather the District Directory.
Help Wanted
The McMillen Lions Club is looking for help with their Jonny Appleseed Both in September. If you can help with set up or tear down please contact Lion Pastor Ron Lytle at (260) 467-0329.
ICE CREAM AT THURSDAY NIGHT'S MADISON STREET PLAZA CONCERTS
The Union Township Lions Club would like to invite the public to enjoy some cold ice cream this summer every Thursday eveningduring the Madison Plaza Concerts. We will be serving vanilla, fudge swirl and strawberry swirl ice cream cups as well as sunday cones (drumsticks).There will also be giant freeze pops and ice cold water for sale. Each night's sales will be donated to a differnt local charitable organization. The cost is being underwritten by a Thrivent Action grant. Representatives from each charitable organization are schedule to be on hand to help serve and to answer questions about their group's mission. This year marks the 40th year of the Union Township Lions serving the Decatur area and we would like to invite the public to learn more about what we have done by speaking with us and possibly join us in serving the community.
The Monreoville Lions Club will be hosting a Pull Pork Drive Through Dinner on June 27th to raise funds for the Monroeville History Muesum.
On Saturday, May 7th, the New Haven Lions held a BBQ at Ken's Meat Market in New Haven. IN. It was a fundraiser for our project fund. Proceeds will be used for needs arising in the New Haven community. Eight Lions volunteered for the BBQ. Chicken and baby back ribs were sold. Profit was $481.00.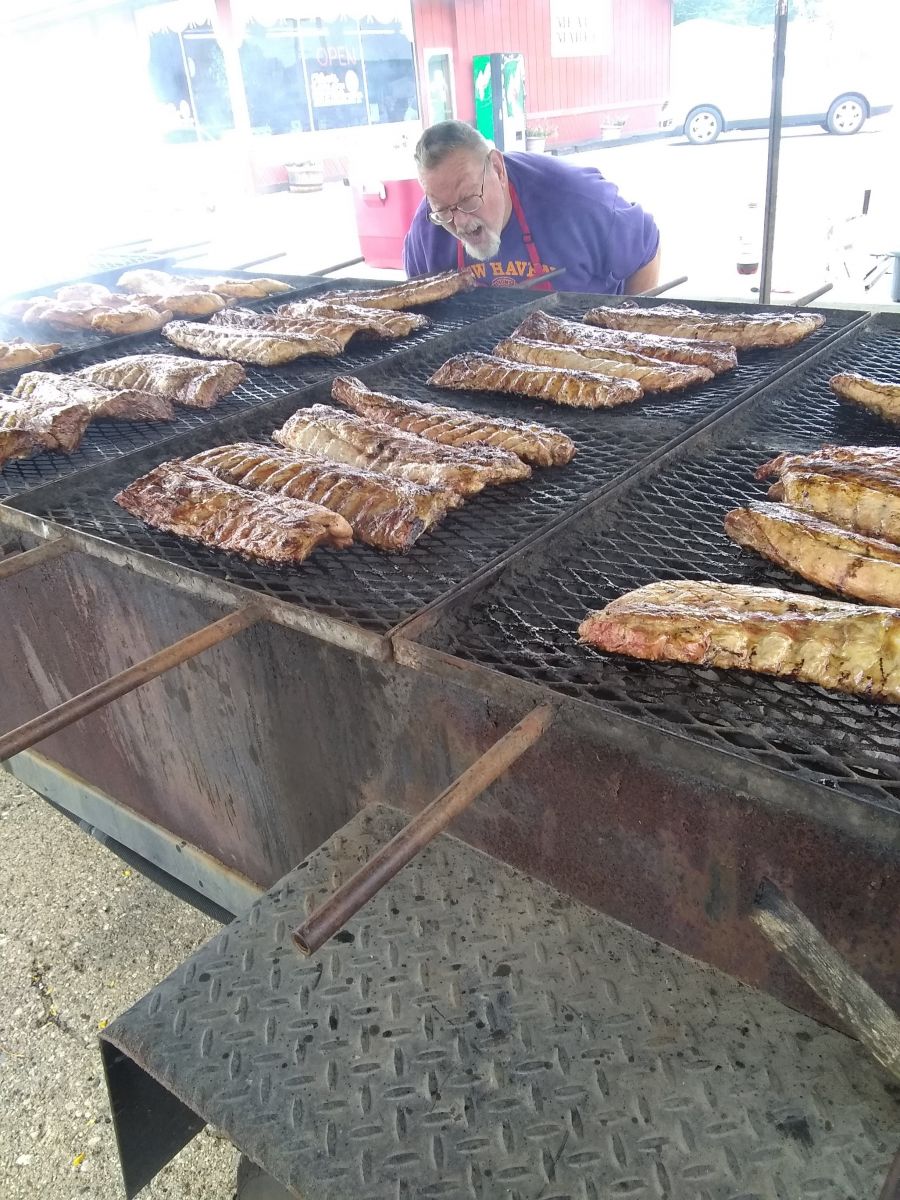 The Bluffton Lions Club is currently selling Pasta as a fund raiser. Please see the attached Flyer.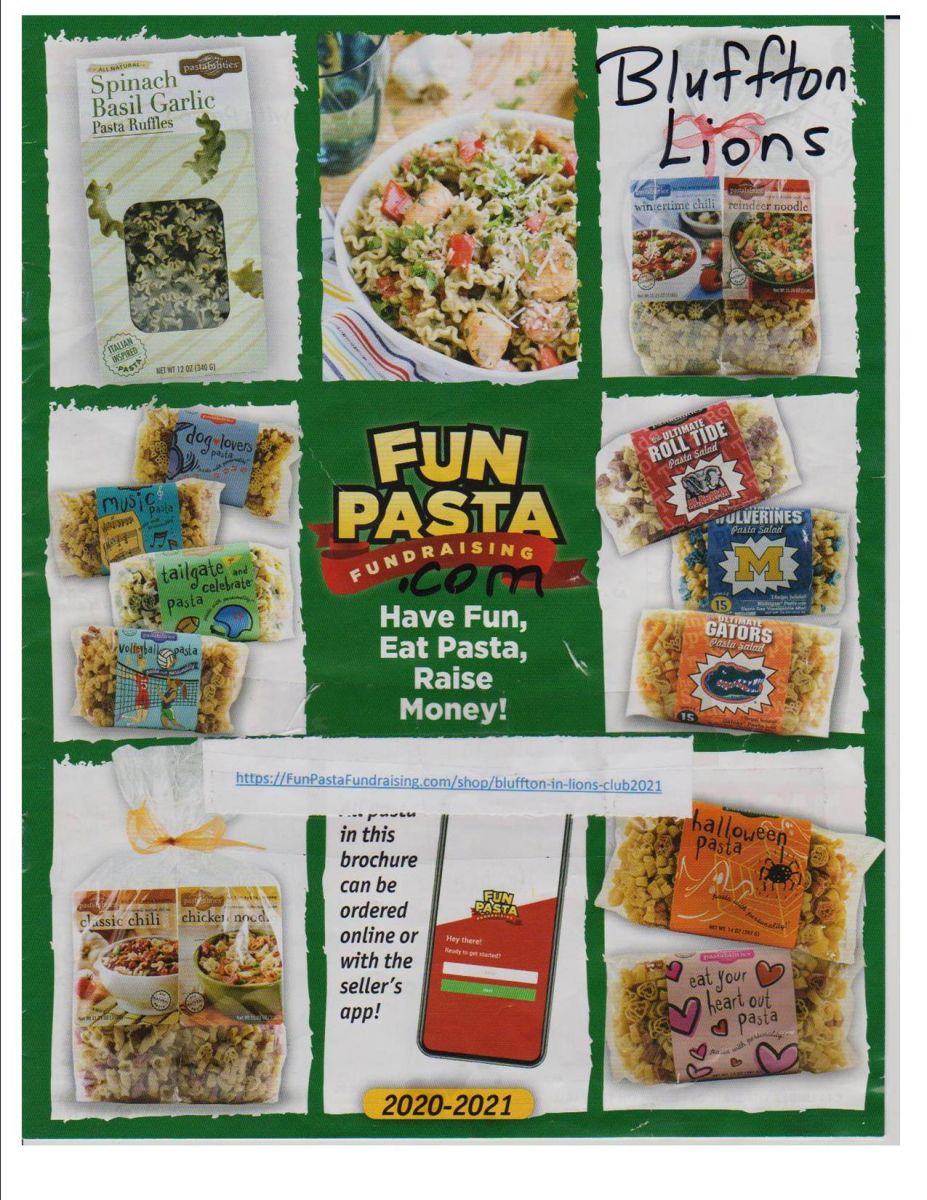 The Kendallville Lions Club is organizing a bus trip to the Leader Dogs for the Blind facility in Rochester Hills, Michigan for Saturday August 28, 2021. The cost for the bus trip will be $87. There will be pick ups in Fort Wayne, Auburn, Kendallville and Angola. Please see the attached flyer or contact Lion Ron Godby or any member of the Kendallville Lions.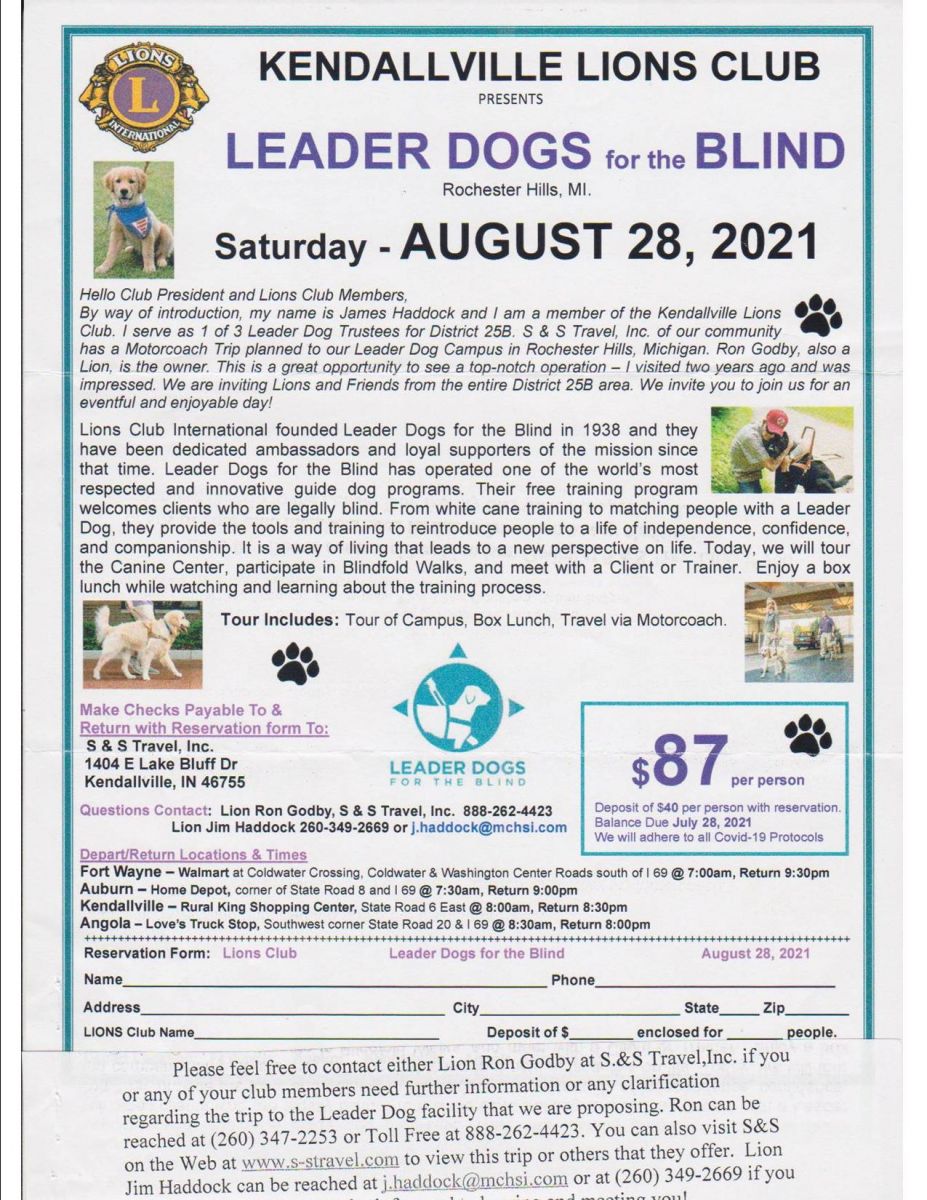 The District will be offering training for both District and Club officers late May and early June. The training will be held at the Bluffton Library, the Pleasant Lake Fire House and the Huntertown United Methodist Church. All District and Club officers for the Lion year 2021-2022 are encouraged to attend.
The 25B District Convention was held on March 13, 2021 at the Heritage Hall in Hunting, Indiana. Among the high lites were the election of PCC Jerry Zeigler as the District Governor Elect and 2VDG Sandy Zeigler as the First Vice District Governor Elect. PDG Bob Howard was elect to be a Trustee for the Indiana Lions Foundation, PDG Terry Marker was elected as trustee for Speech and Hearing, with Lion Mike Oakley to ISBVI, DG Roger Cash to Cancer Control and Lion James Ottjes to the Indiana Lions Eye Bank. PDG Charlie Short gave a seminar on Ready, Set, Grow, PDG Al Arnold gave one on LCIF while the visiting ID Steve Thornton fielded questions as to topices choosen by the lions present. After a short meal break ID Steve Thornton spoke on Service, Membership and Leadership. We wish to thank the Huntington Lions for hosting the Convention with other support provided by the Bluffton Lions and the Ossian Lions.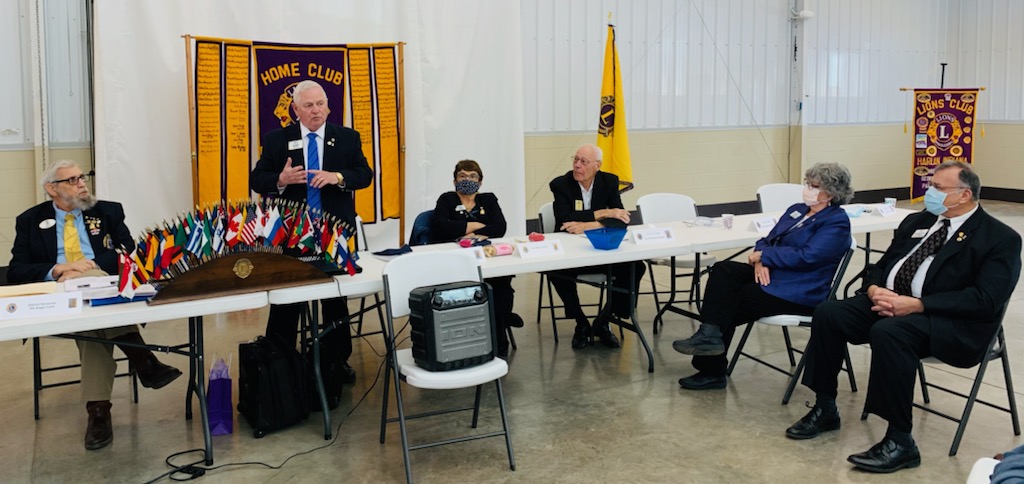 ID Steve Thornton answering questions by district Lions. Left to right, DG Roger Cash, ID Steve Thornton, Lion Becky Thornton, PDG Richard Hill, Lion Gretchin Xinopolus, PID Nix Xinopolus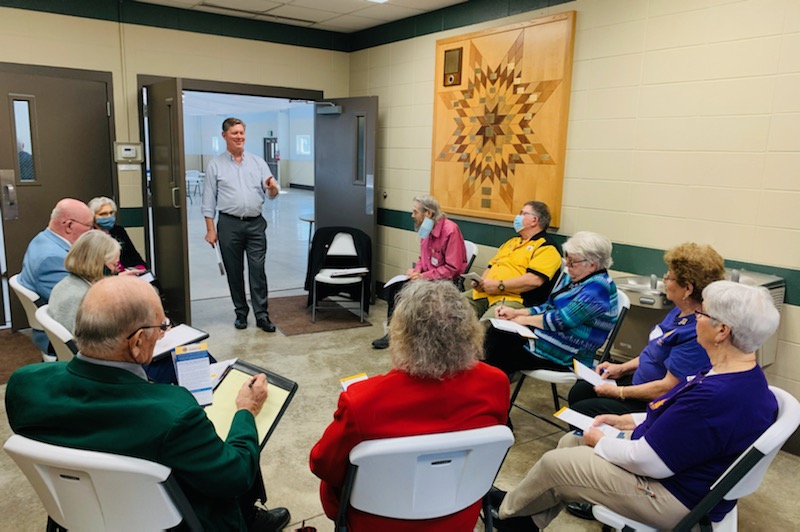 PDG Charlie Short presentation on Membership.
The March District Newsletter link is now posted on the Newsletter Page.
We would like to congratulate our School Vision Screeners on having screened 24 schools with a total of 3842 screened. 474 were referred or 12.3%.
Banner Night August 22, 2020
The District held its Banner Night at the Lighted Gardens in Ossian, Indiana on August 22nd. The Guest speaker was PID Nick Xinopolus. The high lights of the evening was the passing of the Disitrict banner from IPDG Terry Marker to DG Roger Cash and the awarding of a International Presidental Award to Lion Freda Donley.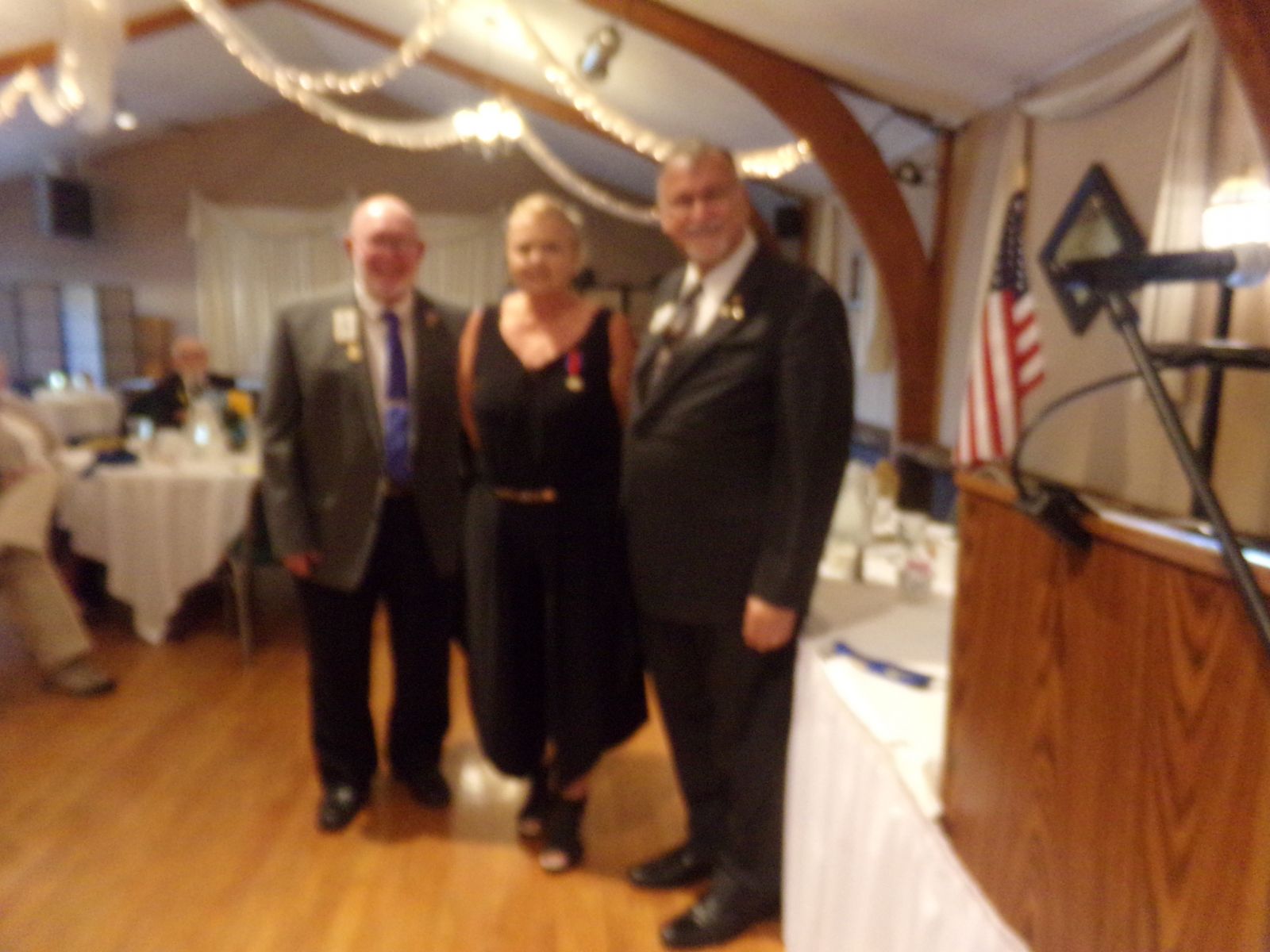 Lion Freda Donley (center) recieving Presidental Award. IPDG Terry Marker, Left, PID Nick Xinopolus
DG Roger Cash receiving District Banner from IPDG Terry Marker