About Us
Since 1917, Lions Clubs have offered people an opportunity to give something back to their communities.

Lions Clubs have always embraced those willing to do something to improve the world around them.

Today Missouri's own 425 statewide clubs and 12,000+ members join the list of 1.3 Million members in 44,467 clubs in 751 districts in 202 countries and geographical areas.
Our programs are continually changing to meet new needs and greater demands, but our mission has never wavered.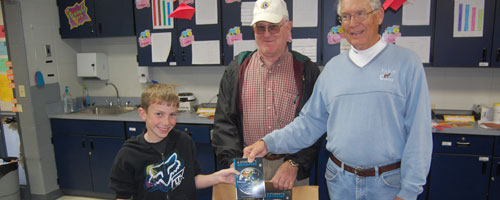 What Lions Do
When it comes to meeting challenges, our response is simple: We serve. In 205 countries, in hospitals and senior centers, in regions battered by natural disaster, in schools and in eyeglass recycling centers, Lions are at work, helping, leading, planning and supporting. Because we're local, we can serve the unique needs of the communities we live in. And because we're global, we can address challenges that go beyond borders.

We want everyone to see a better tomorrow. That's why we support sight programs and services including vision screenings, eye banks and eyeglass recycling. Provide eye care services to those at risk of losing their sight. And raise donations through campaigns like SightFirst and Campaign SightFirst II.

We believe everyone deserves a healthy life. From providing health programs that focus on hearing loss to supporting efforts to control and prevent diabetes, we're working to improve the health of children and adults around the world.
We empower the next generation. Whether it's providing volunteer and leadership experiences in a Leo club or sharing a message of peace through our Peace Poster contest, our youth programs invest in the future by reaching out to young people.

We serve local communities – and protect the planet. From performing hands-on service projects to providing emergency assistance, our community and environment programs improve our communities – and protect the environment

How To Join
Welcome! We're pleased that you're interested in Lions. To become a Lion, you must be of legal majority, good moral character and good reputation in your community.

Membership is by invitation. If you're interested in being invited to join an existing Lions club:
Contact the club and express your interest.
Ask if you can attend a meeting to learn more about the club and its service projects.
At the meeting, ask about becoming a member.
If you need assistance with glasses,treatment, and cannot afford treatment, please call 573-443-1479 or contact a club near you.
© 2011 Lions Clubs District 26-M3
email us
District Convention is around the corner April 1-2, 2016 in Bowling Green,Mo
Attached is the registration form for our convention. More details to follow.
http://e-district.org/userfiles/365/file/Convention%202016%20detail%20information.doc
http://e-district.org/userfiles/365/file/Convention2016%20%20final(1).doc
http://e-district.org/userfiles/365/file/Convention%202016%20map.doc
http://e-district.org/userfiles/365/file/Hospitality%20Table%20Request%20Form%202016.doc