Message from Bernd Gerhard - District Governor of Lions District 410 B
July 2016
Our trip to the International Convention in Fukuoka has come and gone. Shirley and I had a very enjoyable time, making many new friends from around the world.
Important time was spent at the District Governor school for three days, attending actual Convention with the culmination of the "Elect" ribbon being removed as the last agenda item on the last day. That was really an awesome feeling.
The year ahead will be filled with lots of service activities and fun. I look forward to interacting with as many District 410 B Lions as possible.
The month of July has also started with a hectic pace, with the District Lions Snuggler project in Midrand in conjunction with 93,8 Mix FM. Followed by numerous presidential inductions and a Zone Lions Snuggler project at Clearwater Mall.
Some new innovative incoming club officer training was introduced by DC GLT Delphine Ferreira with the assistance of DC GMT Rob Fowler and many dedicated trainers, some
133 Lions were trained
32 clubs participated
20 trainers dedicated themselves simultaneously over 5 geographic venues
A huge exciting development is taking our current MD 410 Rhinos for Africa awareness project to a new level. This is as a result of my co Governor, Jan Valtr from District 4C3 in California taking up our challenge. Watch this space!
I look forward to working with each and every member in District 410B this year. I am looking at the Club Presidents to follow my theme and to be LEADERS IN ACTION. I only ask for two commitments from every member:
To maintain harmony and tolerance within the clubs, ensuring that members are happy and willing to stay for the long ride.
To constantly market themselves and their club and to invite quality members so that our organisation can show a positive net growth.
Yours in Lionism
Bernd Gerhard
District Governor 410B
---
Visit Lions District 410B on Facebook...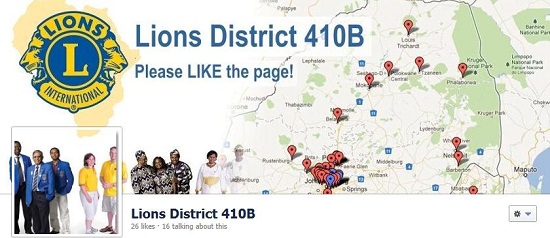 ---
Lions Clubs International is the world's largest service club organization with more than 1.4 million members in approximately 46,000 clubs in more than 200 countries and geographical areas around the world.