REPORT TO LIONS OF 410B
Fellow Lions I can report that the district is currently operating fairly well in most respects.
The year started off with 665 members. 35 new members have been inducted and transferred to date, but unfortunately have lost 31 members in the same period. This gives a net gain of 4 lions. In the interim I will have inducted a further 10 Lions prior to the Council meeting. There is still a very long way to go in Growing the District. This will require a lot of hard work from all of us.
The statistics show that during this year to date 38 clubs have shown Service Activities and 5 clubs have not. This is represented by 19 570 Lions hours of service being recorded. 36 261 people have being affected by this service. LCI is currently showing that a total of 1 388 886 Lions worldwide.
There is a fairly clean situation showing on our District Governors Recap Report, in that there is only 1 club showing an outstanding $182.71 for 120 days. This will however be looked at this much sooner.
The DG Team is meeting on a monthly basis anda very good spirit of cooperation is evident. The DG team is taking full responsibility for extension in the District. The proposed club in Hartebeesport is progressing well with IPDG Daveand ZC Theo assuming the role of Guiding Lions. A further extension is being looked at by 2 VDG Ian, ZC Lindie and their Alberton Club in the Katlehong area where some 20 school teachers have shown an interest.
The Club visitations are going well but will decline in December as many clubs are not meeting in that month.
The Mid Year Conference was a success but the lack of more LIONS hampered some of the activities.
I have appointed DC Delphine Ferreira as the new DC for GLT.
A very robustdiscussion was held in the Cabinet meeting regarding the proposed Youth Exchange Camp. After the lengthy Discussion it was felt unanimously that is was not practical or within the interests of the district.
It was proposed by PCC Cliff Hocking and seconded by DC Beaulieu Maré and adopted unanimously by the cabinet officers that the District will not participate in this proposed camp.
It was commented that this District is not interested in youth development, huge exception was taken against this remark.
DC Beaulieu was given permission to promote outgoing youth exchange through the various LCI youth camps and AFS exchange camps, who have a partnership with LCI.
Yours in Lionism
Roy Michas
District Governor 410B
---
Visit Lions District 410B on Facebook...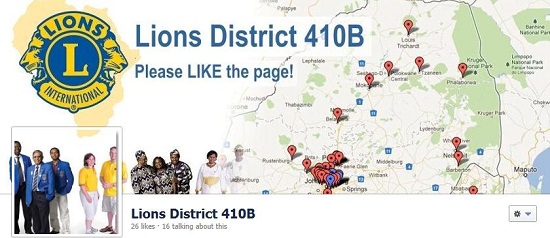 ---
Lions Clubs International is the world's largest service club organization with more than 1.4 million members in approximately 46,000 clubs in more than 200 countries and geographical areas around the world.