MESSAGE FROM DG DAVE COUSINS
In the light of Nelson Mandela Day today, the chaos in Israel / Palestine and the insane shooting down of a Malaysian passenger airliner over Ukraine it might be appropriate to recognise that Lions - every one of you while "We Serve" in so many ways are also Helen Keller's "Knights of the Blind in the Crusade against Blindness" and also very special individuals with great human values in the fight to "Create and foster a spirit of understanding amongst all the peoples of the world".
Certainly something to consider as we remember the life and legacy of our own Madiba. He would probably be crying over news of this totally senseless loss of life and human understanding.
Thank you all for your contribution to make this world a better place for everyone!
Best regards and heartfelt thanks on not only this special day but every day! You are real Lions in spirit and in deeds!
Yours in Lions Service
DG Dave Cousins

---

Some of the projects already undertaken by Clubs in 410B, that we are aware of, are:
Centurion Lifestyle : Helped a church group feed 50 men in Rooihuiskraal with tea and bread and provided a new blanket for everyone there at 6AM this morning. Thanks to Lions Alison, Barbara, Ina, Marion, Onkgopotse, Nosipho and Rob to getting up so early and doing the good thing on NMD.
Pretoria City
Lions Club Members assisted in the packaging of 1440 packets of food. Each packet can feed 6 persons equalling 8,640 mouths that will be fed by this project. Our contribution to NELSON MANDELA DAY!
Northcliff received 87 blankets from Absa / Barclays and are distributing them to our orphanage and poor folk projects.
Henley-On-Klip : 1. Making quilts today with a group called Madam and Eve (black ladies are taught how to sew by a group of ladies in Henley). A few Members and friends of Lions have joined them today to show them how to make the quilts and then quilts will be given on to an old age home in the area. 2. Giving soup to 45 children without parents at a local township. 3. Playing Bingo with the old folks tomorrow 4. Running a special eye clinic in Sebokeng with our Lioness Club Lekoa 5. Handing out homemade crochet baby hats to new borns and babies at a few local hospitals.
Pretoria South : We hadn't planned anything specific. Anticipating quite a bit of extra food tonight which we will distribute afterwards in the cold - a hot meal on a cold night is always welcomed by those living on the street. Atterbury Road has plenty of people hanging around all hours.
Bedfordview supplied animal food to "Samantha cats" to assist with the feeding of stray animals and also arranged a fun "Christmas in July" function for 130 elderly mentality handicapped people from 3 homes in Bertrams. We supplied and served them a cooked meal, cupcakes (specially made), a gift to take with them and some clothing. It was an absolutely awesome Nelson Mandela Day. Lion President ZC Carolle
Nelspruit Lions Club held an Eye Care Clinic at Waterval Boven Clinic, in conjunction with the Department of Health & Services and the Nkomati Mine. Lions gave out 349 pairs of spectacles and screened about 415 patients. On Friday 18th, Lions took biscuits, chocolates and about 40 books to the old folk at Silver Days Old Age Home in Waterval Boven. LP Val Belbin, Nelspruit Lions Club

Soweto Host painted a creche and fixed all leaking taps at the Ntombi Daycare centre in Protea Glen Extension 12 that serves 50 children. The club members also participated in a clean up campaign in the suburb of Meadowlands. LP Amos
Wilro Park Lions took part in NMD by teaching 9 women from a senior's club in Zandspruit to to make fleece blankets that require no stitching. They will now be able to make the blankets and sell them and also pass on the skills learnt to others in the community. The women were so thrilled with their blankets that they even modeled them for everyone to see! Paige Luppnow - Club PRO
Letaba Tzaneen held a successful "Cut-a Thon" in partnership with a local hair salon Hair Fusion. LP Martin Froise
Well done everyone for making a difference! The world would be poorer by far without your care and compassion!
---
Visit Lions District 410B on Facebook...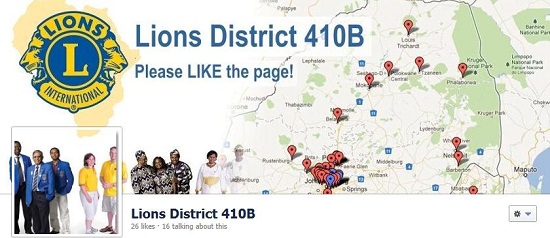 ---
Lions Clubs International is the world's largest service club organization with more than 1.4 million members in approximately 46,000 clubs in more than 200 countries and geographical areas around the world.