District 410B
Message from the District Governor
Message from Lion District Governor Ian King
July 2017
My Fellow Lions of 410B,
I write this note still on a massive high following the events of the past 6 weeks. I was very fortunate to be able to travel with great Lions to the US and spend some time travelling to New York, Baltimore, Washington and finally on to Chicago for an unforgettable experience at the Centennial Convention - What an experience! Governors school gave us an opportunity to meet with Governors Elect from all over the world and hear of their challenges and successes - not too different from ours. The convention was a huge highlight, with the Beach Boys opening proceedings and Chicago closing the Convention, and in between we had the Charley Daniels Band, Patty la Belle, Blues Brothers and many more… Guest speakers included US Vice President Al Gore, former UN Secretary General Ban Ki Moon and Nick Vujicic - What an inspiration!
I have been back and in office for 3 weeks and I cannot believe just how much has happened in such a short space of time. From President Inductions in Henley-on-Klip and Standerton, 1st official club visit and spending time at the 702 Walk the Talk.

But running a District is more than just the good times: we have work to do in all areas of Lionism in our District. From looking at the addition of Paediatric Cancer and Diabetes to the new Service Framework, to implementing relevant parts of LCI Forward. All of this will be explained as we get into the year. I trust that you are well into the work required to take care of your fellow Lions and your communities.
Remember, our International President's theme is simply "We Serve". My challenge to you this year is to do just that. Let us all get back to understanding just why we proudly wear our Lions badge every day, which it is simply to make a difference in the lives of those less fortunate than ourselves. Let's also be liberal with our praise and very careful with our criticism, let's rather build up and not destroy.
.
I look forward to working with each one of you as we strive to reach our goals and objectives this year.
Remember, help is just a phone call away

Ian the Lion King
District Governor
District 410 B
---
Visit Lions District 410B on Facebook...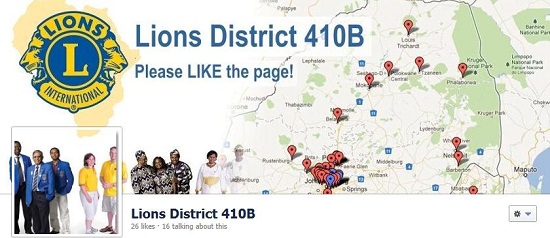 ---
Lions Clubs International is the world's largest service club organization with more than 1.4 million members in approximately 46,000 clubs in more than 200 countries and geographical areas around the world.