Home to 2022 Cash Calendar - Updated as of 31 Dec 2022
This is our final 2022 posting. Congratultions to all of our winners; thank you to everyone who bought cash calendars. 2023 Calendars will be available in July 2023.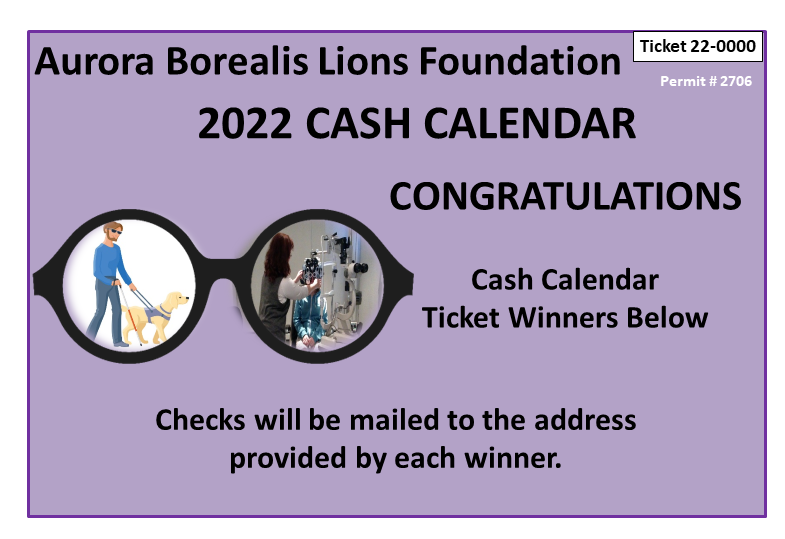 Checks will be in the mail at the end of each week.
Thank you very much for supporting us in this fund raiser.
To get your cash calendar - Ask you local Lions Club
If you see your ticket number below, e-mail hsrixie@gmail.com to make sure we have your correct mailing address.
The following represents the schedule of daily drawings and prizes.
OCT
NOV
DEC
Day
Prize
Ticket
Prize
Ticket
Prize
Ticket
1
NA
NA
$300
22-0003
$150
22-1157
2
NA
NA
$200
22-0611
$200
22-0273
3
$1,000
22-0548
$250
22-1572
NA
4
$250
22-1776
$100
22-0880
NA
5
$150
22-1970
NA
$100
22-0397
6
$150
22-1137
NA
$200
22-1358
7
$250
22-0631
$250
22-1799
$100
22-1659
8
NA
$200
22-1018
$200
22-1182
9
NA
$100
22-0476
$200
22-1771
10
$150
22-0689
$500
22-0140
NA
11
$200
22-0845
$150
22-1204
NA
12
$150
22-0264
NA
$100
22-0532
13
$200
22-0651
NA
$250
22-1176
14
$200
22-1483
$200
22-1674
$100
22-0617
15
NA
$250
22-0964
$100
22-0740
16
NA
$100
22-1036
$250
22-0208
17
$200
22-1398
$150
22-1624
NA
18
$200
22-0764
$150
22-0435
NA
19
$200
22-1261
NA
$250
22-0132
20
$150
22-0196
NA
$150
22-0163
21
$200
22-0968
$250
22-0824
$200
22-0408
22
NA
$100
22-0997
$100
22-1679
23
NA
$250
22-1663
$500
22-1081
24
$150
22-0099
$150
22-0207
NA
25
$250
22-1197
$400
22-0216
NA
26
$300
22-1173
NA
$500
22-1289
27
$150
22-1565
NA
$200
22-1899
28
$200
22-0394
$400
22-1728
$300
22-1716
29
NA
$150
22-1262
$200
22-1676
30
NA
$100
22-0361
$1000
22-0037
31
$250
22-1094
NA
(1). Permit: 2706, North Pole Lions Foundation (AKA, Aurora Borealis Lions Foundation)
(2). Drawing for the prizes, on the dates listed above, will be conducted by the ABLF Eyeglass Recycling Center
(3). Ticket price: $20
(4). Players of tickets need not be present to win
(5). Tickets are numbered 22-0001 thru 22-2000
(6). Players will be referred to this web site for any supporting information
(7). Tickets sold after the first drawing date, the date sold will be marked on the ticket stub and ticket sale log and eligible for prize drawings from that date forward.
(8). Tickets are sold throughout the State of Alaska
(9). A $2 incentive is given to the seller of each ticket sold on behalf of ABLF
(10). A $1000 incentive is also given to the person or org that sells the most tickets on behalf of ABLF, with a minimum of 100 tickets sold. (To be determined with tickets sales turned in as of November 15th.)
(11). Every ticket is eligible and played in every daily drawing no matter how many times it may win.
(12). ABLF owns/plays all unsold tickets