On Saturday, September 12, 2020 the Indiana State Lions held a presentation ceremony for the Distinguished Lion Award nominees.

The Nominees (pictured LtoR): PDG Margaret Verkulen (25A), PDG Pat Short (25C), PDG Merle Goldman (25F), PCC Bob Booher (25F), VDG Jeff Locke representing Lion Robert Narkon (25F), Lion Bob Feitz (25G) and PDG Don Cooper representing Lion Noel Brock (25B)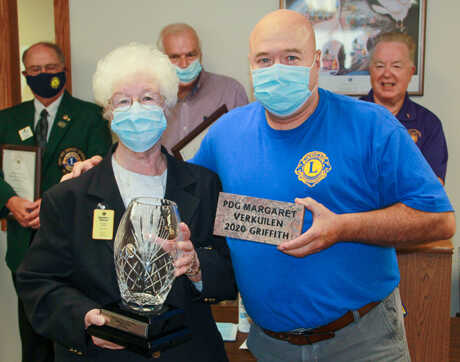 The winner of the 2020 Distinguished Lion Award was Lion Margaret Verkulen from District 25A (pictured with Past Foundation President Andy Dybel). Congratulations to all the nominees and to Lion Margaret for this well-deserved honor!
You can watch the entire presentation ceremony using the video link below:
Lions Clubs International is the world's largest service club organization with more than 1.4 million members in approximately 46,000 clubs in more than 200 countries and geographical areas around the world.