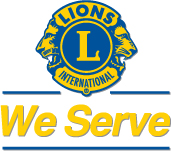 Lions Club History
1917: Melvin Jones and fellow Chicago businessmen found Lions Clubs to improve the community.
The first convention takes place at the Adolphus Hotel in Dallas, TX.
1920: Lions Clubs become international by chartering a club in Windsor, Canada.
1925: During the international convention in Cedar Point, Ohio, Helen Keller charges Lions with becoming "knights of the blind in the crusade against darkness.
1930: Lion George Bonham paints a cane white with a wide red band to aid the visually impaired after he witnesses a blind man having trouble crossing the street.
1935: Local Lions donate a Talking Book machine to the Milwaukee Public Library, allowing the blind to hear books.
1939: Members of the Detroit Uptown Lions Club turn an old Michigan farmhouse into a school to train dog guides for the visually impaired, helping to popularize dog guides worldwide.
1944: The world's first eye bank is created in New York City. Today, most eye banks are Lions-sponsored.
1945: Lions assist in drafting the United Nations Charter, starting a lasting bond with the U.N.
1954: After an international contest among Lions, an official motto is chosen: "We Serve." The motto was submitted by Lion D. A. Stevenson of Font Hill, Ontario, Canada.
1957: Lions launch youth programs, including the very successful Leo Clubs.
1968: The Lions Clubs International Foundation (LCIF) is established.
1972: LCIF sends out its first grant.
1987: The association amends its bylaws and invites women to become members. Women are now the fastest growing segment of new members.
1990: SightFirst is launched
2001: LCIF and Special Olympics partner on Opening Eyes, an initiative to screen the vision of Special Olympics athletes.
2014: Lions launch the Centennial Service Challenge, a global initiative to serve 100 million people around the world.
2017: Lions celebrate their 100th anniversary and first century of service!