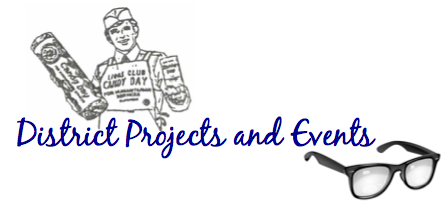 District Projects
Michigan Braille Transcribing Fund
The MBTF is the largest braille production facility in the USA. Their facility transcribes textbooks, legal documents, exams, manuals, menus, election ballots, and other printed materials into braille for blind and visually impaired persons. To donate to or inquire about the MBTF program, contact Tyler Colton via the contact information below.

3500 N. Elm Rd.
Jackson, MI 49201
517-780-5096
www.mi-braille.org
Radio Reading Service
WKAR Radio Reading Service, based out of Lansing, operates 24 hours a day, 7 days a week, serving persons who have difficulty reading conventional printed material. WKAR provides these people access to news and information they can use to live better independently. A special radio receiver used to listen to WKAR's programs is loaned free of charge to qualifying individuals. The service utilizes volunteers to read aloud on the air. For information about volunteer opportunities, or to support WKAR Radio Reading Service, contact Producer Brad Walker at the contact information below.

283 Communication Arts Bldg MSU
East Lansing, MI 48824
517-432-3210 ext 346
www.wkar.org/radioreadingservice

State Projects That Our District Supports
Leader Dogs for the Blind

Founded by three Detroit-area Lions Clubs members in 1939, Leader Dogs for the Blind provides guide dogs to people who are blind and visually impaired to enhance their mobility, independence and quality of life. Each year, over 270 clients are paired with a guide dog. In addition to their guide dog program, they offer programs that enhance a person's independence and quality of life in other ways, including orientation and mobility training, GPS training, and more. Thanks to generous donations from supporters, the guide dog services are provided free of charge. The Leader Dogs campus is located near district 11-C2 in Rochester Hills, Michigan.
1039 S. Rochester Rd.
Rochester, MI 48307
888-777-5332
www.LeaderDog.org
email: LeaderDog@leaderdog.org

Lions of Michigan Bear Lake Camp
Lions Bear Lake Camp provides premier educational, outdoor recreational experiences for special needs youth.The camp opened its doors in July, 2000. It is financially supported by Lions, Lioness and Leos throughout Michigan.
3409 N. Five Lakes Rd.
Lapeer, MI 48446
810-245-0726
www.bearlakecamp.org
Lions of Michigan Foundation
The Lions of Michigan Service Foundation (Lions of Michigan Foundation) is a public charity that was created in the early 1980s to help Michigan Lions Clubs provide services to their communities. They are dedicated to the improvement of the quality of life of people in Michigan with unmet needs. They work with Lions Clubs and other charities to deliver services aimed at helping people with sight and hearing deficiencies maintain their independence.
Project KIDSIGHT
KIDSIGHT is part of the Lions of Michigan Foundation, a project that works to screen the vision of very young and non-verbal children through the use of a special digital cameras. This project helps detect serious vision problems in order to appropriately refer children to an eye care professional. They Project Kidsight program has been upgraded with several large trailers that are set up with all the equipment needed to do a Kidsight Screening. This expands when and where screening an be done. To train Lions in KIDSIGHT screening or to learn more about the program, contact Lion Chad McCann at the LMSF office.
A YouTube video about the Michigan Kidsight efforts can be viewed by clicking on the link below:
5730 Executive Dr.
Lansing, MI 48911
517-887-6640
www.lmsf.net
Eversight

Eversight is a non-profit organization that is dedicated to the restoration of sight. They recover, evaluate, and distribute human eye tissue for transplantation. Additionally, they support research into the causes and cures of blinding eye conditions and run educational programs to inform people about eye, organ, and tissue donation. To donate or inquire about the Eversight, please contact the Eversight directly. Educational programs may be available for clubs or communities.

4889 Venture Dr.
Ann Arbor, MI 48108
734-780-2100
Lions of Michigan All-State Band
A Lions State Project
The Lions All-State Band a group of 50-100 students from Michigan schools, grades 9-12, who play traditional woodwind, brass, and percussion instruments. Together they perform to enhance musical performance, experience travel, have educational opportunities and serve communities locally and around the world. They travel to the Lions Clubs International Convention yearly to represent the youth and talent of Michigan and to support the Council of Governors of Michigan. Past students have performed over the years at hospitals, orphanages, retirment centers and have traveled to Chicago, New Orleans, Honolulu, Philadelphia, Tokyo, Sydney, Beijing, Hong Kong, Seoul, Montreal, Hawai and many other places worldwide.
For more information, visit the Lion of Michigan website http://www.lionsofmi.com/ Contributions can be made to the Lions of Michigan All State Band and mailed to the Lions State Office at 5730 Enterprise Dr, Lansing, MI 48910.
Special Programs & Events
Eyeglasses & Hearing Aid Collection Competition
Each year the Clubs of District 11-C2 compete in collecting the most eyeglasses and hearing aids for recycling. Specifically, clubs should be collecting eyeglasses, including regular glasses, readers, and sunglasses (including non-prescription) that are intact, and without the eyeglass cases. Hearing aids are also part of the competition.

Competition dates: From end of March each year till the first week of the next March. Clubs are awarded simple prizes at the District Convention that are recognition of the work the clubs does each year.
For more information about the competition, see the Forms & Flyers section of this website.
Lions International Peace Poster Contest

The International Peace Poster Contest is an annual art contest for kids age 11-13 (as of Nov. 15). The contest encourages young people worldwide to express their visions of peace. Participants can use a variety of mediums including charcoal, crayon, pencil, and paint to express the theme, and should express the young artists' life experiences and culture. Each year there is a different theme, announced by International. The judges select 24 finalists from the 350,000+ entries, and those become part of global exhibits. One winner is chosen and is awarded US$5,000 and a trip to an award ceremony with the sponsoring club president and 2 family members. The other 23 finalists receive $500 and a certificate of achievement.

The theme of the 2012-2013 Peace Poster Contest was "Imagine Peace". The theme for each year varies "Peace" is always part of the theme..
Junior High and Middle School Art Teachers if you would like to have your students participate contact Lion Gail Robins at gaillrobins@yahoo.com for information. Many local Lions Clubs can assist the program by helping with Art Supplies and judging the Posters when completed.
Annual deadlines for the Peace Poster Contest:
October 1 - Clubs must purchase contest kits from LCI Club Supplies by this date to participate.
November 15 - Clubs must select a winning local poster (according to contest guidelines) and submit it to the District Governor by this date
December 1 - District Governor must send one winning poster from the district to a Lions of Michigan council chairperson
December 15 - The winning poster from the state of Michigan is sent to International Headquarters

For more information and rules for the contest, visit the Peace Poster section of the LCI website, where you will find rules, pamphlets, supplies, official list of deadlines, and certificates for participants.
Statewide Lions Day
During the month of October, which is Lions Membership Month, Lions in Michigan celebrate Statewide Lions Day. During this one day, we want to make our logo, our vests, and our causes known to the public. We encourage all Lions to wear vests, pins, t-shirts, and more all day long. We also encourage clubs to hand out pamphlets, hang posters/flyers, and hold events to raise awareness on this one day. The goal is to canvas the state of Michigan in our blue and gold colors and our logo and motto for one day. For more information, please contact your District Public Relations Chairperson and watch the District Newsletter in August and September for more details.
White Cane Day
White Cane Day is a special annual event used to help educate the public about the aspirations, hopes,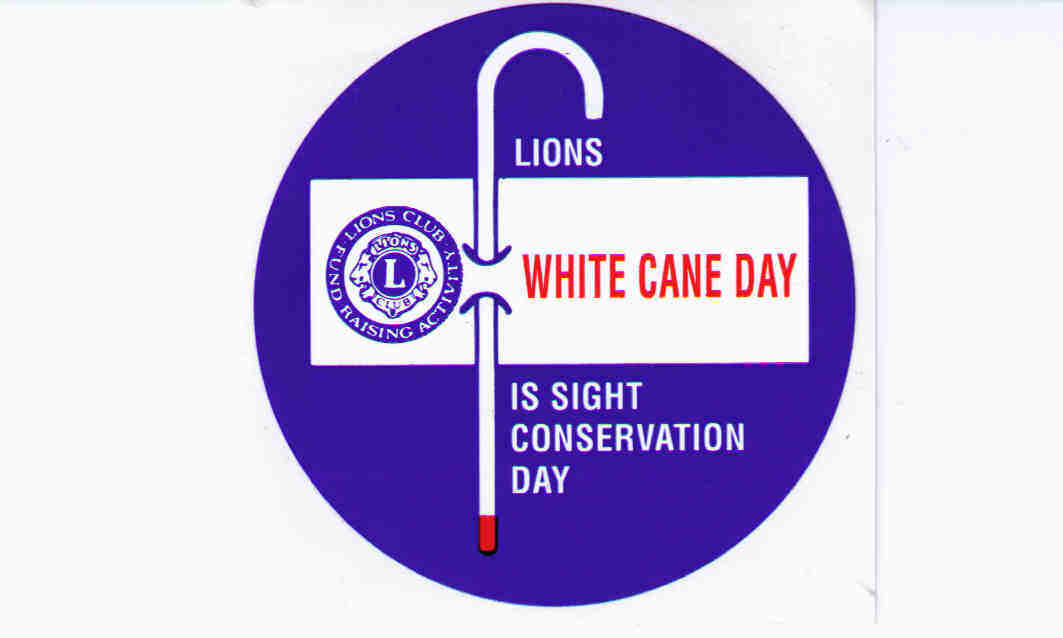 and abilities of people who are blind or visually imparied. This can include educating the public about white cane laws, advocating audible "beep" traffic lights and other safety devices, and organizing events that emphasize equal capabilities and talents of people who are blind, visually impaired, or deaf-blind. This is often paired with a fundraising effort. White Cane supplies are available through LCI Club Supplies.

For clubs that want to learn more about the history and resources of White Cane, please see the Forms & Flyers section of this website.
Candy Day
Candy Day is a one- or two-day street promotion held in the fall of the year, where Lions give away rolls of Lions Mints--fizzy fruit, wintergreen, and peppermint drops--in exchange for donations.