Welcome to District 13-OH5
In the 2016-2017 Lions year, The Lions of Ohio redistricted. The state combined several districts together to balance the number of members in each district. Bringing the number of districts from 10 to 7. Each District was renamed from letters of the alphabet to numbers.
Our District was made when some of the clubs from District 13E combined with District 13F. We have clubs in 11 different counties which include Champaign, Clark, Darke, Delaware, Franklin, Madison, Marion, Marrow, Miami, Pickaway and Union.
What are Lions?
In 1917, Melvin Jones asked a simple and world-changing question. What if people put their talents to work improving their communities? They agreed. In 1925 at Sandusky, Ohio, Lions were challenged by Helen Keller to become "Knights of the Blind" in the Crusades against darkness. We no longer had ideas but a purpose.
Where There's a need, There's a Lion
For over 100 years Lions have been tackling problems of vision, environment, disaster relief and hunger, adding diabetes and childhood cancer more recently. We are finding help for the deaf, disabled, elderly and underprivileged. Lions have become the world's largest service organization with over 1.4 million members in more than 205 countries around the world. We are striving to make our communities better.
We are succeeding because our members are working smarter and faster with greater commitment than ever before. If you have the same passion and same commitment in making the world a better place then LIONS are for you.
NEW VOICES SYMPOSIUM MAY 6, 2023
Pay $26 here ($1 processing fee): Pay Here
After payment, please complete on-line application (here) to register.
You may also print the form in the "Upcoming Events" tab on this website and mail it and the check if preferred.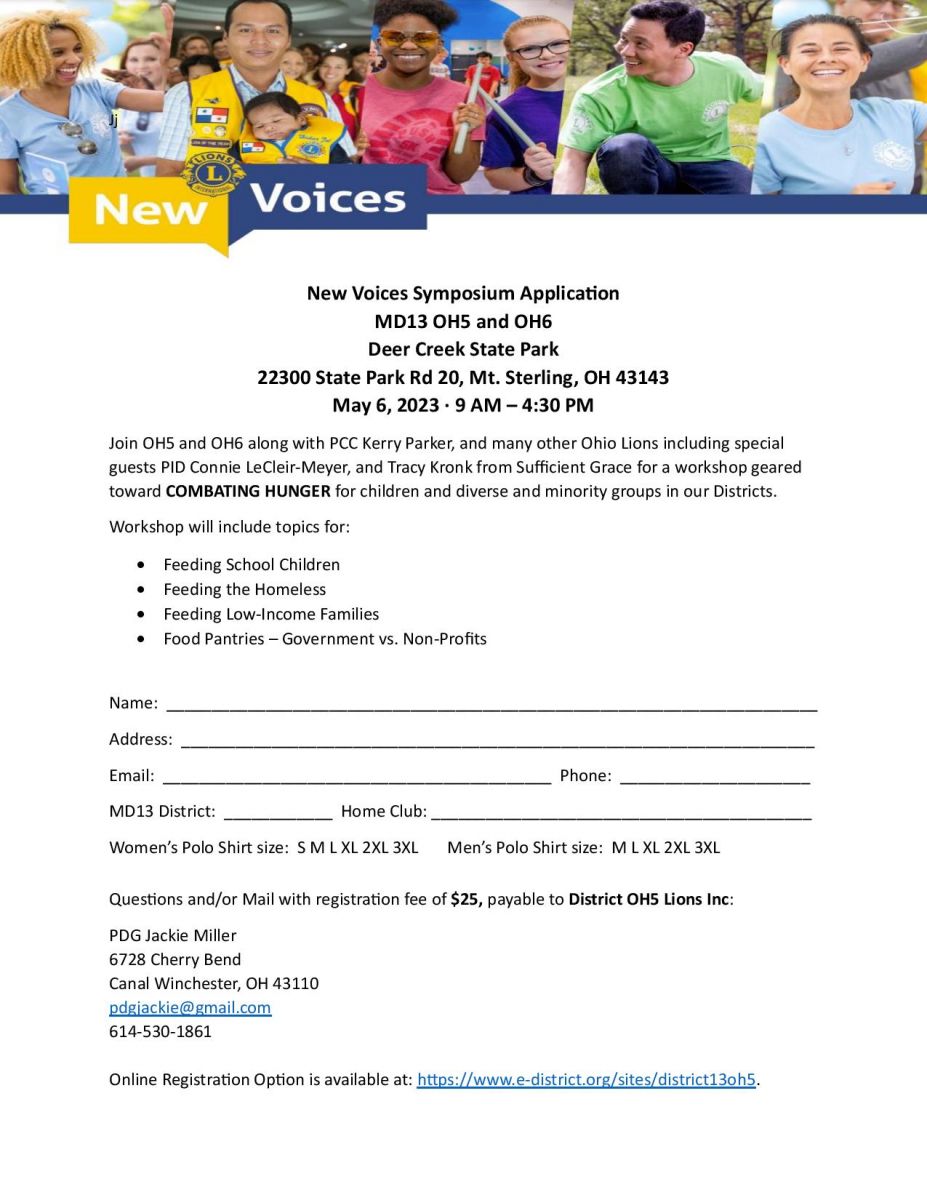 Lions Clubs International is the world's largest service club organization with more than 1.4 million members in approximately 46,000 clubs in more than 200 countries and geographical areas around the world.