LION JAMES E. "BING" MILLER CHARITABLE FOUNDATION
Pennsylvania Lions Multible District 14 P
Past International Director James E. "Bing" Miller (1974-1976)
Pennsylvania State Council Chairperson (1968-1969)
District Governor (1967-1968)
Member of the Paoli- Berwyn-Malvern Lions Club


---
Mission Statement
Our mission is to actively serve the people of Berks County and Chester County, Pennsylvania, by building permanent charitable capital, making philanthropic grants to needy individuals and families, and providing those services through our Lions, Lioness and Leo Clubs, that contribute to the health and vitality of their local community.
---
---
Bing Miller Fellowship Pin
Every James E. "Bing" Miller Fellow receives this lapel pin to show they're a member of our District Foundation
A Lions, Lioness or Leo Club can honor a member of their Club with a Bing Miller Fellowship.
The cost of the Fellowship is $300.00 and the honoree will receive a beautiful wall plaque and the beautiful lapel pin shown below.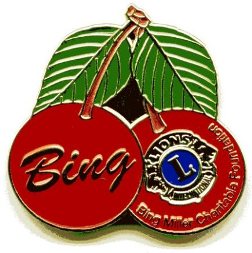 Knights of Bing Miller pin
The "Knights of Bing Miller" was established so an Individual can contribute to and support our Lions District Foundation
The Knight program is open to anyone that would like to help our Foundation to help those in need in Berks and Chester Counties.
The cost of a Knight membership is $100.00 and can be paid for over four annual payments of $25.00.
Once the $100.00 is paid the receipient will receive the beautiful lapel pin.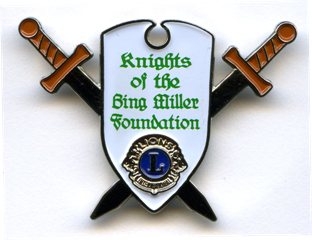 Lion James E "Bing" Miller Charitable Foundation is a 501 (c)(3) Foundation
Your individual donation is tax deductible.
-----------------------------------------------------------------------------------------
2017-2018 Members of the Board of Directors
Officers
PDG Gustave Meyer III, President
PID Eugene Polgar, Vice President
Lioness Linda McCue, Secretary
PDG Richard T. Taylor, Treasurer
Lion Brenda Hinkle, Financial Secretary
Directors:
ZC Len Crowther Lion Jim Minn III
Lion Dave Deihm Lion Bob Moskel Sr
PDG Nancy Gauthier PDG Dave Sampson
Lion Doris Haley, Dist Chaplain ZC Barb Smith
ZC Gary Hilbert PDG Dave Smith
PDG Barry Hinkle PDG Ken Snyder
DGE Dave Hunsberger Lion John Stasulli
PDG Walt Labs Lion Rosemary Stasulli
Lion Ray McKay 1VDG Marilyn Wagner
Appointed Members:
DG Stephen Wagner
Lion President. Paoli Berwyn Malvern Lions Club
Special Members:
Lion Jim Groff 14-D
Privileged Members:
PDG Carol Berzon
Honorary Members:
James E Miller Jr
Sharon Tocket
Margie Stouffer
contact: PDG Richard Taylor, pennoak@gmail.com, 484-631-8932
To See List of Fellows and Knights click on the link below
Video of Central Berks