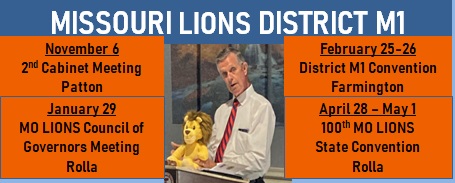 Here's the new banner (above) to the District M1 Facebook page- https://www.facebook.com/profile.php? id=596278917084651&ref=br_rs
CONGRATULATIONS DISTRICT GOVERNOR ELECT JERRY REAVES!
This is a BIG year for District 26M1! The Rolla Lions will be hosting the 100th MO Lions State Convention, April 28-May 1! This means the MO Lions Council of Governors Meeting will be held in Rolla on January 29. Along with those two events, we have the District 26M1 Convention, hosted by the Farmington Lions Club sandwiched in between, February 25-26.
---
CHECK OUT September Issue of Missouri District 26M1 Newsletter!
https://drive.google.com/file/d/1P--XwD-pp2uMF66EfynlciuGKJ3ZTRYX/view?usp=sharing
---
TAKE A LOOK September Issue of Missouri Lion Newsletter (welcome new Editor, Lion Bethany Pederson)... BIG EDITION introducing the District Governors...
http://missourilions.org/wp-content/uploads/2021/09/July-September-MO-Lions-Newsletter-compressed2.pdf
---
"We shall all take a part in helping out the world." Daphne Kim, 11, from California, USA, is a 2020-21 Lions #PeacePoster Merit Award Winner. Sponsored by the Los Angeles New Millennium Lions Club. Deadline to sponsor a contest is October 1!
https://www.lionsclubs.org/en/start-our-approach/youth/peace-poster (this link will offer several links to information, calendar and more)
POSTMARK DEADLINE TO SUBMIT WINNING POSTER TO DISTRICT GOVERNOR IS NOVEMBER 15! (use the District Directory, link to the left for address of DG Lion Jerry Reaves)
---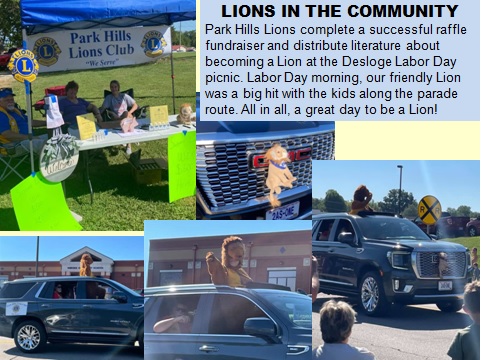 ---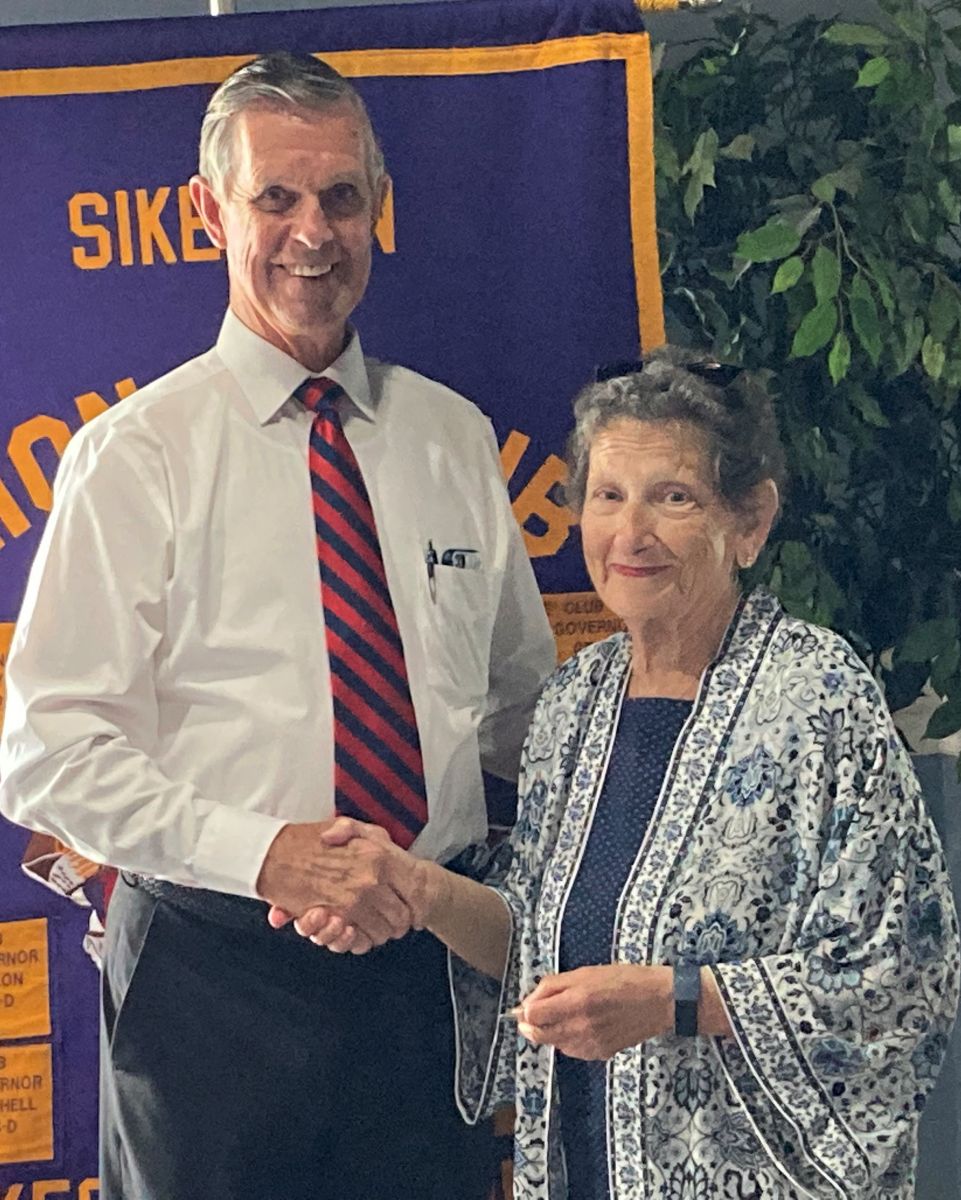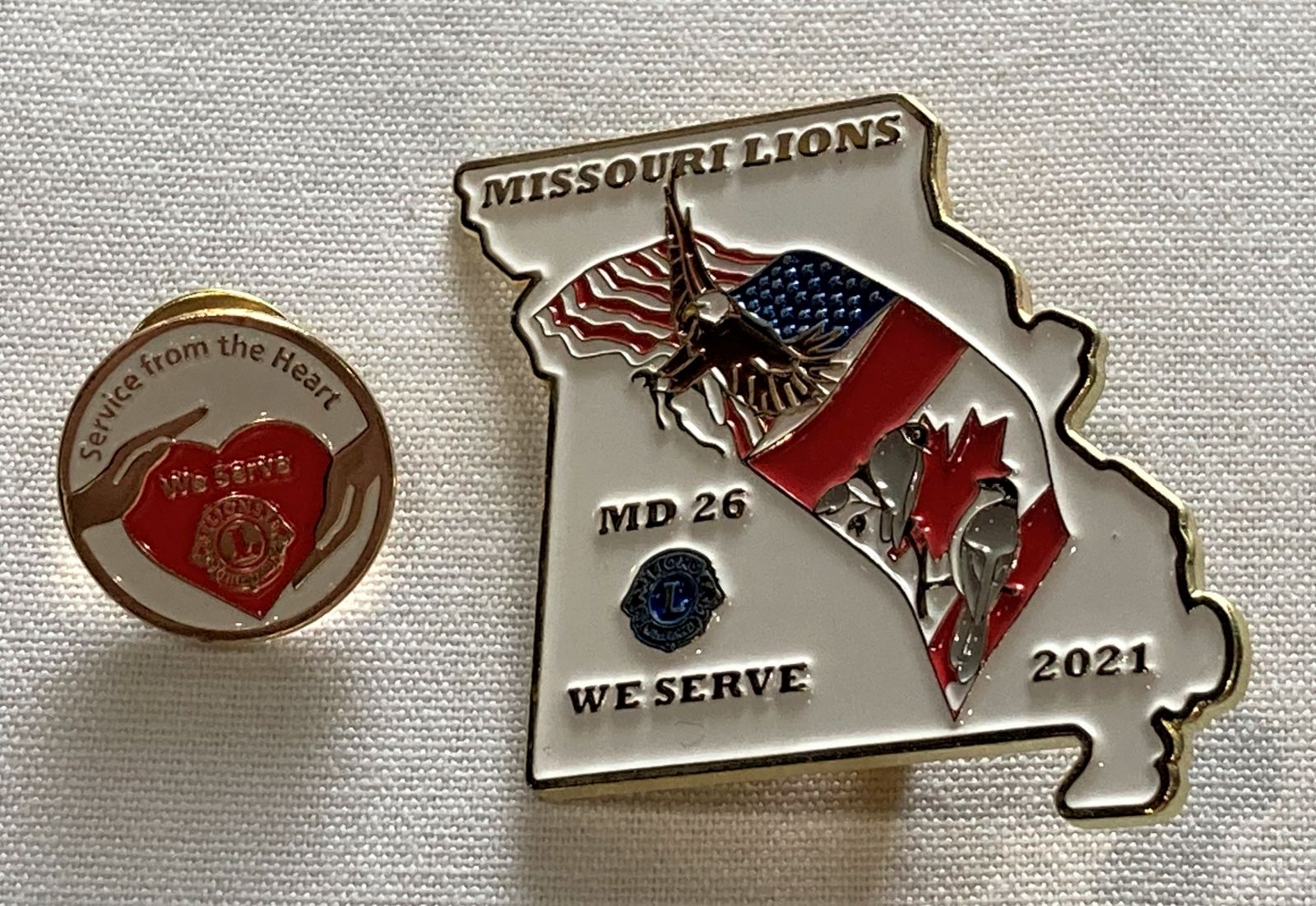 District 26M1 Governor Lion Jerry Reaves welcomes the District's newest member, Lion Linda Beardsley (official 7-28 in the Malden Lions Club) to the First Cabinet Meeting in Sikeston, August 7. He gives her the current Missouri Lions Pin along with a pin from Lions Clubs International President Douglas Alexander (https://www.facebook.com/DAlexander143/?__cft__[0]=AZXfh5uehkJ65RzJMq3LRq-ja1BOhuF5kHRBK-FRnBri2T3ItKQC_y57BBAGkTJRF1DP9IxSnsdAplVxKWVWU7q3-tWF1NbNwrv_k5Q5oj6tl3PtMQuO2E5OFtSJOqP5SgKcp5i6DwGbzEUQ72JYhTBkCsxVtEgynKACpy-kKBqpeHfXNVz2mK4lde-5H8byO2s&__tn__=kK-R
---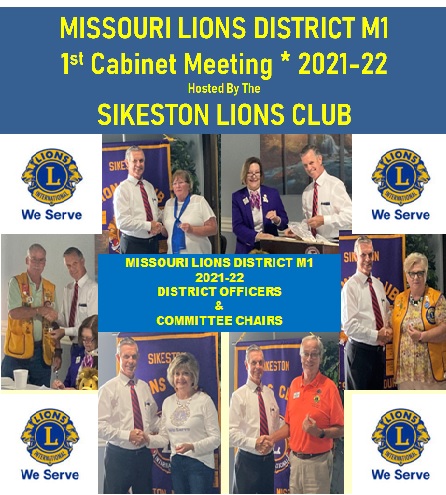 District 26M1 Governor Lion Jerry Reaves thanks the Sikeston Lions Club for a great Cabinet Meeting and thanks the new District 26M1 Officers and Committee Chairs in attendance, bestowing the "pin add-on"...
Upper (l)

1st Vice District Governor Lion Jennie Mosher (Rolla)
Upper (r)

2nd Vice District Governor Lion Marilynn Reaves (Malden)
Cabinet Treasurer Lion Allen Taylor (Cape Evening)
Peace Poster Committee Chair PDG Lion Reta Reed (West Plains)
LCIF & Global Membership Chair PDG Lion Rodney McConnell (Sikeston)
Region 4 Zone 1 Chair Lion Carolyn Cornman (Malden)
---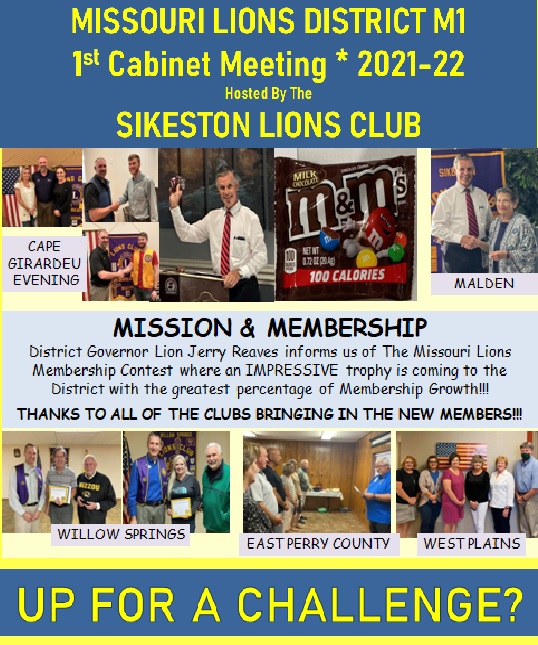 ---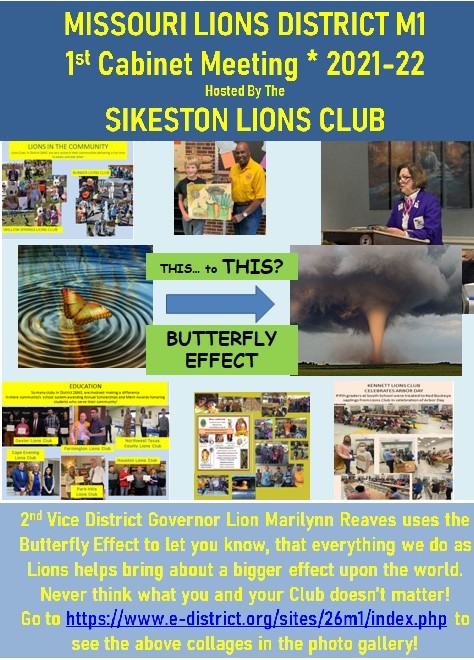 ---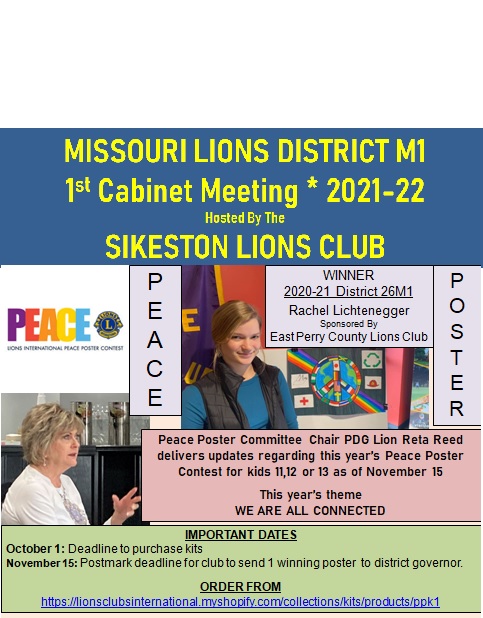 https://lionsclubsinternational.myshopify.com/collections/kits/products/ppk1
---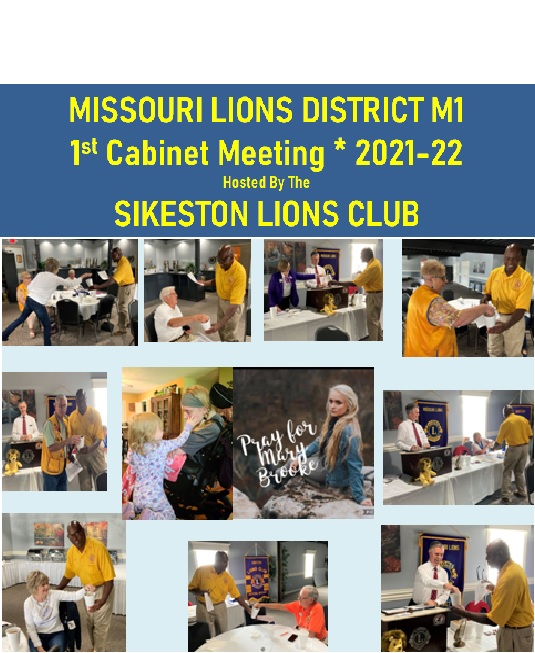 A GIFT to MARY BROOK from the Tail Twister...
Lion Harold Burleson of the Fort Leonard Wood Lions Club takes the duties as Tail Twister at the First Cabinet Meeting. The vote is unanimous to send the collected monies to a fund set up to help with caring for Mary Brooke Steinbach, grand daughter of PDG Lion
Tom Steinbach
, who has traveled so many miles on the journey since last Autumn.
---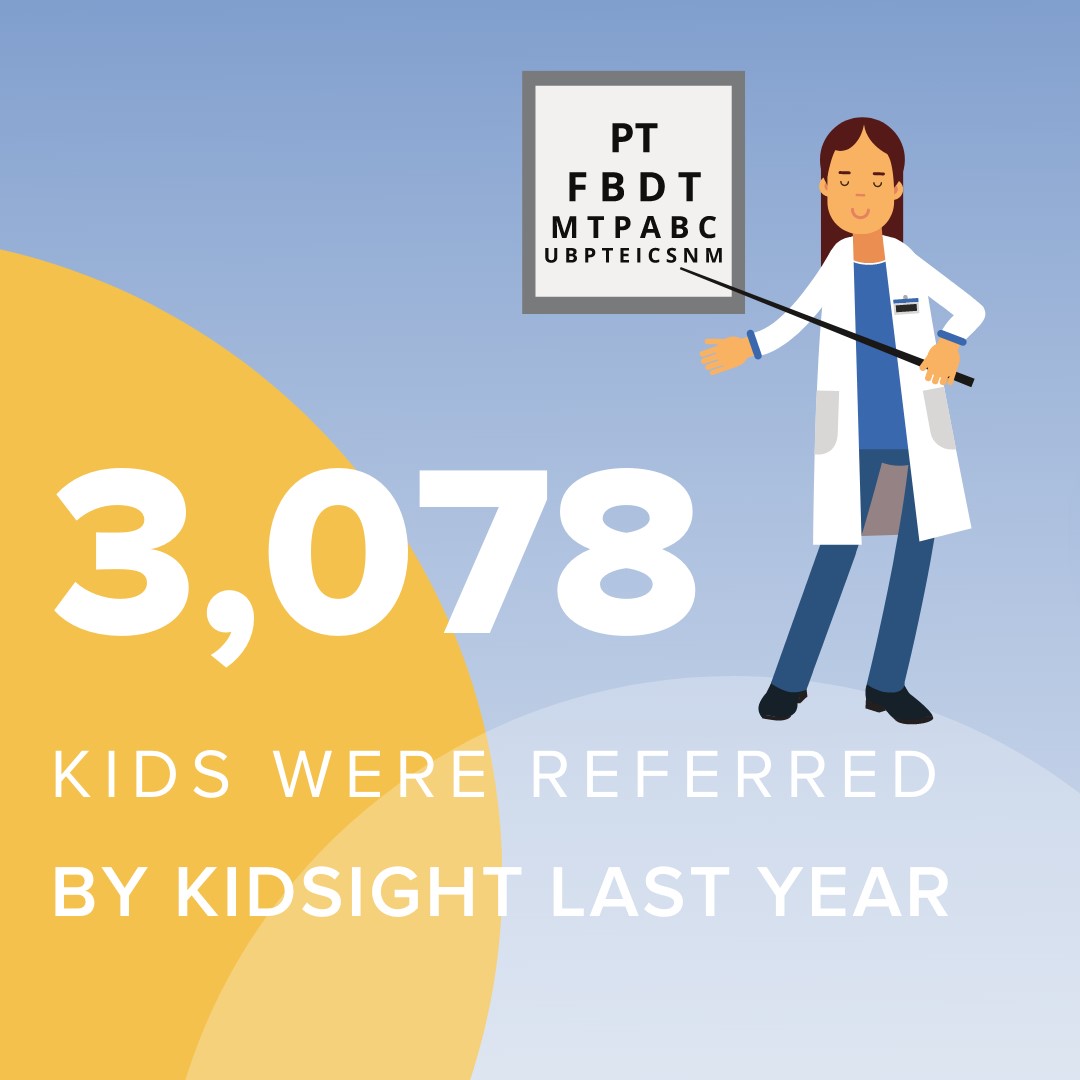 DID YOU KNOW(?) Since September 2020, KidSight has provided screenings for kids at over 580 partner sites - including daycares, preschools, Head Start centers, public schools, charter schools and private schools... IMPRESSIVE!!!
---
---
---
Click this link and look at the LCIF 2019-20 Report- https://l.facebook.com/l.php?u=https%3A%2F%2Fbit.ly%2F2Nwh8jz%3Ffbclid%3DIwAR1w1vXavjkezAWD-_O0X5AqQbac5BV4l2wxq-qT7TrX98IPmbHLBVqwGHY&h=AT3x9s3bhaKCCjoUaTCYftebM-7wO5oEWncqjTUJgtJReWsRgfAc3H75H1ScPtSaXuuRrY-Fqg-o7bvCdlsGT-4pvskxMwEojbWiluxU6sMIIn9hvePrnIKX4suSfl4wJCnqJWV7Cu3Sbs2EKg&__tn__=-UK*F&c[0]=AT3XU4Q1CIJF2vVkwb2iJlQzAl3bNGYvDharMoRUIKnuT87YUyjlnojkqMBBo22JiMxSavcbKfyjs7_TdjwGINJHfgcz7G60cMwIwCO0xBc0tqCTqCiwNBQaWy04lgWfnsqzkcJ-ZlfW4YUl8tFdm5d5-I2pKqSXAxQ
---
Lions Clubs International is the world's largest service club organization with more than 1.4 million members in approximately 46,000 clubs in more than 200 countries and geographical areas around the world.