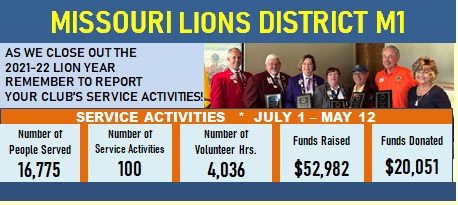 Here's the banner on https://www.facebook.com/MoLionM1/?__tn__=%2Cd . A BIG THANK YOU to Cape Evening, Caruthersville, East Perry County, Farmington, Fort Leonard Wood, Malden, Northwest Texas County, Park Hills, Rolla, St. James and West Plains Lions Clubs for reporting... We have a lot of Clubs that need to report, remember it just doesn't do it on it's own!
Click here for instructions on entering into MyLion (print form) and/or go to the top of the Facebook Page for video insturcations- https://drive.google.com/file/d/1uG3sH3FrsRxSbIOGSaedGri21bYhcS6N/view?usp=sharing
---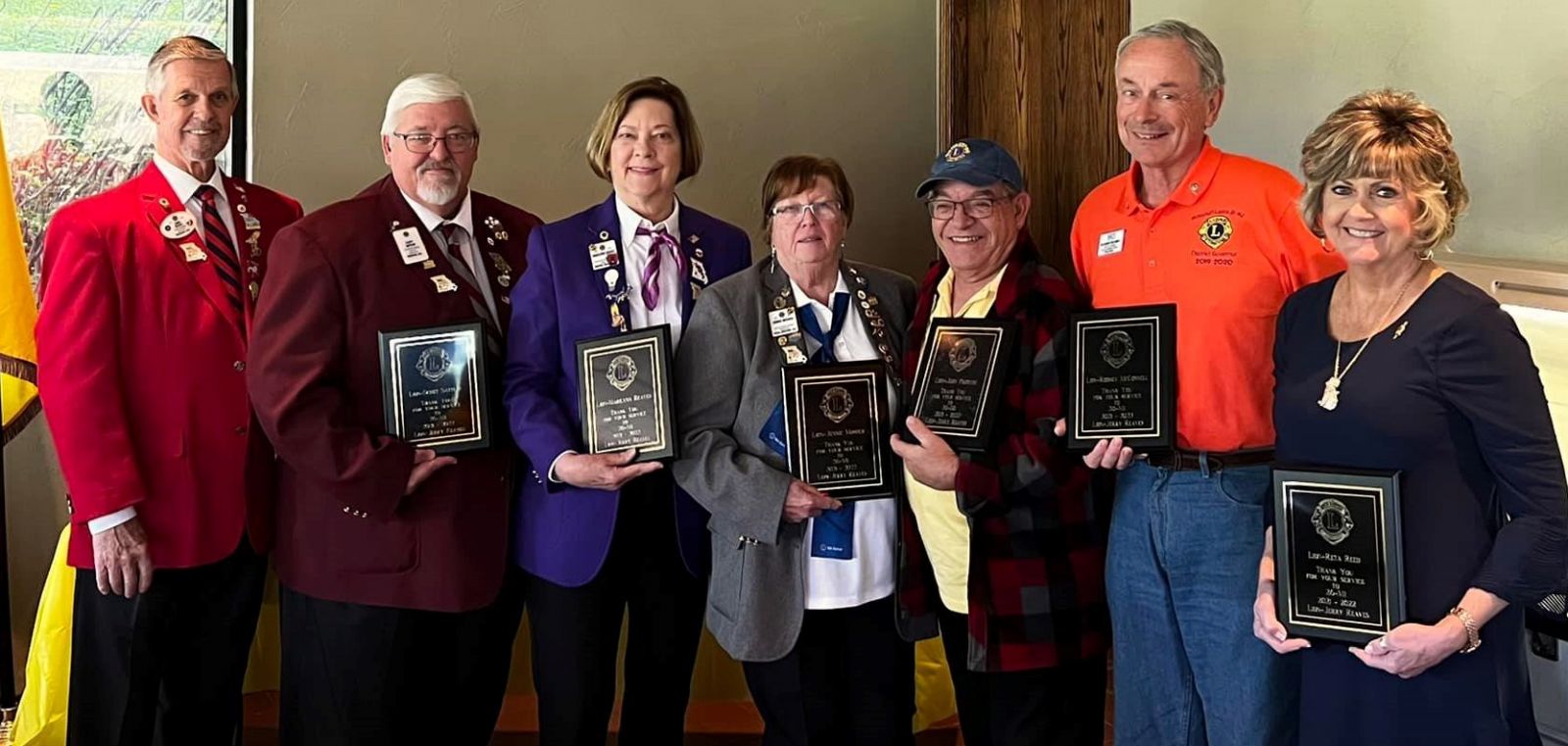 District Governor Lion Jerry Reaves says THANKS to everyone for doing all you've done this year and was able to hand out special thank you's at the 4th Cabinet Meeting hosted by the West Plains Lions Club
(l to r) District Governor Lion Jerry Reaves- Malden Lions Club
Cabinet Secretary PDG Lion Scott Sattler- Perryville Lions Club
1st Vice District Governor Elect Lion Marilynn Reaves- Malden Lions
District Governor Elect Lion Jennie Mosher- Rolla Lions Club
Hearing Com/Zone Chair Lion John Preston- Patton Lions Club
LCIF/Global Membership Chair Lion Rodney McConnell- Sikeston
Peace Poster Com Chair PDG Lion Reta Reed- West Plains Lions
---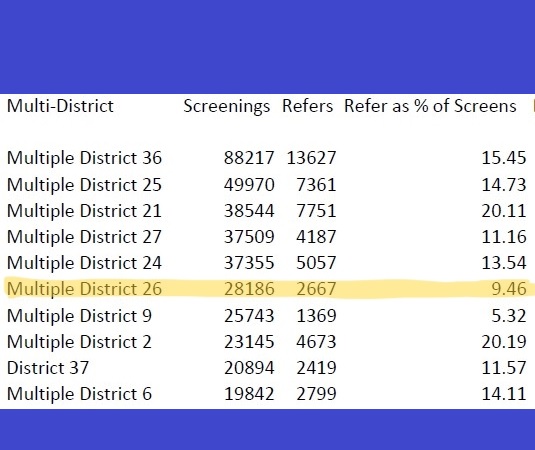 Congratulations to the Project SEE CLEARLY 2021 Top Ten vision screening Multiple Districts. These results are from July 1, 2021 - December 31, 2021 as reported on the Lions KidSight USA Database. Thanks to our co-sponsor, Plusoptix, each of these MDs will receive a check for $500, an engraved Lucite trophy and a banner patch. GREAT WORK Lions. You have made a huge difference in the lives of many children.
---
IN CASE YOU'RE WONDERING...
LCIF is awarding grants to Lions supporting Ukrainian refugees who have crossed their borders. Lions in Ukraine have also received LCIF grants to address the critical needs of people who remain in the country. Grant funding will enable Lions to purchase and distribute immediate relief items, such as food, clothing, hygiene supplies, sleeping bags and medicine.
Refugees and Displaced Persons Fund – LCIF is actively collecting donations to its

Refugees and Displaced Persons fund

, which will help ensure that Lions are there to help them find the safety and security they desperately need. All donations – 100% – benefit grants and programs and qualify for limited-edition Campaign 100 recognition and Melvin Jones Fellowship (MJF) or Progressive MJF. Donations made to this fund are not eligible to receive District and Club Community Impact Grants.
TO HELP OUT, YOU CAN GO HERE https://www.lionsclubs.org/en/resources-for-members/resource-center/humanitarian-crisis-ukraine?fbclid=IwAR2Qdw3z8QL-DU1YNwQxWjECrwlGl5A8HUd8UUllVEvlm_dpQtNdKoK49xs#help
LIST OF WHAT'S BEEN SENT SO FAR (as of March 31) https://cdn2.webdamdb.com/md_I1EpOwwHpl78kCZF.jpg.pdf?v=1
---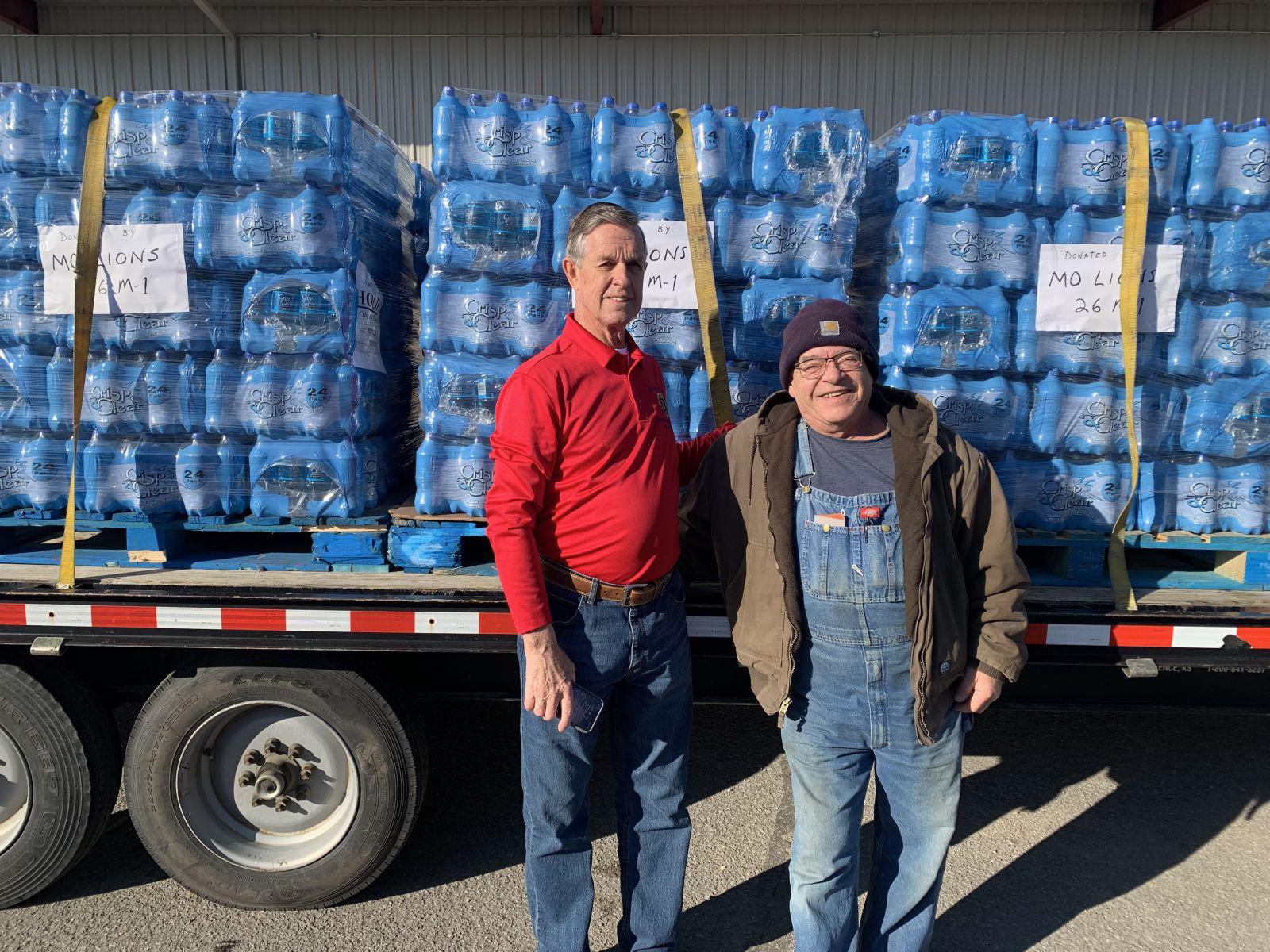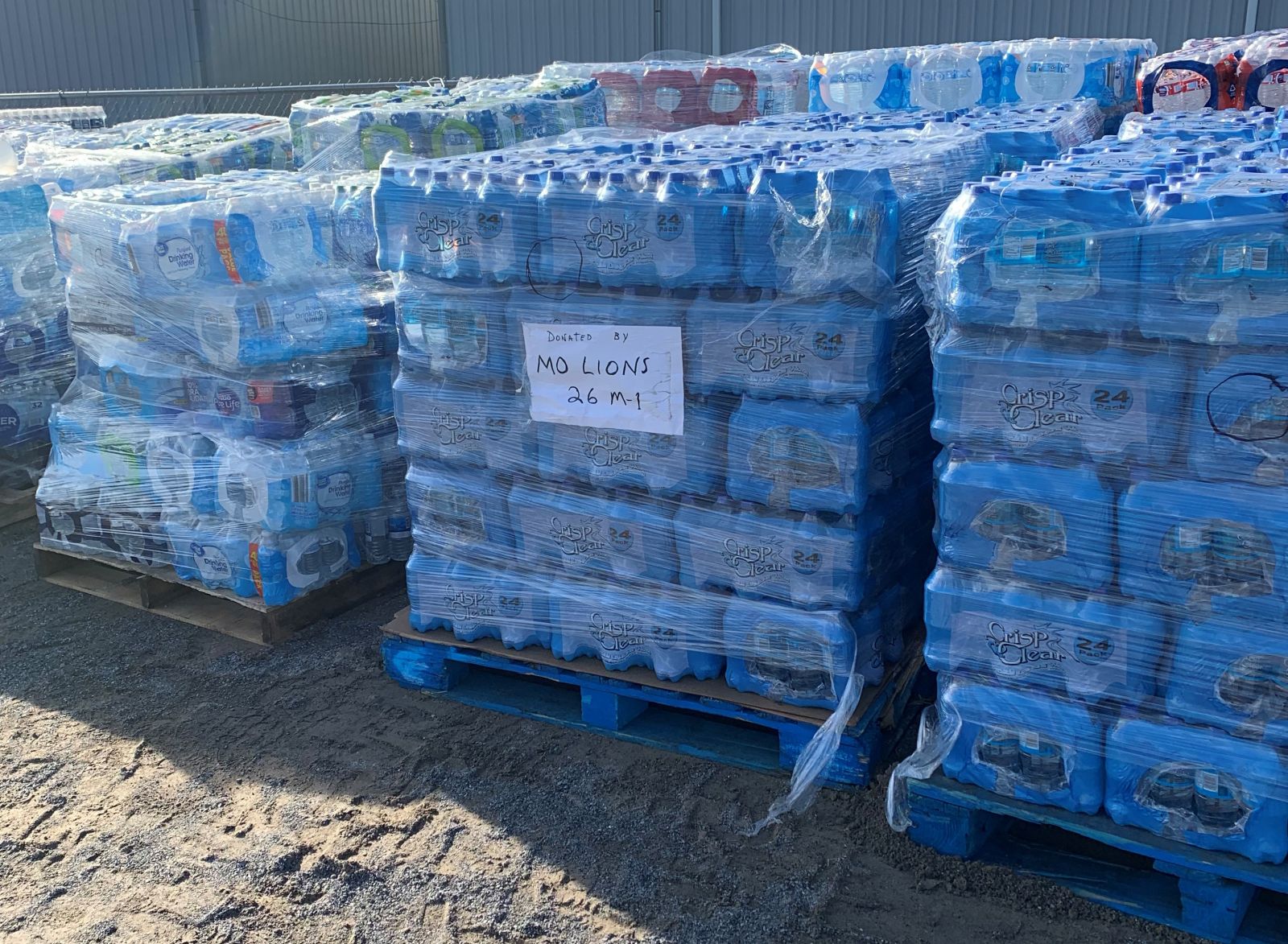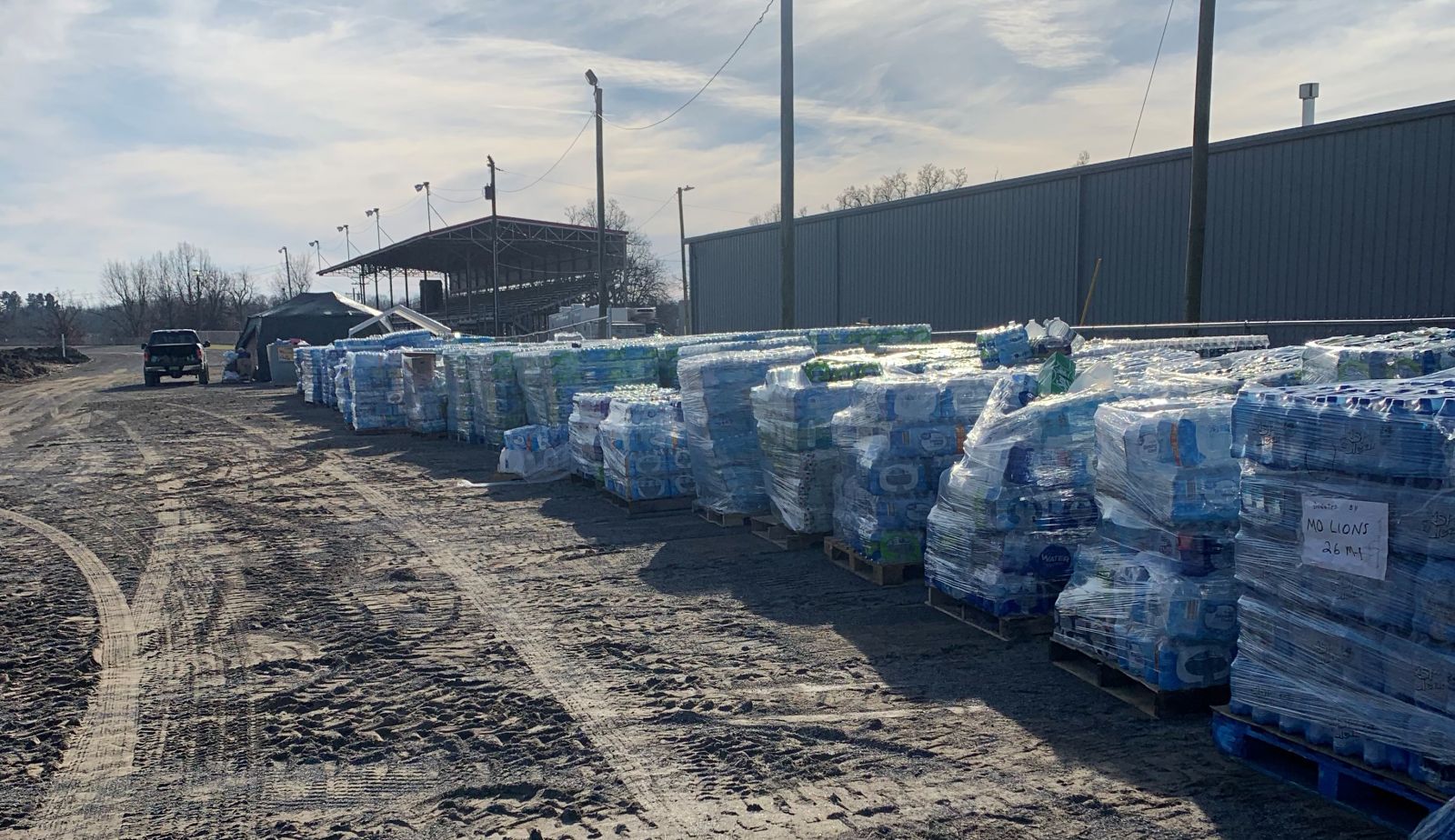 District Governor Lion Jerry Reaves and Past District Governor Lion John Preston Make Delivery!
This is a post from PDG Lion John Preston sharing his impressions upon arriving in Mayfield, KY-
"Unless you've been living under a rock, you're aware of a series of tornadoes that traveled through Arkansas, Missouri, Illinois, and Kentucky. Today District Governor Jerry Reeves and I went to Mayfield KY to deliver some supplies. While waiting to unload our flatbed trailer, we saw vehicles from Minnesota, Georgia, Pennsylvania, and several Kentucky, Illinois and Missouri. This is what serving your fellow man is all about. There were food trucks from all across the state of Kentucky serving anybody that was hungry. The National Guard were everywhere like worker bees, unloading semi trucks from every company that responded, directing traffic, helping loading needed goods into vehicles for the people affected by the tornado. But what hit me the hardest was the vehicles some of those people were driving. Windows gone, taped up with anything they could find, not one piece of sheet metal straight anymore. Some, I think, were rolled over onto their wheels again just so of these people has a vehicle to drive. I watched the folks of Mayfield come out of the temporary warehouse clutching items in their arms, tears streaming down their faces in gratitude. So many I wanted to hug but so little time.
Please find it in your heart to help all that lose so much by these tornadoes. Blankets, extension cords, generators, work gloves, sanitary items you get the idea. Or money through sanctioned organizations. Thanks for listening and God Bless!"
---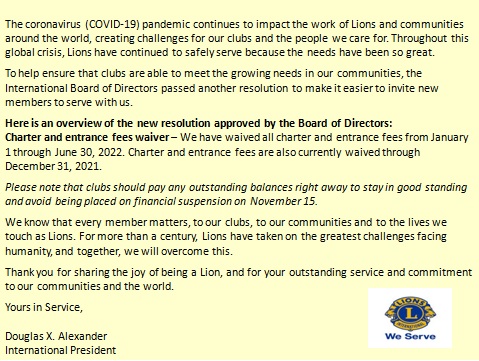 Charter and Entrance Fees Have Been Waived Through June 30, 2022!
---
CHECK OUT January Issue of District 26M1 Newsletter!
https://drive.google.com/file/d/1Eagz8w8i2nznC7w2NY189APVJAjfh0PT/view?usp=sharing
TAKE A LOOK at February Issue of Missouri Lion Newsletter (welcome new Editor, Lion Bethany Pederson)...
http://missourilions.org/wp-content/uploads/2022/02/December-January-MO-Lions-Newsletter.pdf
---
Back to school is always one of our busiest times. KidSight staff and volunteers have already provided over 4,400 vision screenings this school year!
Pictured is Lion Joann Pruitt of the Fort Leonard Wood Lions Club in action!!!
Click Here For KidSight MO Shared At 2nd Missouri Lions Council of Governors Meeting- https://drive.google.com/file/d/1z89dBzZmf7yI6jqGwNBchPe48GLsxUWG/view?usp=sharing (Recent Talent Show with winners from District M1) and https://drive.google.com/file/d/12T2JFhxz-o7a8FXS9NN6evc8ikijk55q/view?usp=sharing (statistics and donations)
---
Lions Clubs International is the world's largest service club organization with more than 1.4 million members in approximately 46,000 clubs in more than 200 countries and geographical areas around the world.