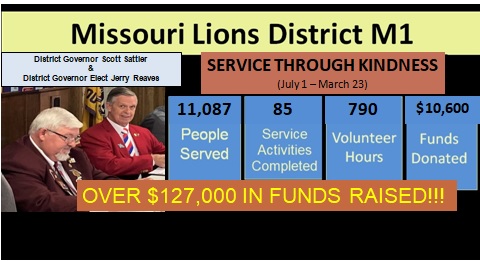 Here's the new banner (above) to the District M1 Facebook page- https://www.facebook.com/profile.php? id=596278917084651&ref=br_rs as we finish out the 1st Quarter. The numbers represent what has been submitted through MyLion July 1- March 23 this year. CONGRATULATIONS DISTRICT GOVERNOR ELECT JERRY REAVES!
Look to the left of this page to click for the current District Directory.
---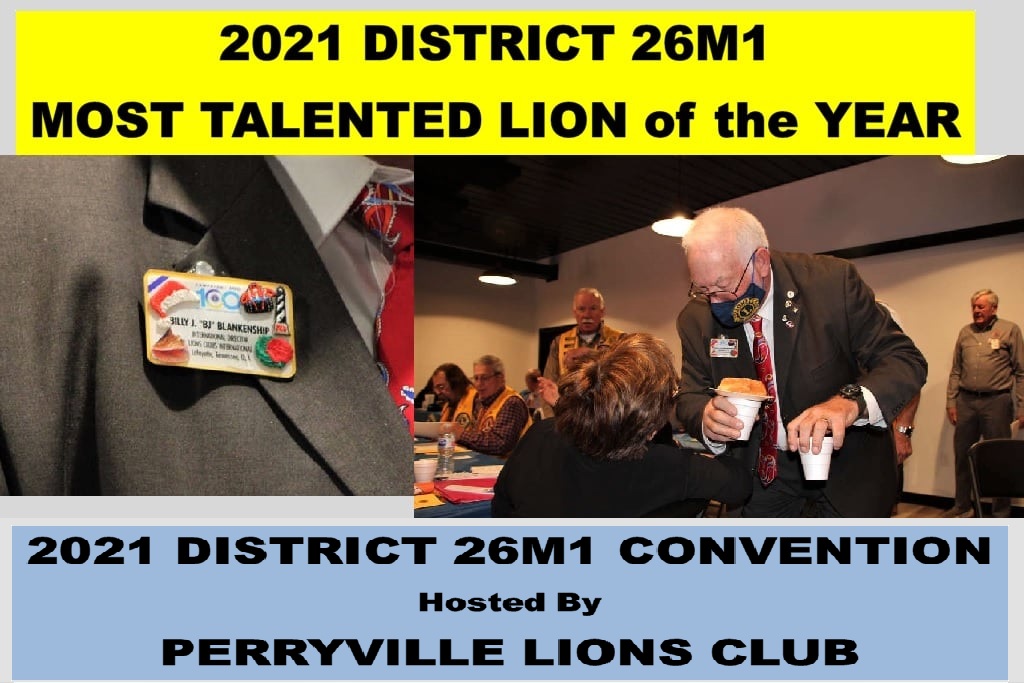 BIG THANKS to the Lions sharing pictures from the 2021 District 26M1 Convention! Seeing all of the things this year's Special Guest, International Director Lion Billy J. "B.J." Blankenship can do, have to wonder if he can do this AND pay the Tail Twister at the same time!
District Governor Lion Scott Sattler and Lion Teresa Grebing of the Perryville Lions Club welcome all of the guests to the 2021 District 26M1 Convention. The Perryville Lions do an incredible job once again! There is a lot of work that happens leading up to, as well as right before the event.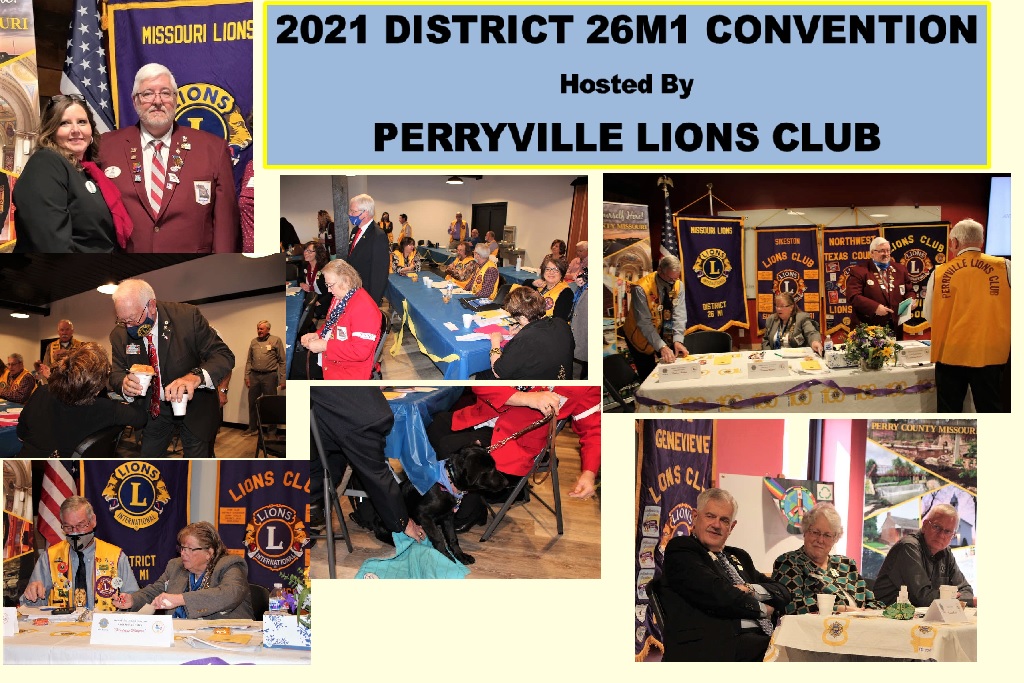 Speaking of Tail Twisters, our friend PDG Lion John Preston of the Patton Lions agrees to take the reins and we are able to send $357 to LCIF! BTW, there will be an official announcement of monies from LCIF coming into District 26M1 soon!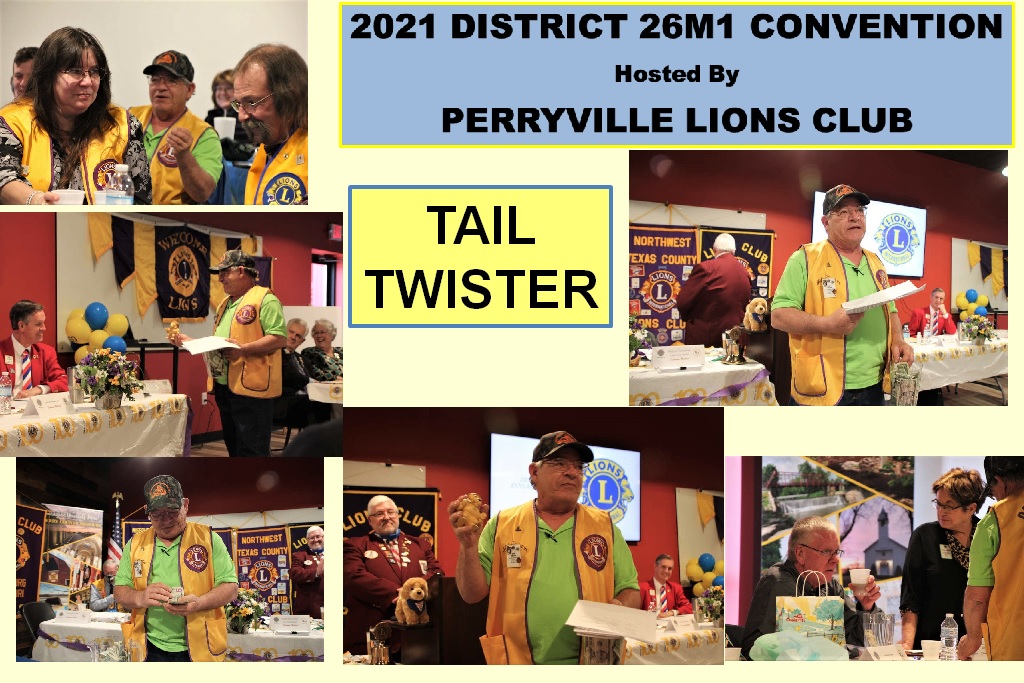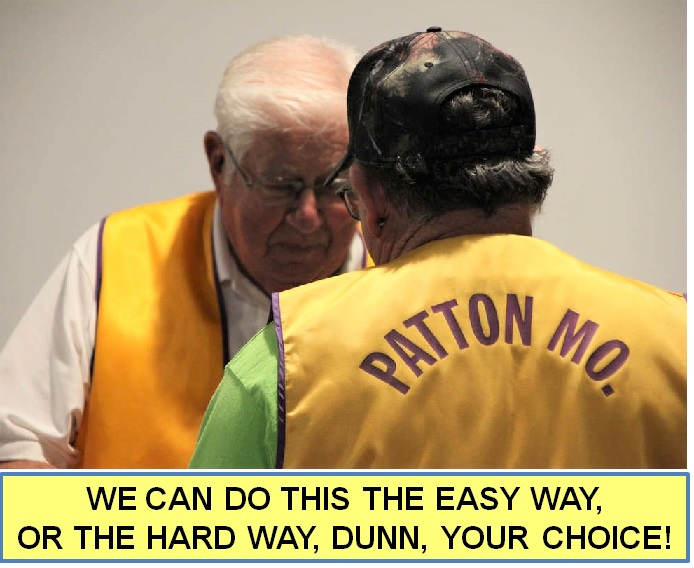 Yes, we have a winner for the 2021 District 26M1 Peace Poster, the prize going to Rachel Lichtenegger, sponsored by the East Perry County Lions Club. CONGRATULATIONS Rachel for the wonderful work you've created!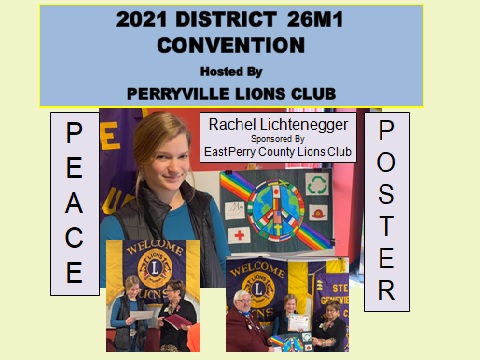 2021 District 26M1 Convention Special Guest, International Director Lion Billy J. "B.J." Blankenship, introduced by Past International Director Lion Don Noland, shares wonderful stories with the guests following a delicious luncheon. International Director Blankenship hails from Lafayette, Tennessee, is a veteran of the National Guard. Many attendees were impressed how personable ID Lion Blankenship is.
His wife, Lion Carolyn thanked the Lions for a wonderful time as she shared a talk, "Retention Through The Eyes of a Child"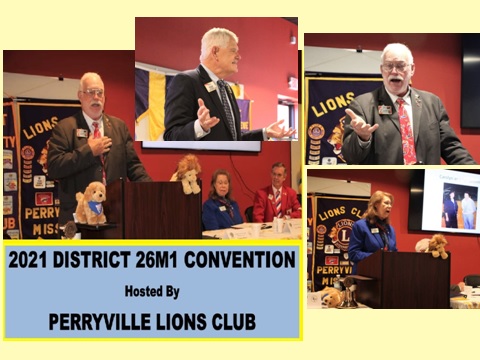 District Governor Lion Scott Sattler along with the Perryville Lions Club, Past International Director Lion Don Noland, MO Lions Council Chair Lion George Winkeler and Lion Jennifer bestow gifts to International Director Lion Billy J. (B.J.) and Lion Carolyn Blankenship.
District Governor Lion Scott Sattler has the chance to give Awards of Appreciation for their hard work this year to Lion Kendall Hughes of the Park Hills Lions Club and First Vice District Governor Lion Jennie Mosher of the Rolla Lions Club.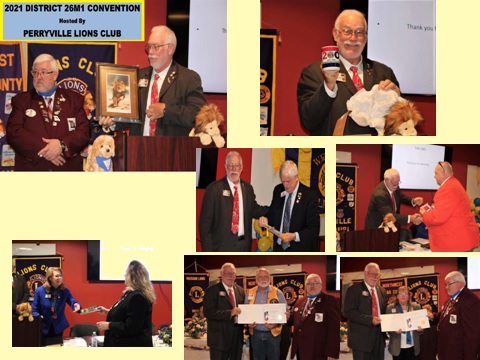 We arrive at the Necrology Ceremony, ending a wonderful convention. You will recognize several names of Lions who've departed over the past year.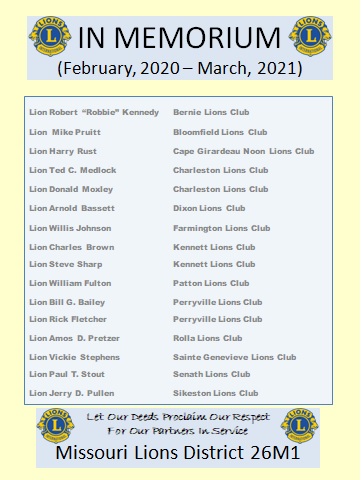 More pictures will be coming to this page. In the meantime, go to https://www.facebook.com/MoLionM1/ and see photos/coverage this week.
THANKS TO THE WONDERFUL HOSTS... the PERRYVILLE LIONS CLUB!
---
Click here for the March Issue of the District 26M1 Newsletter- https://drive.google.com/file/d/1-GLxhS0aypfy0DfxB4VURzVOti4qsvU4/view?usp=sharing
PLAY IT FORWARD- Click on the "Projects" page (over below Calendar in left gutter) to get the details of the important District Project spearheaded by the Park Hills and Farmington Lions Clubs that has been approved via LCIF for Matching Grants... details include animations and links!
---
International Board of Directors Approves Revised Dues Adjustment Resolution
The Revised Dues Adjustment Resolution will be voted on at the upcoming International Convention and WILL NOT take effect UNTIL July 1, 2022 (for 2022-23 Lion Year). Click the link below for a detailed look at the reasons for need, how it would be phased in and further information that can help answer your and/or your Club Member's questions:
https://app.e.roar.lionsclubs.org/e/er?utm_source=Eloqua&utm_campaign=MTG_EN_Dues%20Adjustment_District_2021&utm_medium=email&s=94443966&lid=9967&elqTrackId=58e7c6e14b744731aa130d58875f26a4&elq=fe7e1b7c31d14053a9d777a41f51aecd&elqaid=18269&elqat=1
---
Click this link and look at the LCIF 2019-20 Report- https://l.facebook.com/l.php?u=https%3A%2F%2Fbit.ly%2F2Nwh8jz%3Ffbclid%3DIwAR1w1vXavjkezAWD-_O0X5AqQbac5BV4l2wxq-qT7TrX98IPmbHLBVqwGHY&h=AT3x9s3bhaKCCjoUaTCYftebM-7wO5oEWncqjTUJgtJReWsRgfAc3H75H1ScPtSaXuuRrY-Fqg-o7bvCdlsGT-4pvskxMwEojbWiluxU6sMIIn9hvePrnIKX4suSfl4wJCnqJWV7Cu3Sbs2EKg&__tn__=-UK*F&c[0]=AT3XU4Q1CIJF2vVkwb2iJlQzAl3bNGYvDharMoRUIKnuT87YUyjlnojkqMBBo22JiMxSavcbKfyjs7_TdjwGINJHfgcz7G60cMwIwCO0xBc0tqCTqCiwNBQaWy04lgWfnsqzkcJ-ZlfW4YUl8tFdm5d5-I2pKqSXAxQ
---
Lions Clubs International is the world's largest service club organization with more than 1.4 million members in approximately 46,000 clubs in more than 200 countries and geographical areas around the world.