International President
Barry J. Palmer
Berowra, NSW, Australia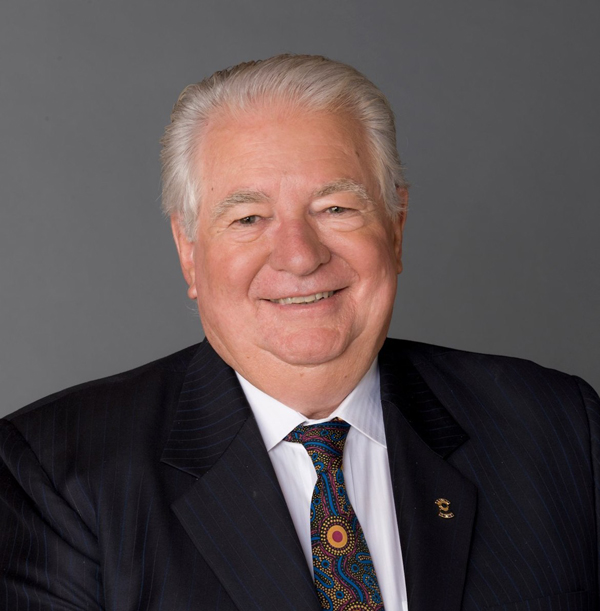 Lofty Dreams Lead to Great Service
Just beyond the modest home I grew up in Australia was the bush, where kangaroos, wallabies and kookaburras roamed amid gum and waddle trees. My father, Jack, was an accountant who took the same train to work and sat in the same seat day after day. I trained to be a wool classer, rotely producing wool. But I dreamt of doing something more influential. So I eventually went into real estate and built up my business.
As a Lion I also dreamt of making a big impact. So when a young Australian woman spoke to our club about an orphanage she worked at in India, my club dove right in. The parents of many of these children had been killed by rebels. We helped get them better housing, and from that point many thrived in school.
For years I had another dream I kept to myself. I saw the remarkable ability of Lions to change lives, and I wanted to fully devote myself to Lions. The dream came true a few years ago when I learned I was to be nominated for international president.
Lions, follow your dreams. They will not lead you astray. Nearly every great accomplishment began as a wildly ambitious dream whether it was landing a man on the moon, running a four-minute mile or webbing together the entire world through computers. Listen to your heart. Don't ever impede a great idea whose time has come. To me, dreams are not visions that arise in sleep but plans that don't let you sleep.
Identify your dream and work to achieve it. It's up to you to decide what your dream is. Plant the seed and let it grow. Find inspiration and guidance from other clubs and from Lions Clubs International. As I like to say, don't tell me to aim for the stars when there are footprints on the moon.
Anne and I look forward to you Following Your Dream in 2013-14. Good luck, godspeed and congratulations–excellence is the inevitable result of pursuing dreams.
Barry J. Palmer
Your Lions Clubs International President
2013-14 International President
From the Outback to Out and About in the World
Barry J. Palmer is part Outback, part Sydney and all Aussie. "I'm proud to be an Australian because of our culture," he says. "It's very relaxed, very laid back, easygoing and friendly."
Lions' 97th international president was born in the middle of World War II in Hornsby on the outskirts of Sydney. The bush was President Palmer's backyard. Wallabies hovered near his home. Young Palmer was one of three children. His dad, Jack, was an accountant. Sylvia, his mom, ran the home. Barry played three soccer matches each week. "I love the team spirit of it. I like the skill of it. It's fast. It's open," he says.
Intending to work in the wool industry, he attended an agricultural high school. He worked in the bush and in wool sheds. He relished the outdoors. "I think it's important to be in tune with nature–to just sit in the bush for a while and listen to what's going on and observing the animals, birds and lizards." But the wool industry slumped, so he found a job at a bank.
Funny thing about the bank business–you see how money can be made. "I was meeting all these customers running their own businesses and doing quite well. So I decided that if I worked as hard for myself as I did for the bank I'd probably make a lot of money," says President Palmer.
He started buying businesses, improving them and selling them. Then he went into real estate. President Palmer enjoyed furthering the dreams both of homebuyers and employees. "Assisting other people is something I've done for the last 30 years whether it's a client or staff member," he says.
Young Palmer met Anne when she was 15 and he was 19. Both quiet and reserved, they grew up and matured together as a couple. "Yeah, we hit it off. I couldn't put my finger on any one thing. It was just a progression of growing up and wanting to share my life with her," he says.
The Palmers have three children and eight grandchildren. He kicks the soccer ball around with the younger ones. "Anne was desperately keen to be a grandma. But if someone's calling me grandpa then I'm getting old. So they call me poppy," he says.
It's the world of Lions that will occupy them for the next year. "Look at the projects and the variety of things we do around the world," President Palmer says. "What I've seen so far just blows me away as to what we can achieve."