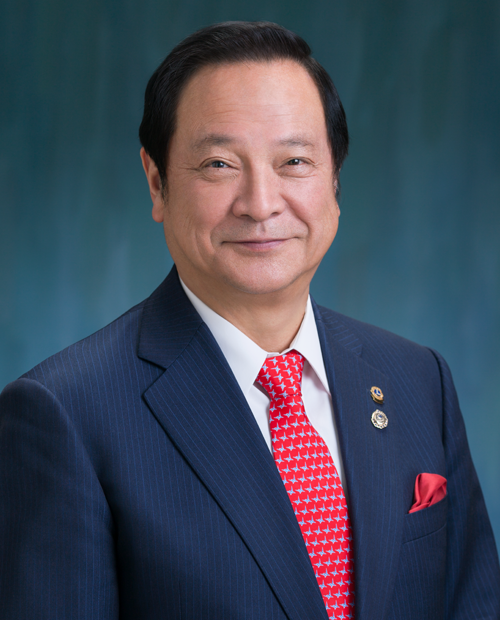 2015-2016 International President
Dr. Jitsuhiro Yamada, of Minokamo, Gifu, Japan, was elected to serve as president of Lions Clubs International at the association's 98th International Convention held in Honolulu, Hawaii, USA, June 26 through 30, 2015.
President Yamada is a neurosurgeon.
A member of the Minokamo Lions Club, President Yamada has been a Lion since 1985. He has held many offices in the association, including district governor and GLT constitutional area vice leader. He served on the international board from 2005 to 2007 as a member of the Executive Committee and the Long Range Planning Committee and Vice Chairperson of Convention Committee. He also served as a board appointee for 2011-2012.
In recognition of his service to the association, President Yamada has received numerous awards, including the Humanitarian Partner Award, 10 International President's Awards and an Ambassador of Good Will Award, the highest honor the association bestows upon its members. He is also a Progressive Melvin Jones Fellow.
In addition to his Lion activities, President Yamada is chairperson for several organizations including the Social Medical Corporation Koseikai, the Kizawa Memorial Hospital, the Social Welfare Corporation Jikeikai, Nozominooka Hospital and Ajisai Nursing College. He is a standing director of the Japan Hospital Association and an affiliate professor at Gifu University.
President Yamada has been active in the area of international relations, serving as president of the Gifu-Hungary Friendship Association, Gifu-Morocco Association and Gifu-Salzburg Association. He is a recipient of the Order of Merit of the Republic of Hungary, the Medal of Honor of the Alaouite Dynasty of the Kingdom of Morocco and an honorary citizen of Beijing City, China, in recognition of his service to international friendship building.
President Yamada and his wife, Dr. Toshiko Yamada, also a Lion and a Progressive Melvin Jones Fellow, have one son, one daughter and three grandchildren.
---
2015-16 International President
Embrace the Spirit of Daring
About a decade ago I was privileged to visit the home in Calcutta, India, where Mother Teresa once cared for the desperately poor. Her love for others had a tremendous impact—not only on those she helped but also in inspiring others to follow her example. Mother Teresa was not rich or powerful. She did not hold office. She wielded no army. She owned next to nothing. Yet she changed the world. What a difference one person on a mission can make!
Her life actually is ironic—and instructive—for Lions. We Lions are not lone wolves. We serve together. We join a club because we realize we can accomplish so much more by working together. We realize we are not Mother Teresa. That's OK. We do what we can with our own talents. Our limitations actually can work to our advantage because in joining with other Lions we can accomplish so much more than we can do on our own.
So, Lions, be involved with your club as much as you can. Take part in the initiatives of Lions Clubs International as well. Help fulfill the centennial goals related to hunger, youth, sight and the environment. Support LCIF. Recruit a new member. Join us in beautiful Fukuoka, Japan, next year for the 99th International Convention. There is much more than strength in numbers: there is the opportunity to rebuild society. It's great you are a Lion. Thank you for your service and dedication. But always strive to be part of the worldwide Lions community and fully support our many remarkable initiatives.
It's easy to sit back and do the usual. But now is the time for you to be a Lion who goes outside your comfort zone and makes service more a part of your life. I've heard it said: "Life is either a daring adventure or nothing at all." So be adventurous and daring. Be a Lion.
Dr. Jitsuhiro Yamada
Lions Clubs International President
Dignity. Harmmony. Humanity.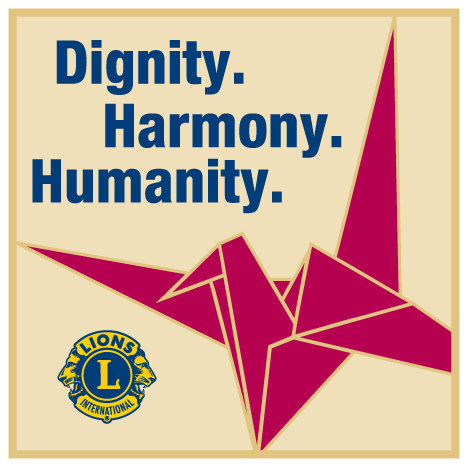 Join International President Dr. Jitsuhiro Yamada and Lions around the world in bringing dignity to others. Here are some great resources that can help expand your service and strengthen your club to better serve humanity.
Bring Hope and Dignity through Service
Strengthen Your Club to Better Serve Your Community
Create Harmony through Effective Leadership
Build Bridges for Humanity
To Learn More about International President Jitsuhiro Yamada: