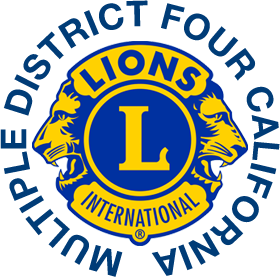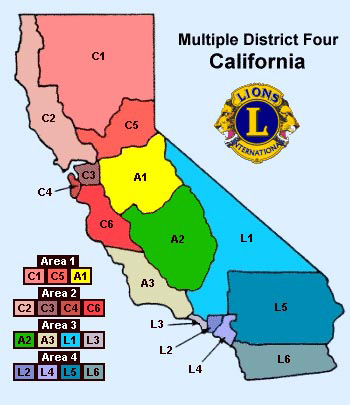 Multiple District 4
129 Los Aguajes Av., Santa Barbara, CA 93101
Tel. (805) 963-6681 or (800) 546-6634
---
MD-4 Officers 2017 - 2018
Council Chairman - CC Rob Manning robrme@msn.com
Secretary - DG "Nick" McNicholas (4-C5) lormac2@mchsi.com
Treasurer - DG Mike Jones (4-L5) voyagermj@hotmail.com
MD4 GLT Coordinator - PDG Liz Cooke liz@lionliz.com
MD4 GMT Coordinator - PDG Warren Larson lionbuck51@gmail.com
Office Manager - Cass Cara admin@md4office.org
---
MD-4 Convention Schedule
2018 - San Diego, CA (Crowne Point - Mission Valley) Feb 9-11
2019
---
15 Sub Districts in MD-4 and their respective Websites:
4-C1, 4-C2, 4-C3, 4-C4, 4-C5 & 4-C6
4-L1, 4-L2, 4-L3, 4-L4, 4-L5 & 4-L6
MD-4 Endorsed Projects: (web links)
*NOTE: Lions Eye Foundation of Southern California, Inc. (LEFSC) and Southern California Lions Eye Institute (SCLEI) have merged to form Lions Sight and Hearing Foundation of Southern California
Lions Clubs International
300 West 22nd St., Oak Brook, IL 60523 Tel. (630) 571-5466
LCI Dues - $43/yr/mbr Invoiced: July & January,
$35/NewMember - $30 Charter Club (one-time fee)
International Officers 2017 - 2018
International President - Naresh K. Aggarwal
Immediate Past President - Robert "Bob" Corlew
LCI Convention Schedule

June 29 – July 3, 2018: MGM Grand Resort, Las Vegas, Nevada. The MGM Grand Resort will host the Lions Clubs International Convention, Board of Directors Meeting, and the District Governors-elect Seminar all under one roof! All hotel rooms will be just steps away from the site of the official events. Participate in convention events, enjoy world-class dining and delight in star-studded entertainment all while in the company of your fellow Lions from around the world.
July 5 - 9, 2019:

Milan, Italy

.

This forward looking, modern, cosmopolitan city is the second largest in Italy. Milan is home of Italy's most important business organizations and is known as a vital European financial centre. This city is the capital of fashion, design and creativity. The city of Milan dates back to the Roman era. Milan was also a center of activity during the Renaissance. Milan boasts cultural gems such as Leonardo da Vinci's The Last Supper, the Duomo Cathedral, the La Scala Opera House and Castello Sforzesco. Come participate in the 102nd International Convention and enjoy what Milan has to offer; delicious food, rich history and high-end fashion.

June 26 - 30, 2020: Singapore. This city-state and island country is one of the must-see cities of the world…with its blend of Asian and European cultures and graceful colonial buildings which blend well with century old markets and modern architecture. Singapore is a multicultural kaleidoscope; its collage of cultures represents four official languages: English, Chinese, Malay and Tamil. Although Singapore is among the 20 smallest countries in the world, it is also second to the most densely populated in the world with 6,400 people per square kilometer. This amazing city-state offers a fantasy Merlion as its symbol, wondrous nature parks and the earth's first night zoo/safari. The 103rd annual convention is not to be missed.

Lions Clubs International Foundation (LCIF) was founded in 1968 to take the mission of Lions Clubs International to new heights by tackling global problems, as well as assisting Lions with large-scale local humanitarian projects. LCIF's history is filled with high-impact projects, meaningful partnerships and the kindness and efforts of Lions. With continued support, you can count on LCIF to continue and expand programs to improve lives around the world far into the future.
Key LCIF Accomplishments:
1968

› LCIF is incorporated as a Foundation.

1972

› LCIF awards first grant of US$5,000 for flooding in South Dakota, USA.

1973

› The

Melvin Jones Fellowship

program is created as a way for donors of US$1,000 to be recognized.

1984

› LCIF begins partnering with Quest International to implement the youth development program,

Lions Quest

.

1985

› LCIF awards first

Major Catastrophe Grant

of US$50,000 for earthquake relief in Mexico.

1986

› The

Progressive Melvin Jones Fellowship

program is established to give Lions a way to extend their commitment to LCIF.

1987

› Campaign SightFirst is launched to raise funds to initiate the

SightFirst

program.

1989

› SightFirst program begins and goes on to prevent serious vision loss of more than 30 million people.

1997

› LCIF partners with the China State Council Coordination Committee on Disability for

SightFirst China Action

.

1999

› LCIF embarks on a partnership with The Carter Center to combat river blindness and trachoma in Latin America and Africa.
› LCIF establishes the Core 4 grant program.

2001

› The September 11 Disaster Relief Fund raises US$3 million to help victims.
› LCIF begins partnership with Special Olympics to provide vision screenings to athletes through the Opening Eyes program.
› LCIF and the World Health Organization launch the world's first-ever initiative to combat childhood blindness.

2002

› LCIF acquires rights to Lions Quest program.
› LCIF joins with Johnson & Johnson Vision Care to develop and manage Sight for Kids program to provide vision screenings and eye health education for children in Asia.

2004

› Lions mobilize more than US$15 million for South Asian tsunami relief, making this the single largest disaster reconstruction project in LCIF history at this point.

2005

› Campaign SightFirst II, LCIF's most ambitious fundraising campaign ever, kicks off at the Lions International Convention in Hong Kong.
› Lions raise US$5 million for Hurricane Katrina relief.

2007
› LCIF is named the #1 non-governmental organization in the world with which to partner by an independent Financial Times study.
2008

› The largest single personal donation of US$3 million is pledged to LCIF.
› LCIF and Habitat for Humanity partnership builds its 1,000th home.
› Lions donate US$3 million for China earthquake relief.
› Lions surpass the Campaign SightFirst II fundraising goal, raising more than US$200 million.

2009

› Lions Quest celebrates its 25th anniversary.
› Lions raise more than US$6 million for Haiti earthquake relief.

2010

› Lions provides vision screening to the 211,000th Special Olympics athlete.
› In partnership with Bausch + Lomb, LCIF launches the Pediatric Cataract Initiative.

2011

› The 318,070th Lion becomes a Melvin Jones Fellow and the 58,126th Lion becomes a Progressive Melvin Jones Fellow.
› Lions help administer the 148 millionth dose of Mectizan® to treat river blindness.
› LCIF mobilized more than US$21 million for Japan relief efforts following the earthquake and tsunami.
› SightFirst China Action III is launched.
› LCIF awards its 10,000th grant, bringing the total amount awarded to US$708 million.

2012

› LCIF celebrates 10 years of partnership with Johnson & Johnson Vision Care through the Sight for Kids program. The partnership has screened almost 17 million children for vision problems at this point.
› US$10 million is raised for vaccinations through the One Shot, One Life: Lions Measles Initiative as part of a challenge from the Bill & Melinda Gates Foundation.

2013

› LCIF partners with the GAVI Alliance and DFID to continue fight measles, committing to raise US$30 million by 2017.
› LCIF expands their partnership with Special Olympics to include more than just vision screenings.
› Lions and LCIF help The Carter Center and OPEA celebrate the elimination of river blindness in Colombia.
Every day, Lions Clubs International Foundation (LCIF) works to fulfill our mission: "To support the efforts of Lions clubs worldwide in serving their local communities and the world community as they carry out essential humanitarian service projects."
Since our founding in 1968 we have strived to sustain Lions' humanitarian service goals throughout the world, awarding over 12,000 grants totaling more than US$900 million, in the four key areas of sight, youth, disaster relief and other humanitarian efforts.
We give sight. LCIF is providing vision for those in need all over the world by combating eye diseases, creating infrastructure to improve eye care delivery, increasing the number of trained eye care professionals and making vision care more equitable and sustainable.
We support youth. All young people deserve to have an education, feel cared for and experience healthy development so they can have the chance to achieve their dreams. Through our positive youth development program, Lions Quest, LCIF is helping children learn to work together, make positive decisions and serve their communities. The Foundation also supports youth through constructing schools, youth centers and vocational training centers.
We provide disaster relief. Lions are often some of the first to arrive at a disaster to provide relief, and Foundation support is right there with them. We help devastated communities survive after disasters and bring hope by assisting in long-term efforts of rebuilding of homes and lives.
We address humanitarian needs. From working to combat global health issues such as measles and diabetes to empowering those with disabilities to lead more independent and fulfilling lives, LCIF is dedicated to a range of humanitarian service projects. The Foundation continues to develop and expand programs that meet emerging needs worldwide.
---
Through collaborations with non profit partners, LCIF leverages its resources and accomplishes much more than we could on our own. Major collaborative partners are:

Alcon provides Lions working with SightFirst projects in Latin America the opportunity to purchase low-cost, high-quality phacoemulsification consumables. Alcon also provides in-kind services in Colombia by providing free phaco equipment for cataract surgeries.

LCIF has awarded The Carter Center more than US$40 million (and other non-profits US$5.5 million) to prevent onchocerciasis or "river blindness" in Latin America and Africa. So far, close to 148 million treatments of Mectizan® have been delivered. The eradication of the disease in Latin America is within reach. LCIF is also partnering with The Carter Center to battle trachoma in two African nations. Pfizer, Inc. provides in-kind support for trachoma control programs as well.
The Special Olympics-Lions Clubs International Opening Eyes Program began 2001. Since the program's inception, more than 350,000 athletes have been screened with prescription eyewear provided to more than 110,000 athletes. To date, LCIF has awarded more than US$13.3 million to Special Olympics for the Opening Eyes program, and pledged US$7.8 million in 2013 to expand the partnership for five years.

LCIF is partnering with the World Health Organization on the Project for the Elimination of Avoidable Childhood Blindness. LCIF has given more than US$7 million in SightFirst grant funding to establish 34 needs-based Lions eye care centers in countries all over the globe, aimed especially at delivering preventative, therapeutic, and rehabilitative eye care services for 121 million children. Phase II of the project, which began in 2011, supported 16 additional centers.
Corporate, NGO and Government Partners
LCIF is grateful for the generosity of our corporate, non-governmental and government partners. They share not just funds but a spirit of humanitarianism and a dedication to improve the lives of those in need. Thanks to these partners, LCIF has been able to expand programs, establish new initiatives and extend our services to others. Major partners are:

The Bausch + Lomb is partnering with LCIF to develop the Pediatric Cataract Initiative. In the pilot year of the program, Bausch + Lomb has granted US$350,000 to LCIF to screen and treat children in China as well as for research programs that will help fight pediatric cataract and prevent childhood blindness. Bausch + Lomb has committed an additional US$350,000 to continue this program for another year.

To support a Lions-Measles pilot program in four African countries, the Gates Foundation awarded LCIF a grant for US$400,000. LCIF is providing an additional US$300,000 and Lions are managing and implementing the projects. In supporting the pilot program, Lions join the Measles Initiative, a worldwide effort. The partnership helped vaccinate 41 million children.

The Hilton Foundation is giving US$150,000 for the Lions' health education activities in Mali and Niger as part of the West African Water Initiative. The five-year grant helps Lions mobilize political will, increase the effectiveness of health education and enhance trachoma control activities.

Essilor will work with Lions to identify institutions in areas with significant blindness prevention needs and a lack of URE services. Essilor will supply lenses and lab equipment at cost, assist in training Lions volunteers on how to make new glasses, help secure frame vendors and find customers to purchase recycled materials from Lions Eyeglass Recycling Centers.

Partnering with the First Response Team of America to rebuild homes, Lions helped to clear debris from 45 home sites after a tornado tore through Joplin, Missouri, destroying 7,500 homes and displacing 50,000 people.

The Japan-America Society of Dallas/Fort Worth (JASDFW) donated US$100,000 to LCIF to assist ongoing disaster relief efforts in Sendai, Japan, after the earthquake and tsunami. The donation is helping to support Sendai Lions clubs' immediate, medium- and long-term relief projects.

Johnson & Johnson has committed US$2 million to help fund Sight for Kids screenings for 17 million children throughout Asia since 2002. Sight for Kids involves eye health awareness, education and children's eye screening. The screenings are coordinated by local Lions, Johnson and Johnson staff and local medical personnel.

Merck has donated just over 153 million treatments of Mectizan® to prevent river blindness in Latin America and Africa.

A US$100,000 grant from NoVo Foundation will expand the Lions Quest program throughout one entire school district in the United States by 2013. Expansion of Lions Quest, LCIF's kindergarten through 12th grade life skills and youth development program, will ensure even more students benefit from the values of social and emotional learning. The grant supports LCIF's Commitment to Action through the Clinton Global Initiative.

In April 2005, LCIF and CICAD signed a partnership agreement to collaborate for five years to promote Lions Quest pilot programs throughout Latin America and the Caribbean. To date, funds have been invested in Belize, Colombia, Peru and Paraguay and tentative commitments have been reached to support new activity in the Dominican Republic, Ecuador, Mexico and several island nations of the Caribbean. CICAD's financial support generally runs approximately US$100,000 per country to be disbursed over a three-year period. CICAD invested about US$1.5 million in Lions Quest programs in the region between 2005 and 2010.

Rexton provides discounted and in-kind hearing aid contributions for the Lions Affordable Hearing Aid Project.

USAID has given LCIF US$100,000 for Lions-led vocational training programs in Brazil and Sri Lanka, US$50,000 for Lions Quest in South Africa and Malawi and US$150,000 for Lions-led youth vocational programs in South Africa (in cooperation with the International Youth Foundation).

The US State Department has awarded US$150,000 to support Lions Quest pilot programs in Botswana, Kenya, Malawi, Tanzania and Uganda. Funds were used to train more than 700 teachers to implement the program for the benefit of 30,000 students. LCIF was previously awarded funds of more than US$1 million to expand Lions Quest throughout six countries in Central and Eastern Europe.