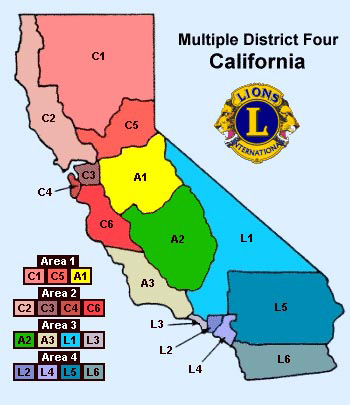 Multiple District 4
MD-4 Office
129 Los Aguajes Av., Santa Barbara, CA 93101 Tel. (805) 963-6681 or (800) 546-6634 Email: admin@md4office.org
MD-4 Dues - $23/yr/mbr Invoiced: August & February
MD-4 Officers 2013 - 2014
Council Chairman - PDG Derek Ledda (4-C5) dledda0323@aol.com

Secretary - DG Margaret Dunlevy (4-A3) margaret@venturalions.org

Treasurer - DG Dr. Dennis Grotian (4-C3) lion.denny@comcast.net

Office Manager - Cass Cara admin@md4office.org
MD-4 Convention Schedule

2014 - FEB 14-16 (Doubletree - Ontario, CA)
2015 - FEB 20 - 22, (Marriott Convention Center - Visalia, CA)
2016 - FEB 5 - 7 (Doubletree - Modesto, CA)
15 Sub Districts in MD-4 and their respective Websites:

4-C1, 4-C2, 4-C3, 4-C4, 4-C5 & 4-C6

4-L1, 4-L2, 4-L3, 4-L4, 4-L5 & 4-L6
MD-4 Endorsed Projects: (web links)
*NOTE: Lions Eye Foundation of Southern California, Inc. (LEFSC) and Southern California Lions Eye Institute (SCLEI) have merged to form Lions Sight and Hearing Foundation of Southern California
Lions Clubs International
LCI Headquarters
300 West 22nd St., Oak Brook, IL 60523 Tel. (630) 571-5466
LCI Dues - $43/yr/mbr Invoiced: July & January, $30/NewMember (one-time fee)
Starting June 2014 - an increase of $2.00 for that Lion Year.
International Officers 2012 - 2013
President - Barry J. Palmer

Immediate Past President - Wayne A. Madden

1st Vice President - Joseph Preston

2nd Vice President - Dr. Jitsuhiro Yamada
LCI Convention Schedule
LCI's/LCIF's Collaborative Partners:
Community Anti-Drug Coalitions of America
Special Olympics International
LCI's/LCIF's Corporate, NGO & Government Partners:
Bausch + Lomb Early Vision Institute
Bill & Melinda Gates Foundation
The Conrad N. Hilton Foundation
The Global Health and Education Foundation
Johnson & Johnson, Asia Pacific Vision Care
Organization of American States's Inter-American Drug Abuse Control Commission
United States Agency for International Development
U. S. State Department
Lions Clubs International Foundation
Make a tax-deductible contribution to LCIF, donate - click here
As the official charitable organization of Lions Clubs International, LCIF supports Lions' great work through numerous grants for projects focused on serving youth, providing disaster relief, combating diseases and preserving sight.

Last year (2011), LCIF had a great impact on lives around the world through numerous grants. Some examples include:
+ 2,064,829 people with saved or restored sight through 45 Sight First grants totaling $12.39 million.
+ 1,141,837 people have a brighter tomorrow through 136 Standard grants totaling $6.17 million.
+ 250,000 youth learning valuable life skills through 38 Lions Quest grants totaling $1.67 million.
+ More than 75,777 people have clean water and access to health care through 28 International Assistance grants totaling $377,026
+ 70,850 people were provided with blankets, clothing, water, food and medicine through 20 Emergency grants totaling $1.69 million.
+ Lions worldwide volunteered an estimated 35 million hours, helping more than 250 million people