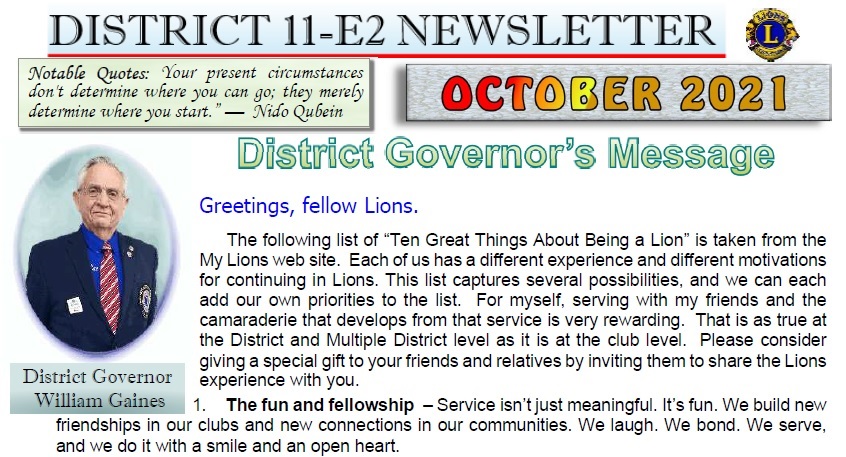 See more.....
Download current newsletter here.
Previous newsetters can be found here or by using the menu on the left.
________________________________________
QUESTION: HOW MANY LIONS OF MICHIGAN STATE PROJECTS ARE THERE?
If you didn't guess FIVE, then this is the webinar for you! Join us on Saturday, October 16, 9:00 a.m. and spend valuable time getting to know the Lions of Michigan State Projects and how, together, we serve our communities and our state.

Hear from the Fab Five: All State Band, Bear Lake Camp, Eversight, Leader Dogs for the Blind and the Lions of Michigan Foundation. Learn how our partnerships began and how we work hand-in-hand to serve those in need throughout our state.
Sessions include recorded and live speakers
________________________________________
Lions from across the world came together @ the Burmester Virtual Bar in May 2020 to shoot a music video... the results WE SERVE THE WORLD music video, a celebration of Lionism! Enjoy!

________________________________________
Remember, One Lion can make a difference and have an impact in our communities, district, state and worlwide.
You can be that Lion!
"WE SERVE"
________________________________________

Lions serve. It's that simple, and it has been since we first began in 1917. Our clubs are places where individuals join together to give their valuable time and effort to improving their communities, and the world.
Our Mission
To empower volunteers to serve their communities, meet humanitarian needs, encourage peace and promote international understanding through Lions clubs.

Lions District 11-E2 consists of 32 clubs in Alcona, Alpena, Antrim, Arenac, Charlevoix, Cheboygan, Crawford, Emmet, Gladwin, Iosco, Kalkaska, Montmorency, Ogemaw, Oscoda, Otsego, Presque Isle and Roscommon counties in the northern lower peninsula of Michigan.
If you would like to learn more please explore our website and also visit our Facebook page. If you would like to serve your community contact a Lion in your community today! You can use the Lions Club Locator to find a club in your area.
________________________________________
Keep your clubs connected with

With meetings being cancelled remember that Zoom conferencing is available for any club activities. This can be for general meetings, board meetings, committee meetings or an other Lions business you may have. Meetings are available using the Lions of Michigan account on a first come first serve basis, and allow unlimited time for up to 100 people. You can also create your own FREE account to hold meetings which also allow up to 100 people but are limited to 40 minutes.
Contact Marie Leathers if you would like to arrange a ZOOM meeting or if you have any questions! See attached Quick Start Guide or check out the video tutorials available on the Zoom website.
________________________________________
Need help navigating MyLion?

________________________________________
To receive District communications please Sign Up here.
Lions Clubs International is the world's largest service club organization with more than 1.4 million members in approximately 46,000 clubs in more than 200 countries and geographical areas around the world.