District Governor Matt Osborne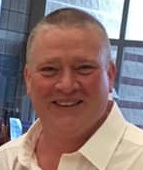 Lion Matt Osborne has been a member of the Rushville Union Lions Club for over a decade. The late Lion Bob Pontius brought him into the club and he hit the ground running, and hasn't looked back yet.
He has attended all three years of RLLI. He was the Zone 4 Chair assistant for one year and the Zone 4 Chair for three years. As Zone Chair, he had 100% participation from his clubs, and received runner up Zone Chair of the Year.
He has received many awards including a Presidential Citation, Lion of the Year, Visionary Award, Lion Catcher of the year, and two membership ambassador keys. He has received a Bachelor's degree in Lionism. He has brought eight new members into the club. He has been a 4 year director of the club, as well as spending two years as membership director. He has also spent all 9 years as the club mascot participating in both club and zone events.
Matt has been married to Nicole for 27 years and has 5 daughters and 4 grandchildren. His wife and one daughter are also Lions. He is a Veteran of the U.S. Army and 4 of their daughters are also veterans of the military while the youngest is currently in college. Matt and Nicole are very active in club functions and have visited clubs from California to St. Maarten to gather ideas for our zone as well as gaining international friendships.
1st Vice District Governor Mary Bumpus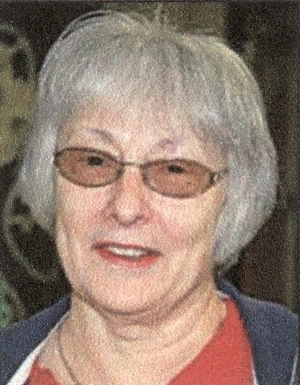 Lion Mary is a 20-year Lions Club member joining in December 2000. She was a member of East Knox Lions from 2000 until July 2005; transferring to the Mount Vernon Lions in July 2005. Maintaining her membership there until July 2017, returning to the East Knox Lions. Mary has had perfect attendance every year except one.
Club positions she has held are President, Secretary, Treasurer and Membership Chair. Lion Mary sponsored a total of 4 new members into both clubs.
On the District level, Lion Mary has been Region 1 Poinsettia Chairperson and served as Assistant Zone 1 Chairperson 2 years, and 6 years as Zone 1 Chairperson, is a Certified Guiding Lion, and was instrumental in helping start the Vision Screening program in the district. She is currently the Central Ohio Lions Eye Bank Trustee for Zone 1; serving for 4 years including one year as Chairperson.
Other accomplishments in Lions Club include a Dream Achiever's Award, received a Membership Key, assisted at District Leadership School 3 times, attended 18 District Conventions, 15 District Leadership Training School, 7 USA/Canada Forums, 3 International Conventions, 6 Winter Retreats, and 12 State Conventions. Lion Mary graduated from Regional Lions Leadership Institute Level 1. She is also a Melvin Jones Fellowship recipient.
Outside of Lions, Mary is a 9-year member of Eastern Star. Her family attends Saint Paul's Episcopal Church of which she has been a member for 29 years. During that time, she held the position of church Secretary for 7 years.
Lion Mary and husband Tom recently celebrated 45 years of marriage. They reside in Mount Vernon with their dog, Lilly. Their son David, his wife Lindsay, and grand dog, Lucy live in Pickerington.
2nd Vice District Governor Sara Camacho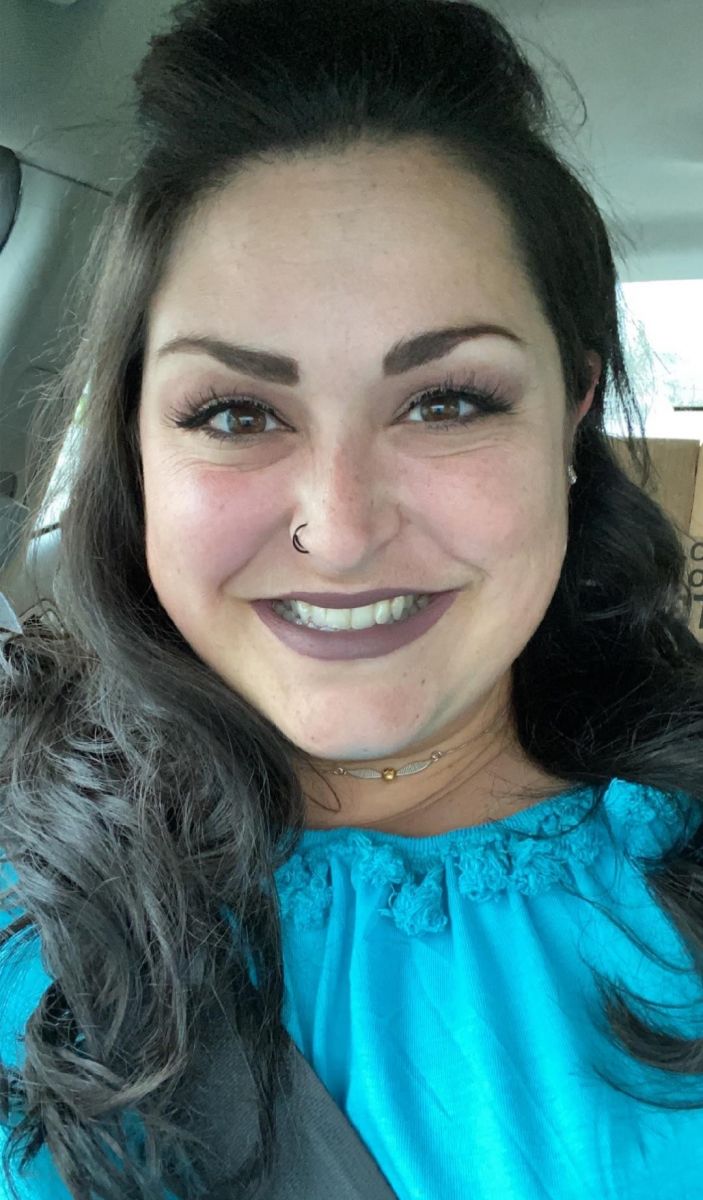 2nd VDG Sara is an 11 year member of the Marietta Noon Lions where she has been a director, membership chair, and past-president - the 92nd president of Marietta Noon. She currently serves as the Secretary and Membership Chair during Marietta Noon's 97th year of Service to its community and area.
Sara is passionate about service, leadership and why we are Lions. On the State/District level, Sara serves as the OH-7 Chair for the Ohio Lions Pediatric Cancer Foundation and the district STEPS Walk/Run Coordinator. Her theme is "Strength through Service" because we are stronger together, but stronger yet when serving our communities, neighbors, and friends.
In her free time, Sara is a fur momma to her Therapy Dog Boomer - who works at the Washington County Boys and Girls Club - and cat Thor. She also golfs frequently, plays softball, loves to cook, and spend time with family and friends.
Cabinet Treasurer Dan Osborn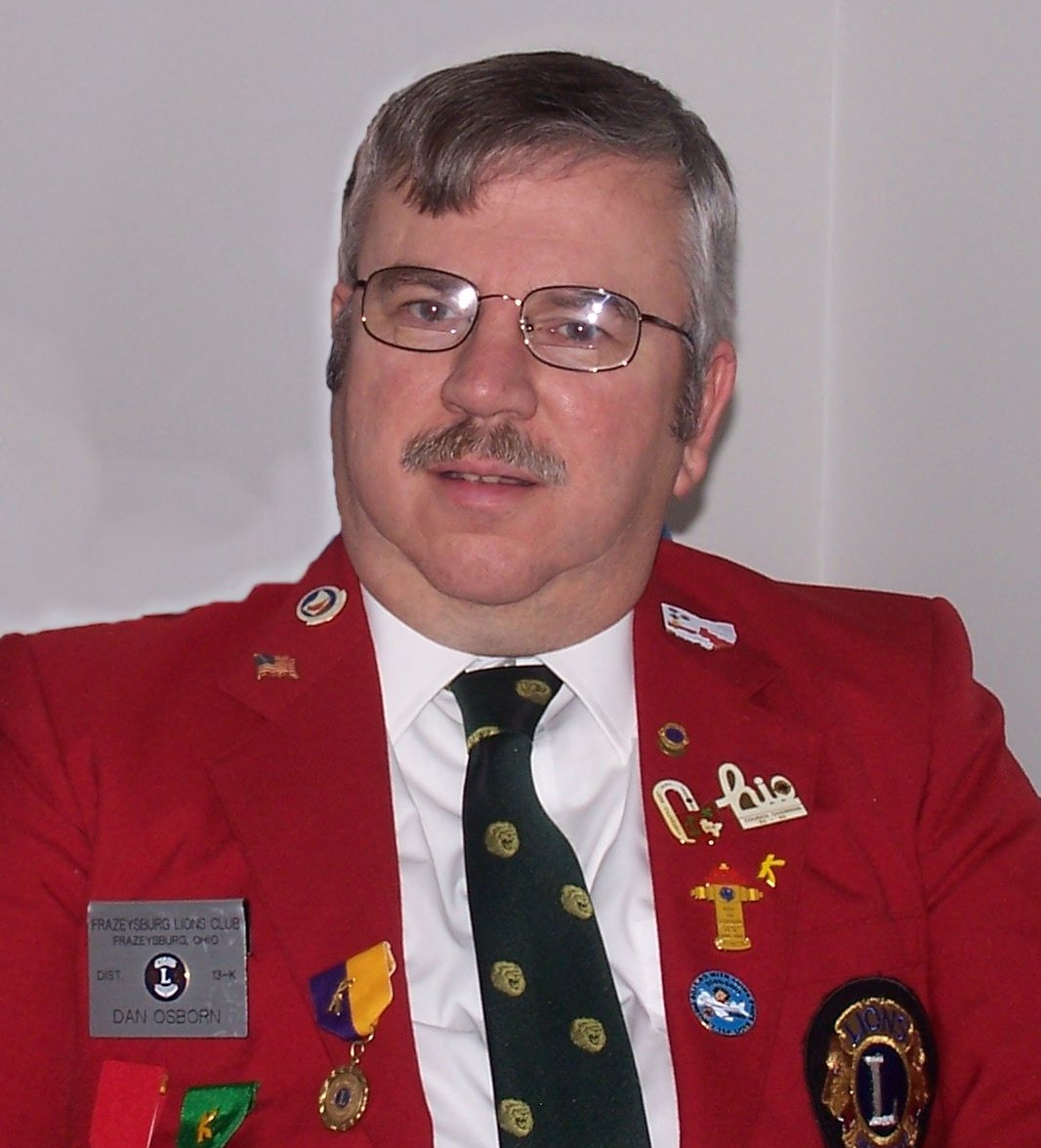 Lion Dan is a 46-year memnber of the Frazeysburg Lions Club joining in March 1974. In the club, Lion Dan has been President (1980-81), Secretary (1984-Present), Treasurer (1984-88, 1989-90 and 2003-present). He has sponsored at least 3 new members in the club.
Lion Dan has received much recognition for his work at the club level, including: Lion of the Year, Melvin Jones Fellowship, Knight for Sight, and many Lion of the Month awards. He has 36 years of perfect attendance.
He has been active at the District level as well. Lion Dan has served on the International Relations Committee for many years and has served in the following positions: Cabinet Sec-Treasurer, Bulletin Co-editor, Convention Chairman, Information and Technology Chair, District Webmaster and as the District's Compliance Monitor for tax and non-profit status forms. Additionally, he has served as an instructor for many years at our Leadership Training Schools.
Lion Dan has received three Lions International President's Certificates of Appreciation, International Leadership Award, Council lof Governors Pin and Banner, the first HWHAO award, and since 1984, he has received the Excellent Secretary Award annually.
Lion Dan graduated from Tri-Valley High School in 1968. He retired from the Ohio National Guard in 1990 with 20 years of service. He retired from Owens Corning in 2010 with 41 years. Lion Dan Lives outside of Frazeysburg with his wife Ruth and his daughter Janelle.
Cabinet Secretary Cathy Dardis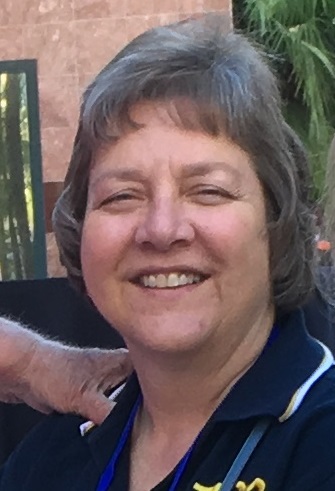 Lion Cathy Dardis joined the Bloom Carroll Lions Club in March 2007 and has served the Club as 2nd Vice President, 1st Vice President and President (2008-2009). Lion Cathy currently serves at the Club's Secretary/Treasurer. She held the Secretary position since 2010 and the Club Treasurer position since 2018. She also currently serves on the Constitution and By-Laws committee and the Finance committee.
She has served the District as Assistant Zone Chair, Zone Chair, Women and Family Coordinator, District Secretary (2017/2018) and also assisted Lion Dan Osborn with Secretary training at District Leadership School for several years.
She has attended USA/Canada forum in Memphis, TN (2009) and Lions Club International Centennial Convention in Chicago, IL (2017) as well as attended several Ohio Lions Winter Retreat.
Lion Cathy is a graduate of Lancaster High School. She received her Bachelor's degree from Wright State University. She currently is employed as the Registered Operations Coordinator at Stifel, an Investment Company. She is also the Treasurer of Chelle's Angels, an all-women's motorcycle riding club and their motto is "Ride to Give". She has also in the past served on the St. Mark Catholic Church Finance Committee for 25 years.
She lives in Carroll, Ohio with her husband Richard. Lion Cathy likes to travel, ride her Can-Am Spyder and enjoys being with her family and friends.