The Lions of District OH7 are proud to support these great projects with our time, talents and donations!
Central Ohio Lions Eye Bank:
The Central Ohio Lions Eye Bank is a non-profit organization dedicated to restoring, improving and preserving vision by connecting eye donors and transplant recipients, educating physicians, and enhancing eye research through quality eye banking services. Since 1973, the Eye Bank has facilitated the successful collection and transplantation of over 10,000 corneas. Servicing more than 60 hospitals in 45 Ohio counties, Eye Bank staff and volunteers helped provide the gift of sight for hundreds of patients per year
.
The Ohio Lions Foundation is a Section 501(c)(3) charitable organization founded in 1985. It provides grant funding in the following areas: Disaster Relief, Scholarships awarded to sight-impaired college students, matching grants for low-vision readers / magnifiers and other adaptive equipment and specific sight-related programs.
Ohio Lions Eye Research Foundation:
The Ohio LIONS Eye Research Foundation is a 501 (c) (3) charitable foundation dedicated to helping children and adults with eye problems by funding eye research and student fellowships throughout Ohio. Their motto is "Research Today - Vision Tomorrow."
Mission Serve:
The purpose of Mission Serve is to engage civilians, vets, military service members and military families in service to meet the critical needs of our nation -- particularly, the needs of the military community. Lions Clubs of District OH7 are working to meet these needs by sending care packages to soldiers overseas, organizing welcome home parties, helping military family members here at home and, generally, doing what we can to support our military service members and familes.
Newsreel Magazine:
A monthly audio magazine offering three hours of helpful info and inspiration to the blind in the voices of its members. Topics include technology, travel tips, books, recipes, personal experiences, sports & more.
The Columbus Speech and Hearing Center is a non-profit, United Way Agency. Each year, the Center serves nearly 10,000 people across Ohio. Our mission is to help all people improve communication and vocational independence for life.

As the official charitable organization of Lions Clubs International, Lions Clubs International Foundation (LCIF) supports Lions' compassionate works by providing grant funding for their local and global humanitarian efforts. LCIF helps Lions improve peoples' lives around the world, from combating vision problems to responding to major catastrophies to providing valuable life skills to youth.
Ohio Lions Band:
The Ohio Lions All State Band was started in 1984 when the 110 members of the Ohio State Fair Youth Band was selected as the band to represent Ohio Lions. In 1985, the band was selected from taped auditions from High School Music students from all over Ohio. Since 1985 the band has been selected from Ohio High School students. Performances center around the band's appearance at the Lions Clubs International Convention, held in major cities throughout the world during late June or early July. Additional concerts and appearances are scheduled during our band camp and at the request of Ohio Lions. The annual tour generally lasts 5 to 7 days. Major cities where the band has performed include Boston, Dallas, New Orleans, Brisbane, Miami, Phoenix, San Francisco, St. Louis, Indianapolis and Denver.
Eye Glass Recycling:
Millions of people in developing nations are pushed deeper into poverty simply because they don't have glasses. They can't learn, because reading is difficult. They can't work to the best of their ability, because they can't see clearly. Lions Clubs collect used eyeglasses to recycle and reuse in third world countries. It costs Lions less than 8 cents to provide a pair of recycled eyeglasses and change someone's life.
Diabetes Awareness:
Lions support diabetes education, prevention, control & research. A primary objective of the Diabetes Awareness and Action Program is to reduce the number of new cases of blindness caused by Diabetic Retinopathy. Lions Clubs often arrange for free diabetes screenings in their communities, in collaboration with local health care professionals.

The objective of the Lions ALERT program is to develop a plan of action in case of a level one, two or three emergency in a community. The emergency may be a natural disaster, a man-made problem or a public healthcare crisis such as a large-scale influenza outbreak.
CCI is a 501(c)(3) non-profit organization that is funded by private contributions and receives no government funding. There is no charge for the dog. CCI provides assistance dogs to people with developmental or physical disabilities who can demonstrate that a Canine Companion will enhance their independence or quality of life. All the expenses of breeding, raising and training a Canine Companion is funded through private donations.

Since 1975, VOICECorps (formally Radio Reading Service) has been broadcasting on a special frequency picked up by special receivers for the blind. Newspapers, magazines, advertisements and other print media read to the blind and visually impaired 24 hours a day.
Since 1950, Lions Pilot Dogs has existed to provide the finest of guide dogs to the qualified sightless. It serves approximately 150 people every year.
Lions Share of Life:
Working with the Red Cross, participants in the Lions Share of Life will identify and "adopt" blood drives in or near their communities, then recruit donors to give at those drives. The idea is to bring new donors in who otherwise would not have given.
Founded in 1957 by Senator John Bricker and Lions Club member Bob Morrison, PBO provides direct services to 800,000 Ohioans per year and educates millions on how to protect their precious gift of sight.
Leo Clubs:
Leo Clubs give young people the opportunity to join together in their communities and perform vital service for those in need. Generally, located in middle, junior or seniro high schools, Leo Clubs are great ways to inspire youth to think of others less fortunate than themselves. There are many Leo Clubs throughout District OH-7, all sponsored by Lions Clubs attempting to involve youth in the betterment of their communities and themselves.
International Relations:
International Relations Committee supports three important organizations: Volunteer Optometrists in Service to Humanity (VOSH), Student VOSH (SVOSH) and Amigos de las Americas (Amigos).
The Lions of District OH7 have contributed toward the purchase of an autorefractor for VOSH, which was used on their trip to Peru. VOSH distributed more than 6,000 pairs of donated eyeglasses on this trip.
Donations also helped support 17 optometry students in SVOSH's trip to Honduras where they served 1,700 patients in five days. Each student first completed 50-60 hours of service preparing donated eyeglasss.
Amigos has served 252 communities in Central and South America. These young people help in building schools, health clinics, community gardens and sanitation projects, as well as other activities.
It takes about $4,400 to send a youth on this summer program.
Local Community Activities:
Each Lions Club prides itself on conducting local service projects for their community. Here are a few examples: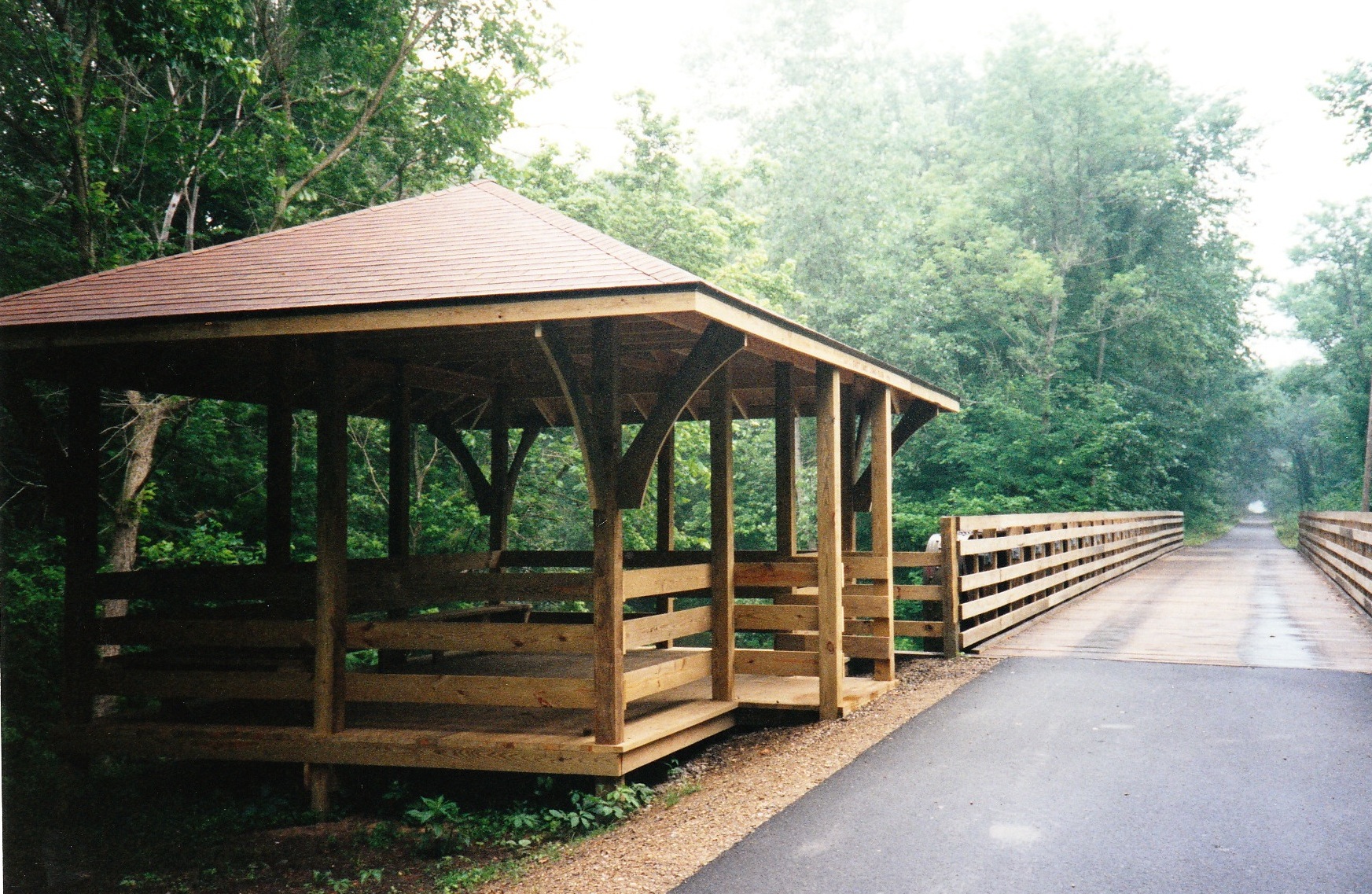 Pavillion along the Kokosing Gap Trail, built by the East Knox Lions Club.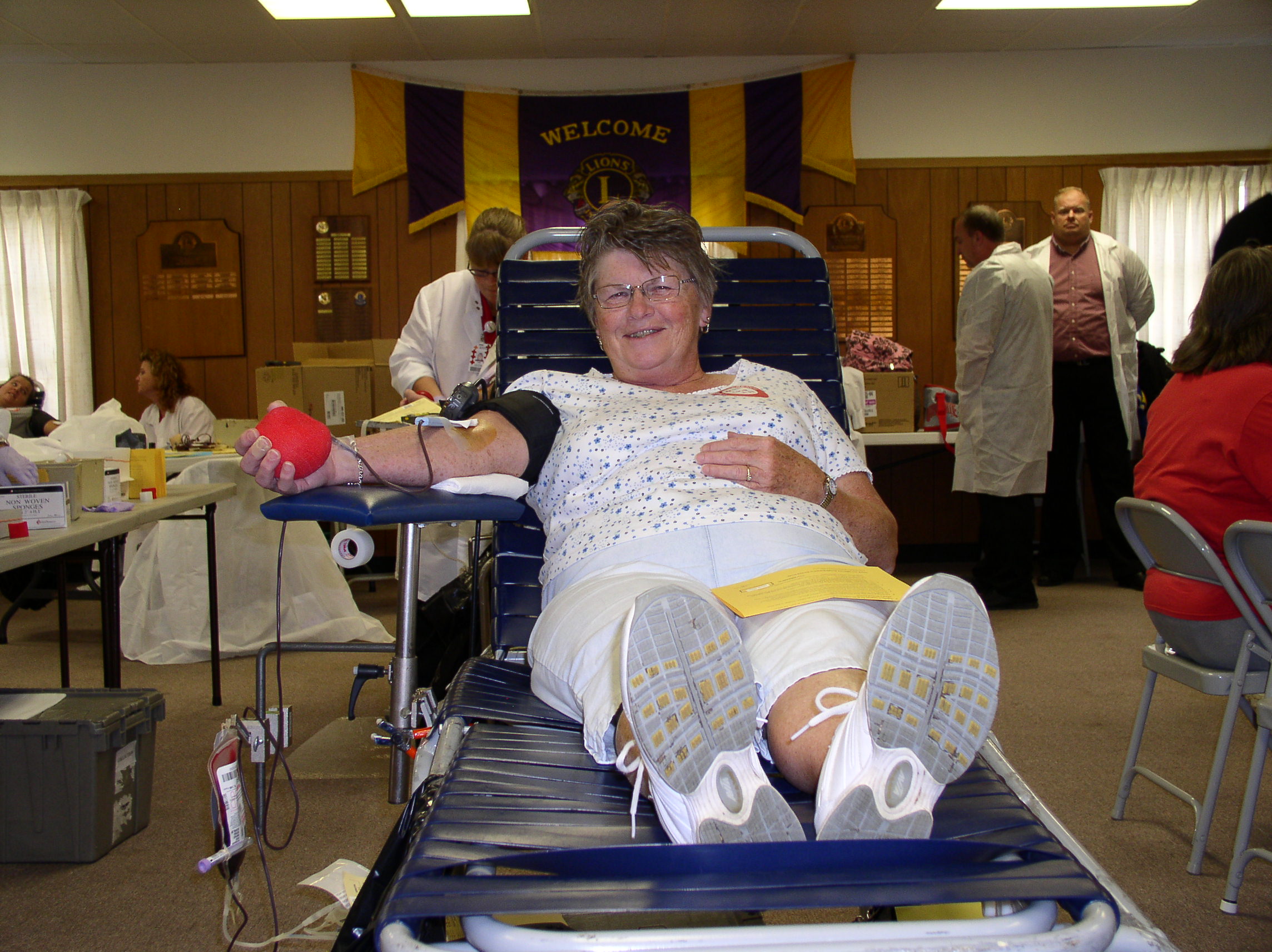 Blood drive at the
Millersport Lions Clubhouse.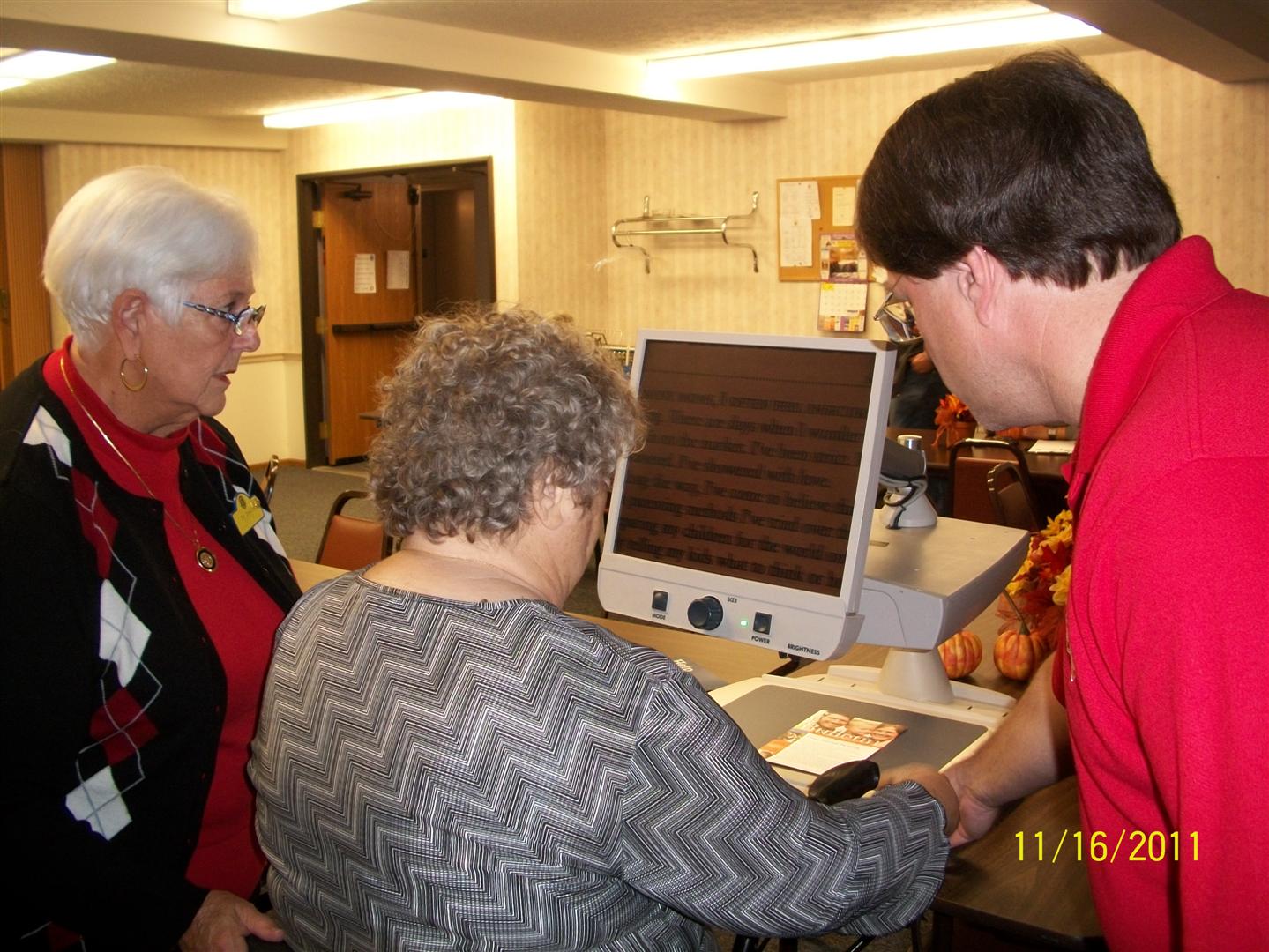 Pickerington Lions donating magnifying reader to local resident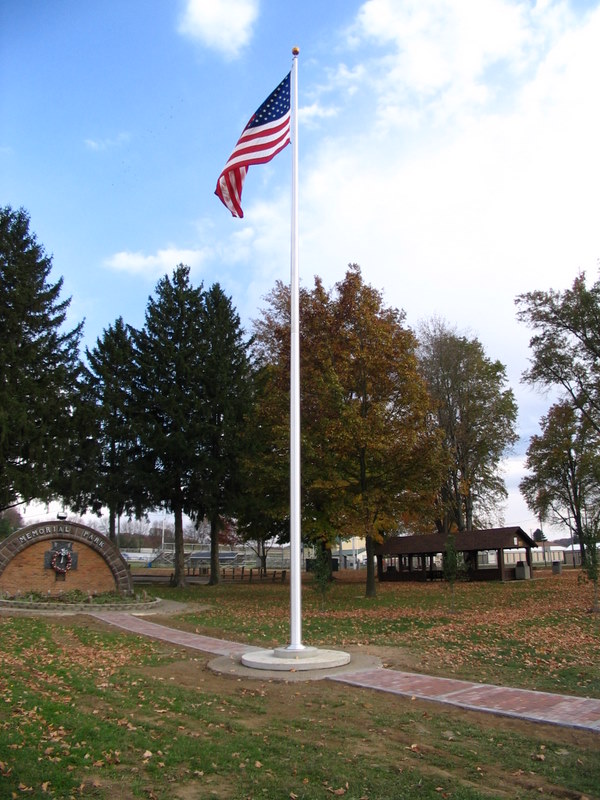 Danville Lions helped Boy Scouts create this Veterans Walk of Honor. The club now helps to maintain it.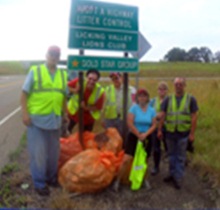 Licking Valley Lions clean a section of the highway every 3 months.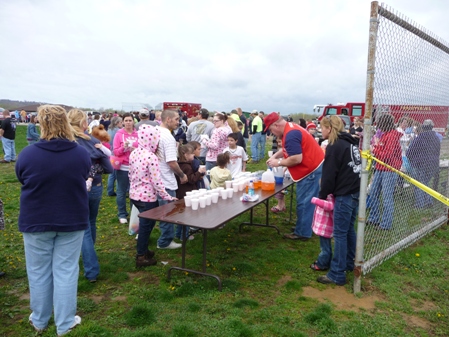 The Frazeysburg Lions Club helps put on the Community's Easter Egg Hunt every year.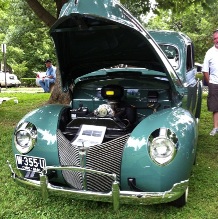 The Marietta Noon Lions puts on a great car show annually.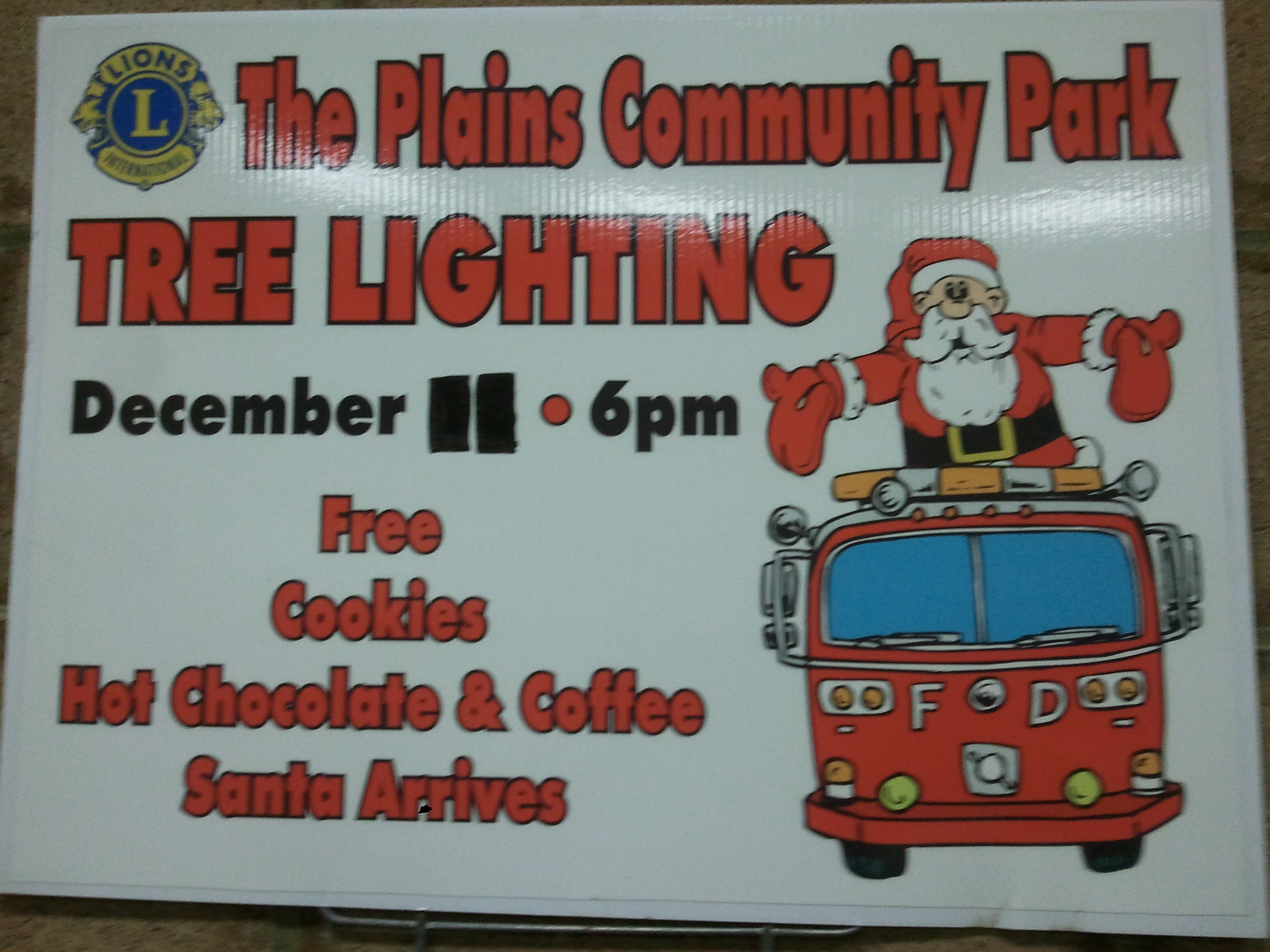 The Plains Lions Club makes Santa's yearly visit a great one.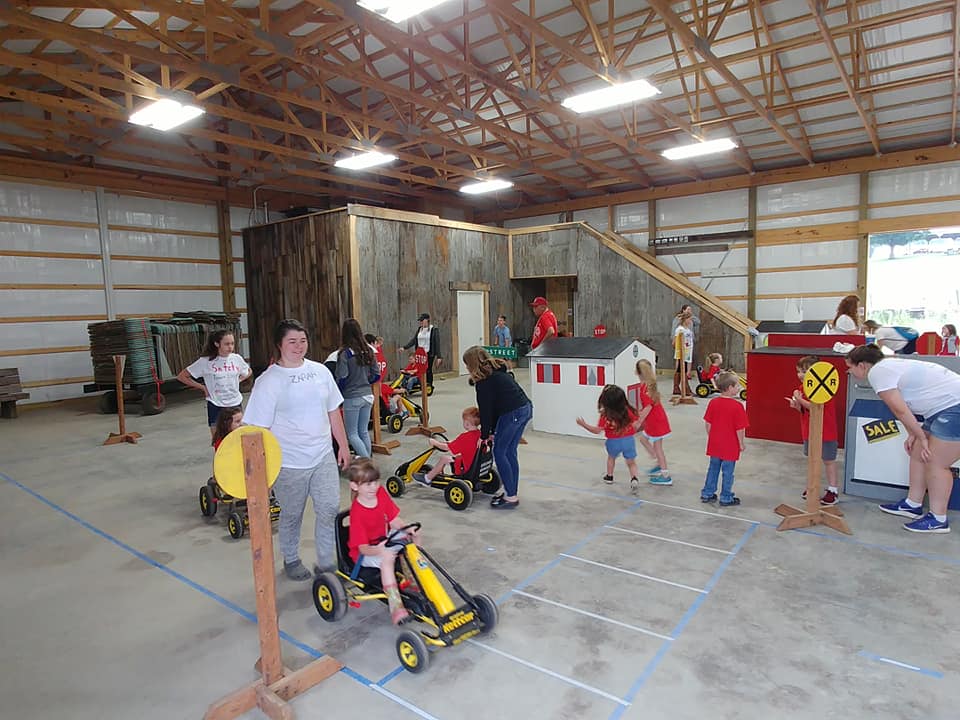 The Scenic Hills Lions Club provides Safety Town for the youth of their community.