2015 District 13K Convention
March 6 - 8
Lancaster, Ohio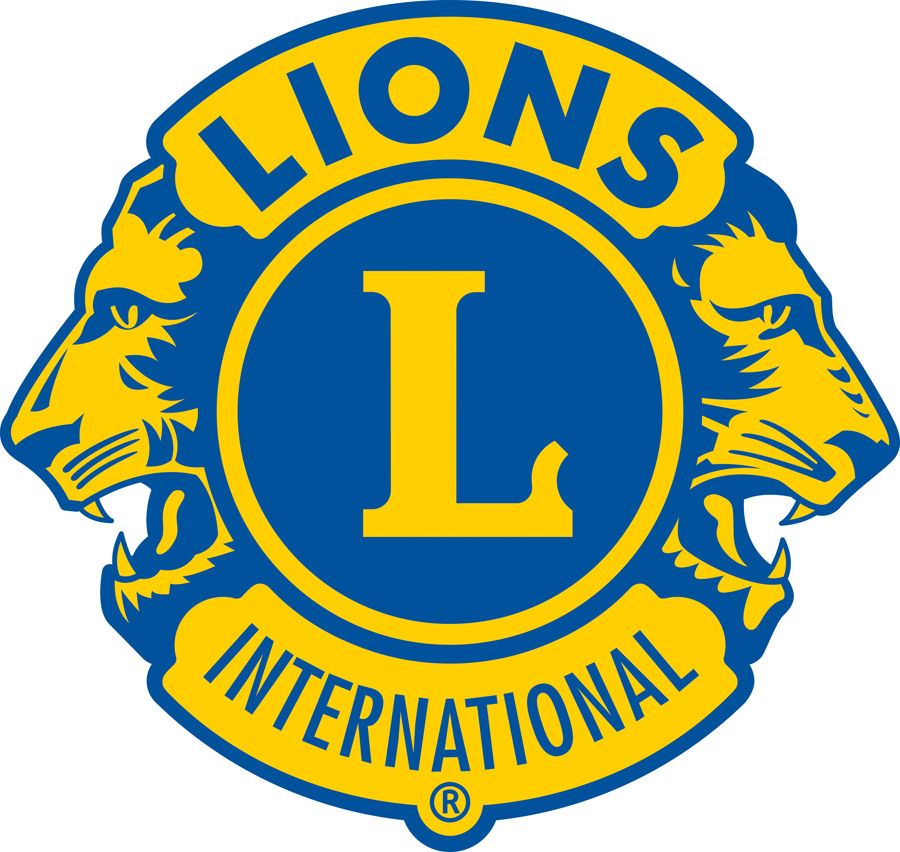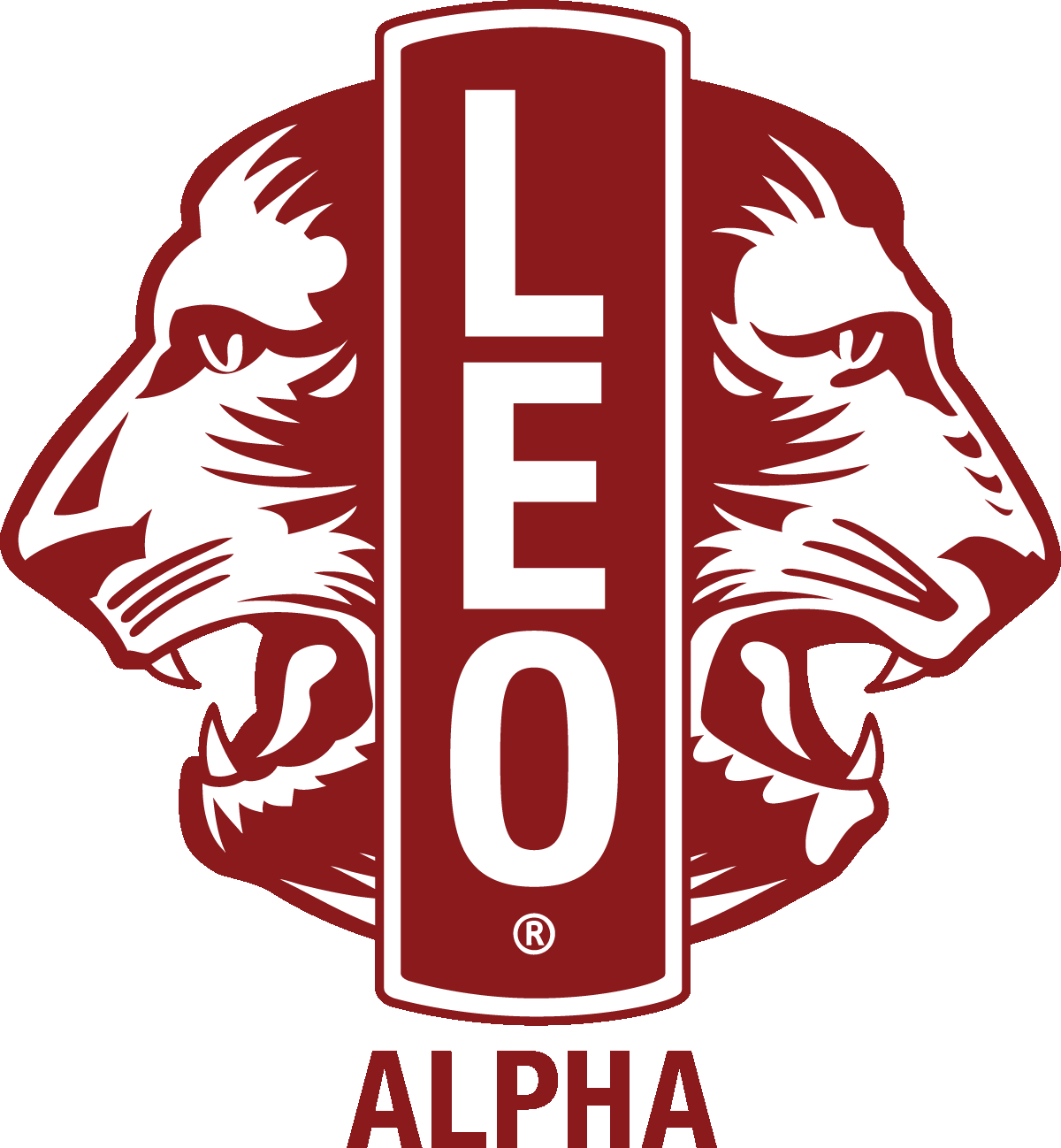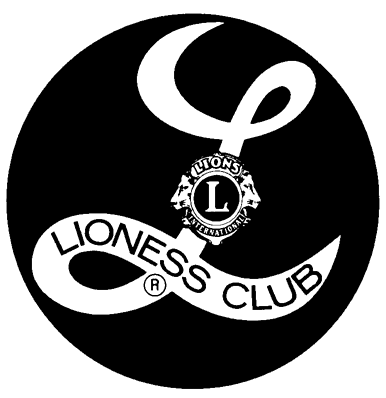 Check back often for more details about Gov. Richard's Convention!
Here's a Look Back at Last Year's Convention Highlights...
The 2014 District 13K convention was held in Lancaster February 28 thru March 2 in Lancaster. Lions from around the district enjoyed a great weekend which included great hospitality & fellowship, three banquets, elections, lots of Forester Green Plaid, tatoos and some inspirational words from Past International Director Jerimiah Myers.
The main event of the business session on Saturday was the election of district officers. Congratulations to Governor-elect Dick Sweeney, 1st Vice Gov-elect Dan O'Connor & 2nd Vice Gov-elect Sue Diehm. Also on Saturday, the delegates overwhelmingly passed the measure to place the State Lions Redistricting Plan on the State Convention ballot.
On Sunday, the Lions held a necrology service to honor the 21 Lions from our district who passed away this year. Sunday also saw the traditional Grand Banquet which was a big success. Congratulations to Governor Bill Schultz on a great convention.
Click Here for 2014 CONVENTION REPORTS BOOKLET
Schedule of Events
Friday, February 28, 2014: Fun & Fellowship
4-9 PM: Convention Registration - Holiday Inn Express
6-8 PM: PDG Banquet with PID Jerimiah Myers (invitation only) at Crossroads UMC - 2095 West Fair Ave., Lancaster
7-11 PM: Music & Karoake by Jim Norris & Laura Jordan; Hospitality at the Holiday Inn Express
Saturday, March 1, 2014: Team Appreciation!
All events will be at the Crossroads UMC, 2095 W. Fair Ave.
8 AM - 6 PM: Registration & "Draw Me a Tree" - Tower Hall
8 AM - 9 PM: Blue Frog Productions - Room 100
8:30 AM - 11 AM: Leo Refreshments for sale - Tower Hall
9 AM - Noon: Spouse Program
9 AM - Noon: Leo Activities - Room 102
9 AM - Noon: Lions Business Meeting - Gymnasium
President, Sec., & Treas. awards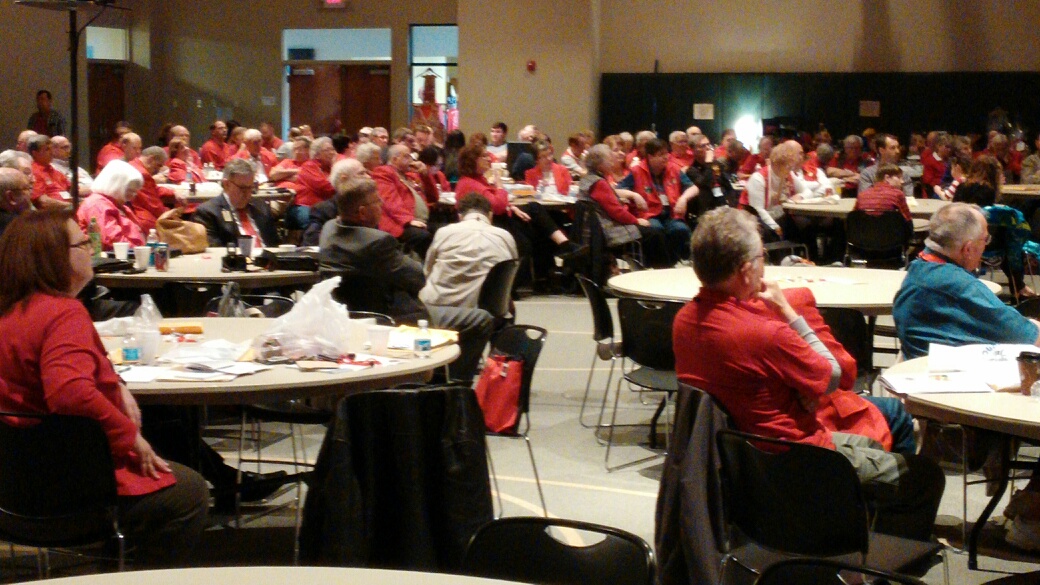 A big crowd was present on Saturday
Noon - 1:30 PM: Lunch - Gymnasium
Leo Awards, Peace Poster Winner, Leo Auction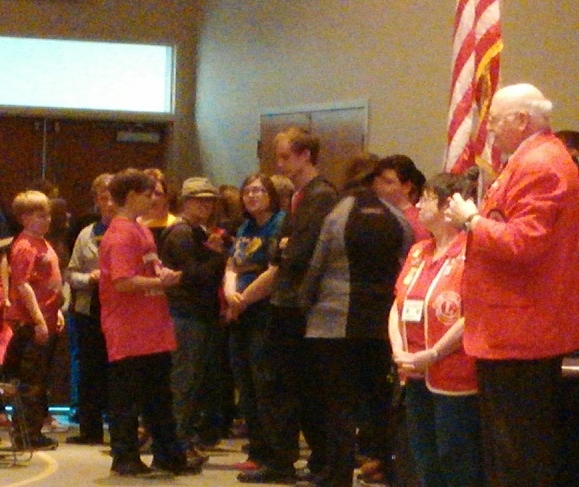 Gov. Bill Schultz speaks of the Leos' many accomplishments for the year
1:30 - 3:30 PM: Breakout Sessions
PID, Young Ideas, PDGs, New Members
3:45 - 4:30 PM: Business Meeting, Elections
6:00 - 8:30 PM: Lumberjack & Jill Supper - special awards
8:30 - 11 PM: Team events
Best Dressed in Green Fashion Show
Buckeye Eating Contest
Photos w/ Smokey Bear, the Clauses, The Lion
Hospitality - Gymnasium
Sunday, March 2, 2014: Lions Celebration
All events will be at the Crossroads UMC, 2095 W. Fair Ave.
9 - 11 AM: Registration - Tower Hall
Blue Frog Productions - Room 100
9:30 - 10:30 AM: Necrology Service - Gymnasium
11 - 11:25 AM: Seating for Grand Banquet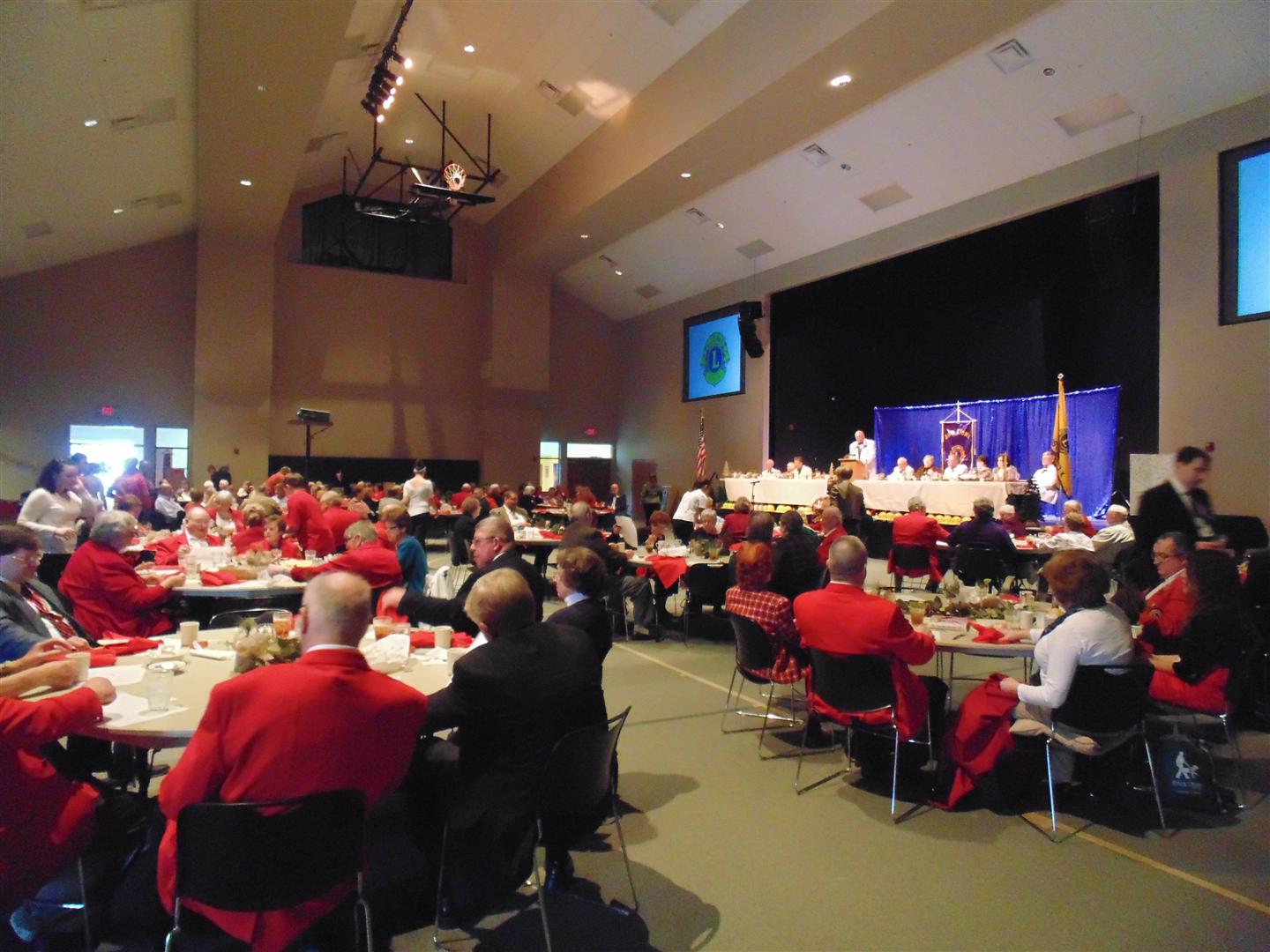 There was a big crowd for the Grand Banquet on Sunday too!
11:30 - 2:45 PM: Grand Banquet - Gymnasium
Address by PID Myers
COG Awards
International President's Awards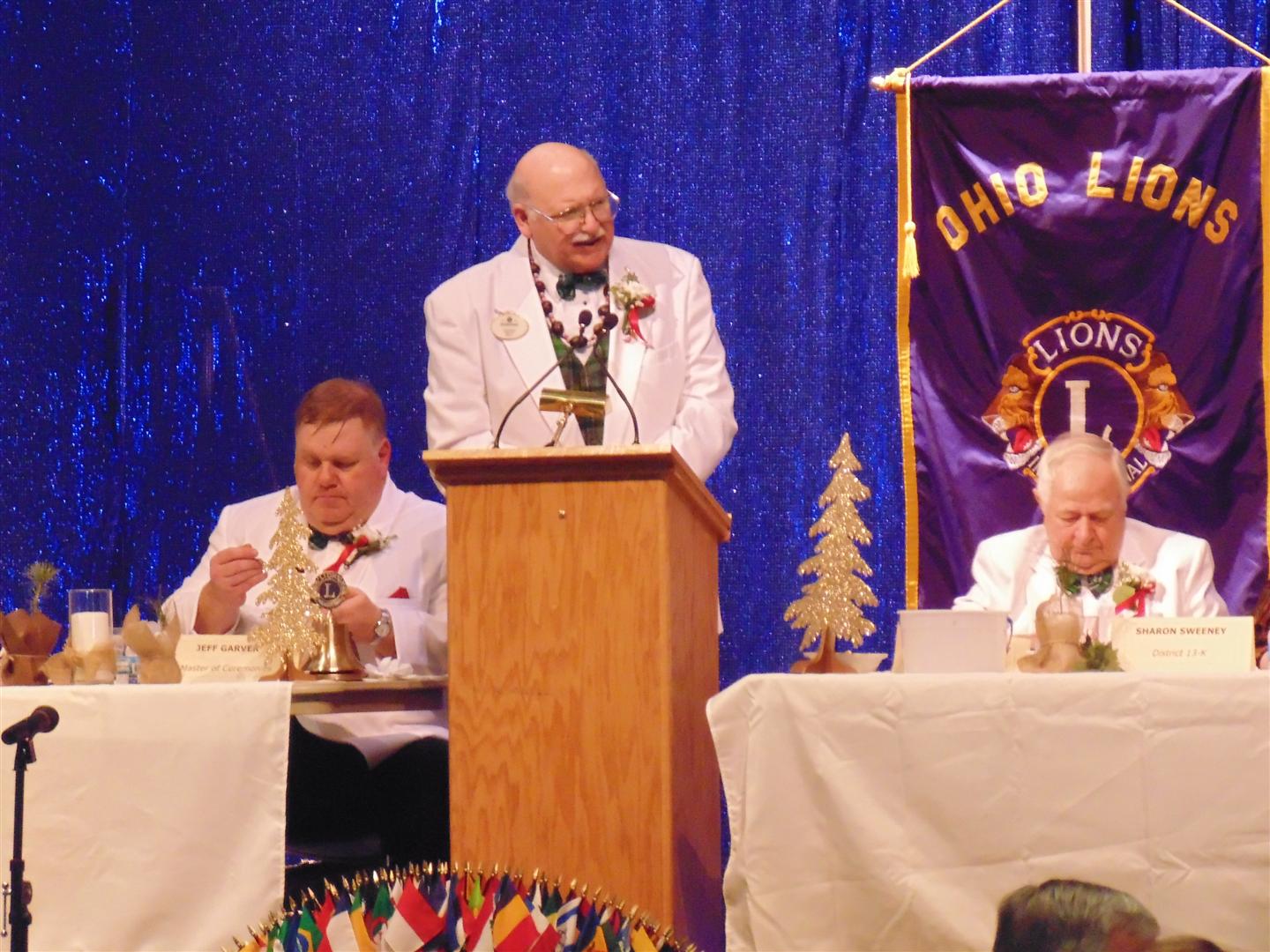 Gov. Bill Addresses the Grand Banquet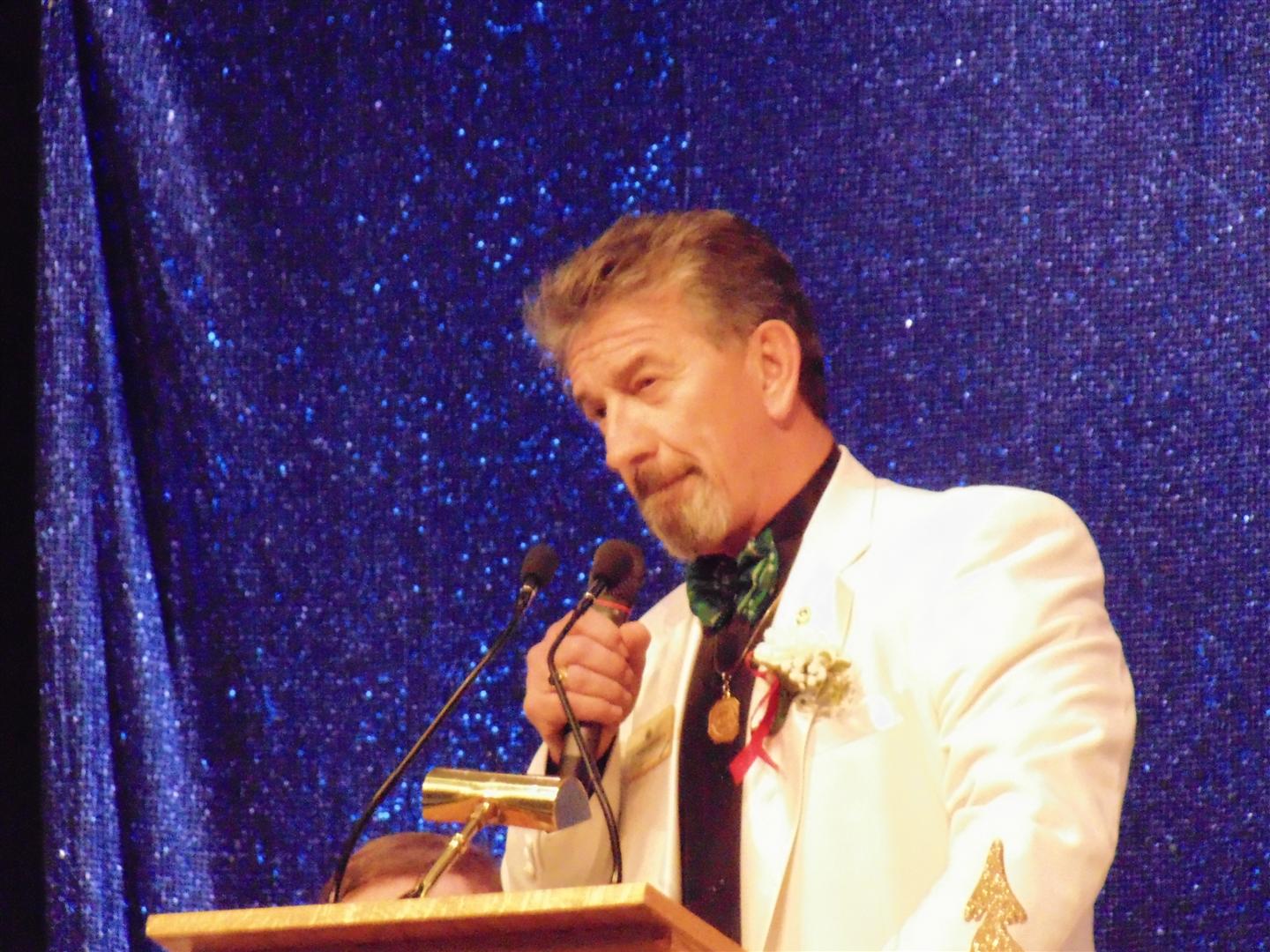 PID Jerimiah Myers Gave An Inspiring Talk
Above, PID Jerimiah Myers sang North to Alaska to close out the district convention. Click above to see it. (Video by Heath Lion Marty Sisco)