May 2021
#lionsdayofservice – "Hearts & Flowers"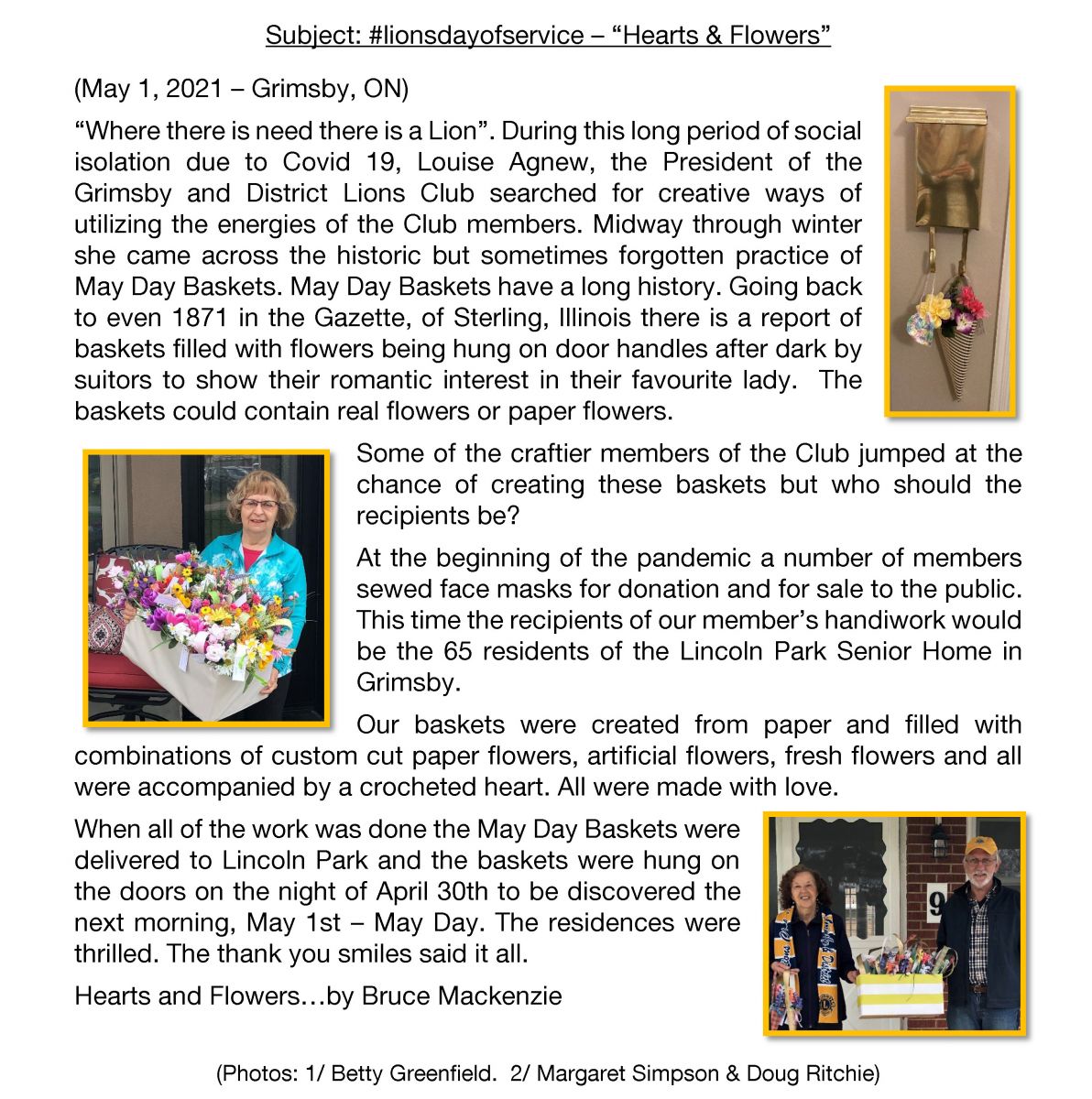 March 2021
Merritton Lions 2nd Food/Clothing/Bottle Drive a Roaring Success!!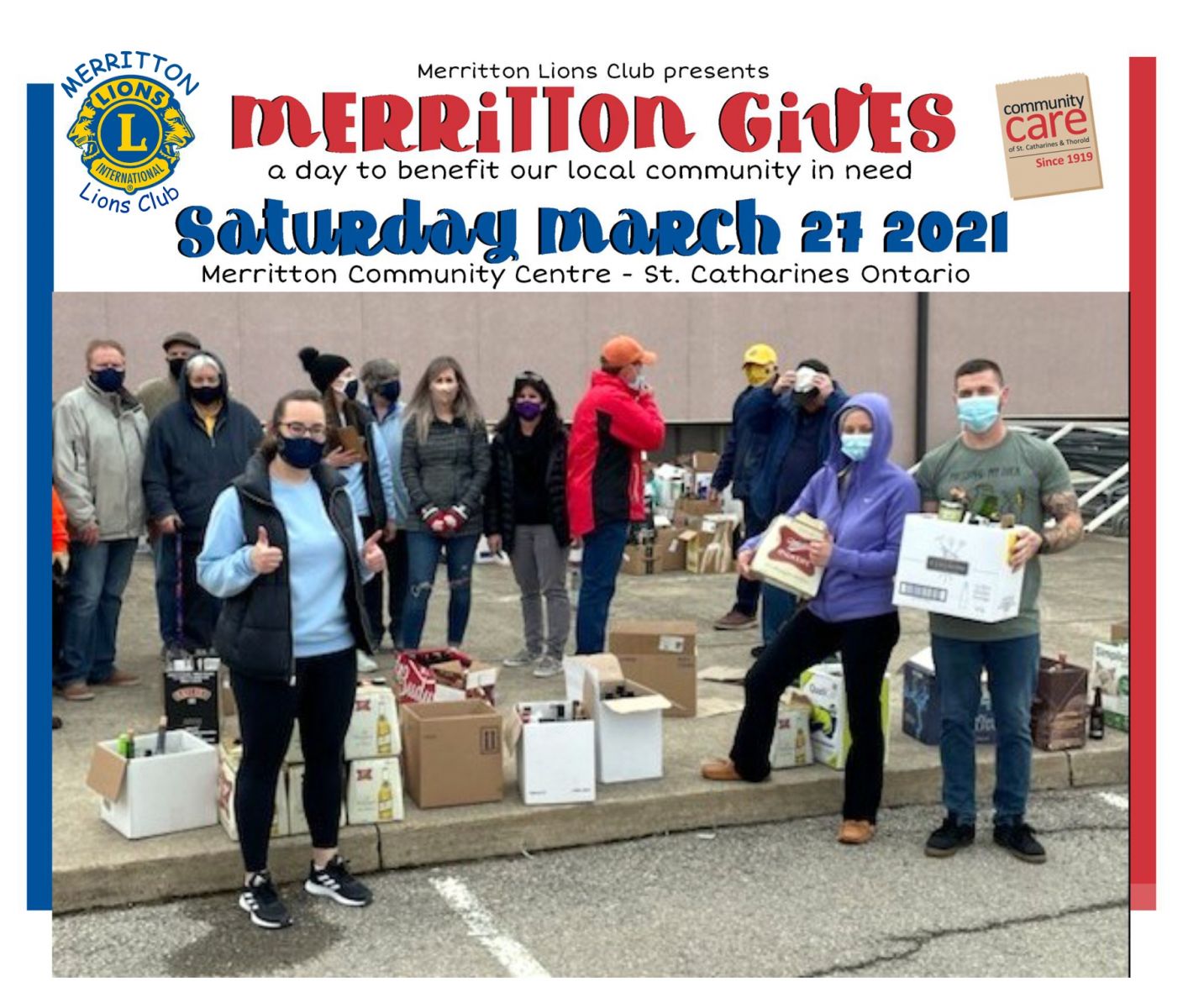 The Lions Club Merritton held their 2nd Food, Clothing and Bottle drive of this Lions year on Saturday March 27, 2021. For five (5) straight hours donations streamed in from the surrounding community, with most people dropping off all three items requested. Twenty-five (25) Lions and family members collected 1100 lbs of food, 1500 lbs of clothing and over 20,000 empty containers.
All food and clothing were distributed to Community Care of St. Catharines & Thorold. The $5000 netted from Bottle Drive and raffle will be distributed to organizations in our local community dedicated to helping others. Local organizations previous supported by our fundraising efforts this year include YWCA Oakdale Commons, Wellspring, Start Me Up Niagara, St Georges Breakfast Program, Salvation Army, Community Care, United Way, St Vincent De Paul, and Westview Centre 4 Women.
March 2021
St. Davids Lions: Provide Casserole Meal Kits for
Community Food Banks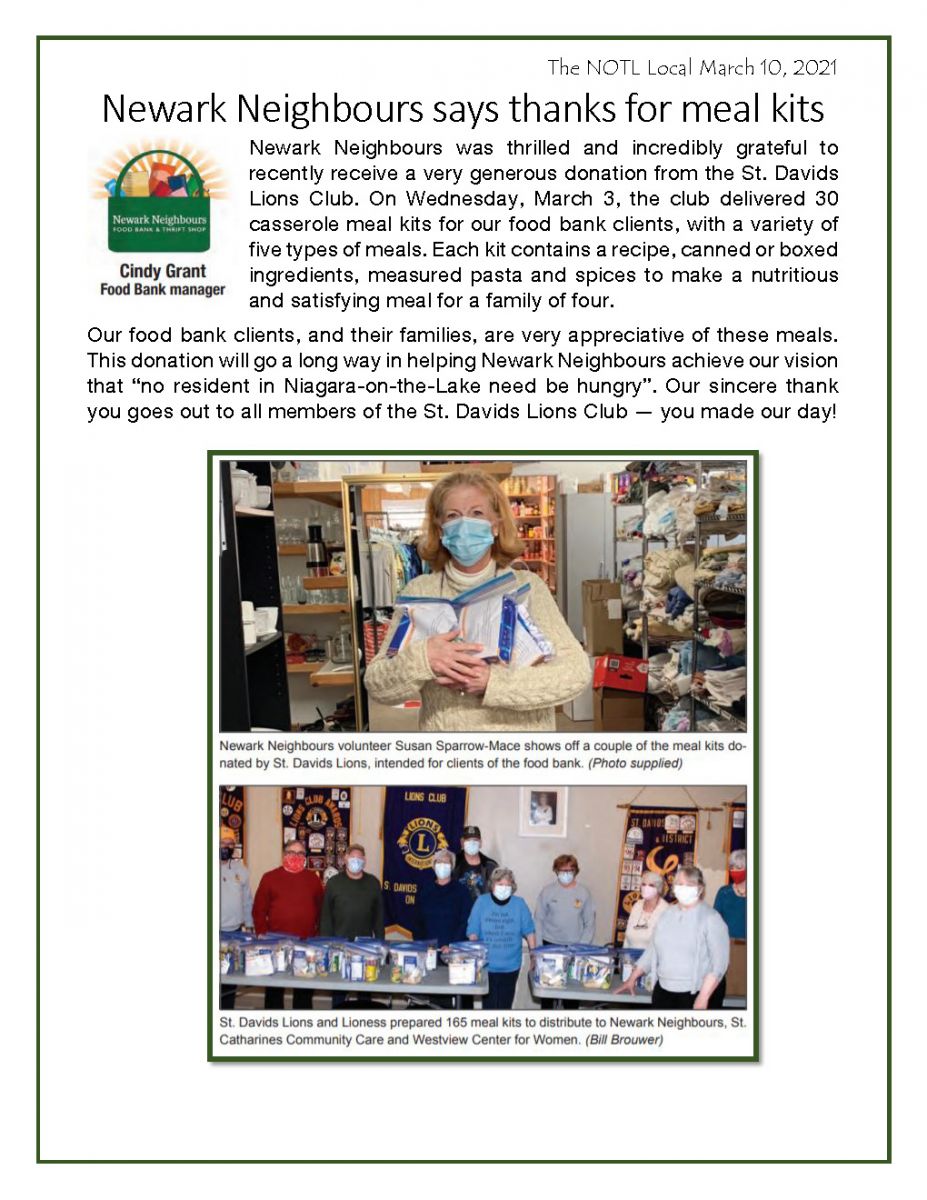 February 2021
Chippawa Lions: Launch Ambitious Community Outreach
Promoting Nutrition, Mental Health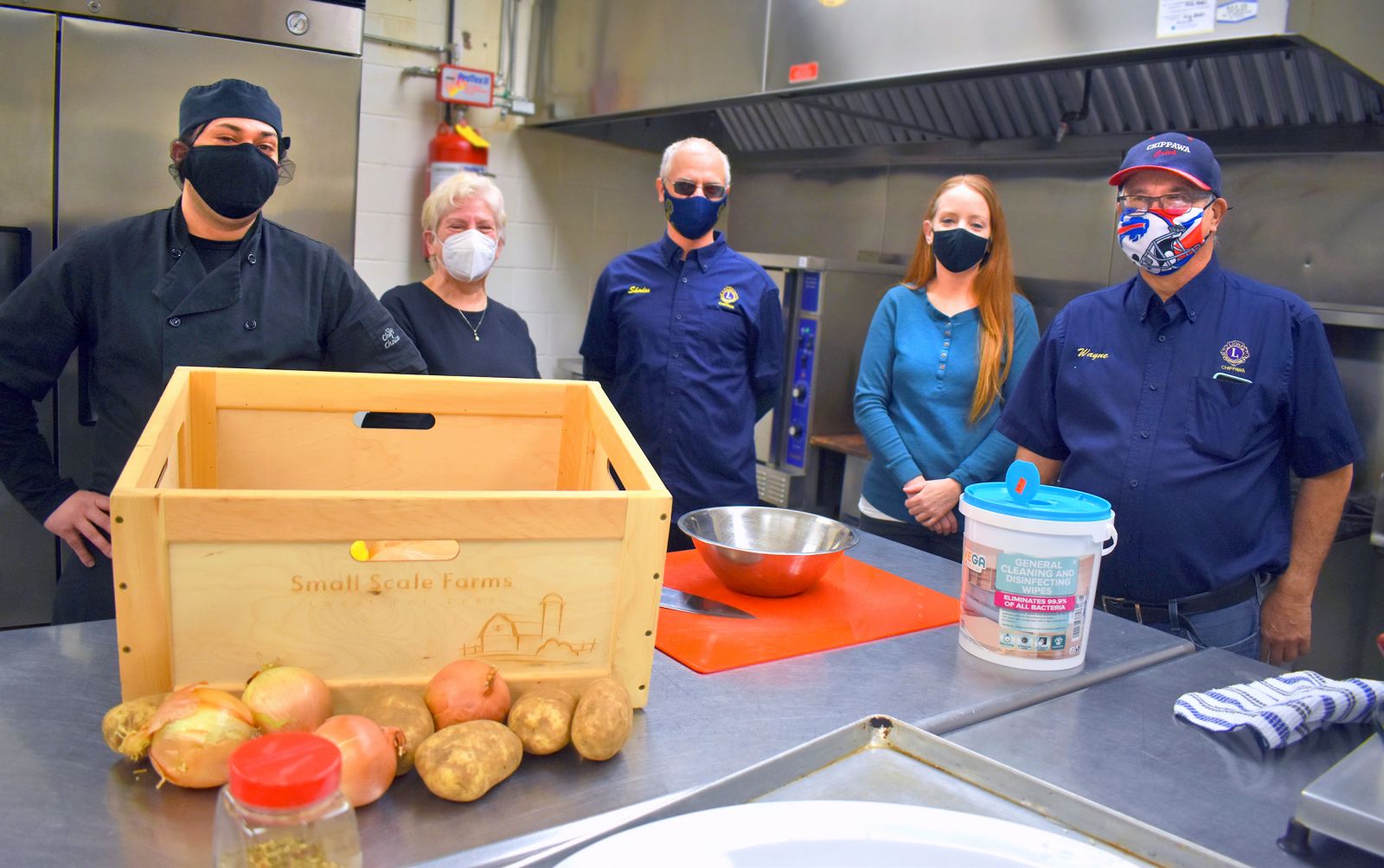 Awhile back, Mark Anthony King and his friend Hawk Gurdal caught wind of some local families in Chippawa that were struggling, so they planned to cook up a handful of meals and got permission to use the kitchen at the Chippawa Lions Club.
King, a drywall by trade, and Gurdal, a chef, had no idea what they were starting.
That initial, modest idea to help a few families quickly blossomed into something much, much bigger.
It's a project that is shining a light on how folks in Chippawa band together and look after their own.
Realizing just how great the need is as this pandemic approaches its second year in Niagara, the Lions formed a new community outreach committee and promptly appointed King as the chair. Then upwards of 50 volunteers and a number of community partners, such as the Matters of Chippawa committee, Small Scale Farms in Thorold and Mainly Niagara, joined the effort in what has now become an ambitious plan to cook up and deliver free, healthy meals to vulnerable people.
Plans also call for mental health outreach using virtual get-togethers for people who may be dealing with isolation, loneliness, or mental health issues such as post-traumatic stress disorder.
The plan calls for meals to be cooked up in the commercial grade Lions Club kitchen, with volunteers delivering them to various church pantries and other places where people such as seniors, those living on social assistance, veterans and first responders and others will be able to pick them up.
"Everything's free," said King. "We're going to start producing 40 or 50 meals a week, then gradually ramp up to 350 to 400 meals a week and by March we're talking a couple of thousand meals a week."
The City of Niagara Falls gave the Lions permission to access $1,000 in money from Delta Bingo operations that club members volunteer at, while Small Scale Farms' Renee Delaney is donating fresh vegetables and produce.
The first small batch of meals was cooked up and delivered in February, including potatoes, onions, squash and baby corn donated by Small Scale Farms.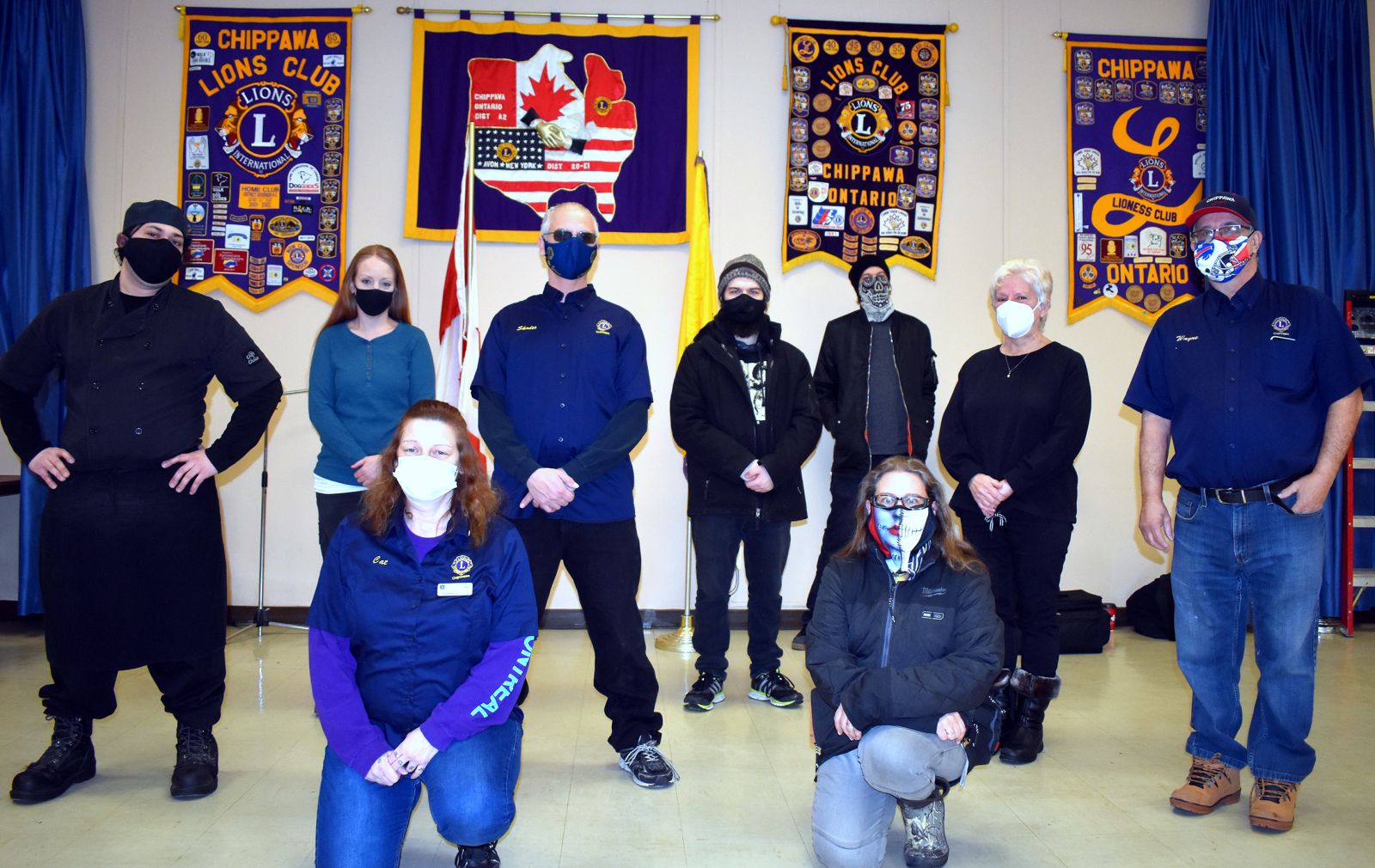 February 2021
Grimsby Lions: "Setting Roots" on the Waterfront Trail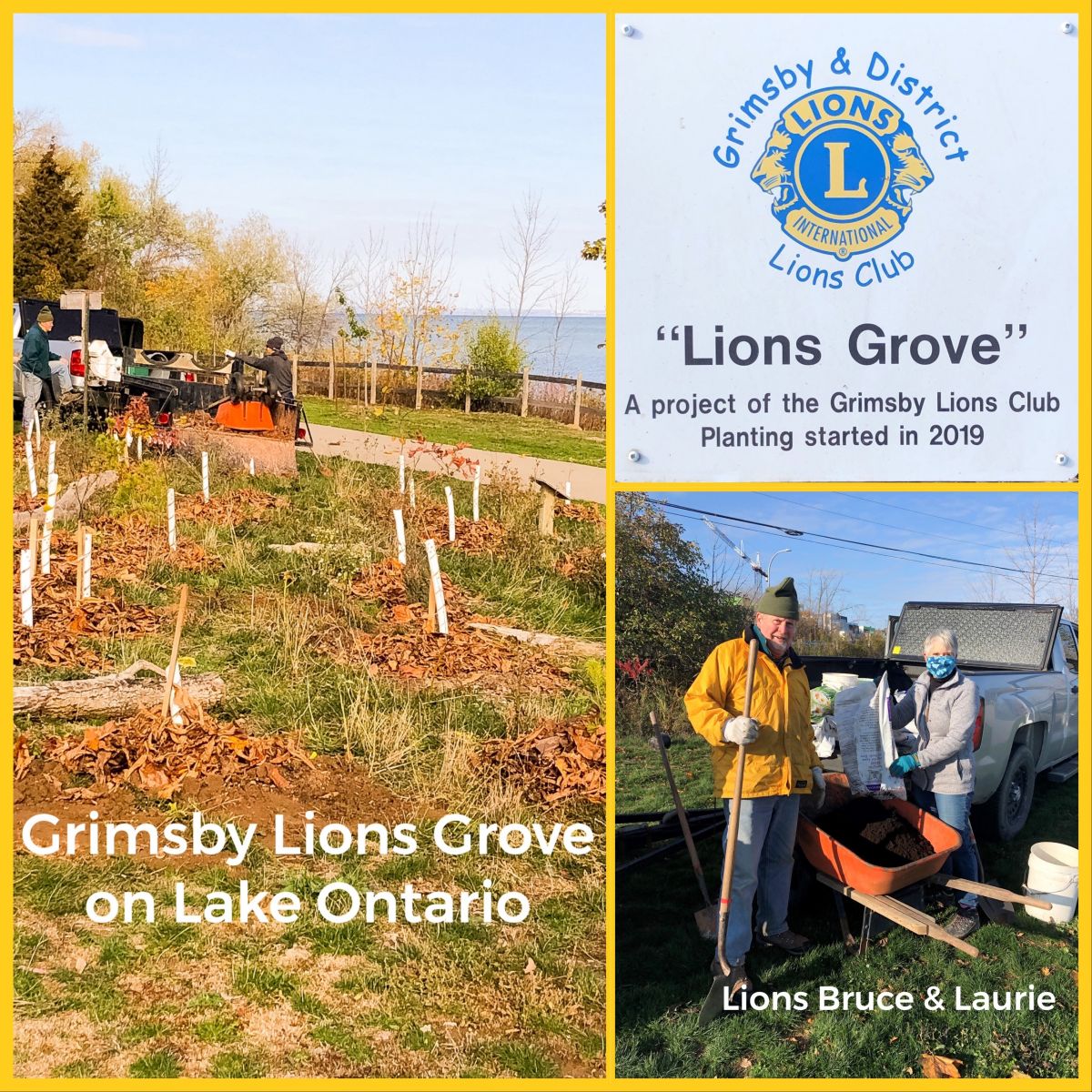 The Grimsby and District Lions Club has taken on a unique tree planting project along Grimsby's new Waterfront Trail. The Club is planting a grove of native Carolinian trees and shrubs. The location comes with a wonderful viewscape of Lake Ontario. The Club has already donated two benches to the trail and the grove is located by our first bench.
The soils of this area are very disturbed by construction and are not welcoming to young trees at all. The species selected include Red Oaks, White Oaks, Hickory, Hackberry, Black Cherry, Tulip and Sugar Maples to reflect what is found growing in our nearby heritage woodlots. All of the trees have to be planted with good amounts of amended soil. With our droughts of late we have had to bring in water to help the saplings get a root down.
We have started with small trees for affordability and a better survival rate in the difficult conditions found on the site. Along the lakeshore in Grimsby almost all of the native woodlands have been removed and now with the recent loss of ash trees some areas are bare of trees. As time and funds allowed we have been expanding our grove. Hopefully, we will end up planting more groves.
February 2021
Merritton Lions: Supporting the Coldest Night of the Year 2021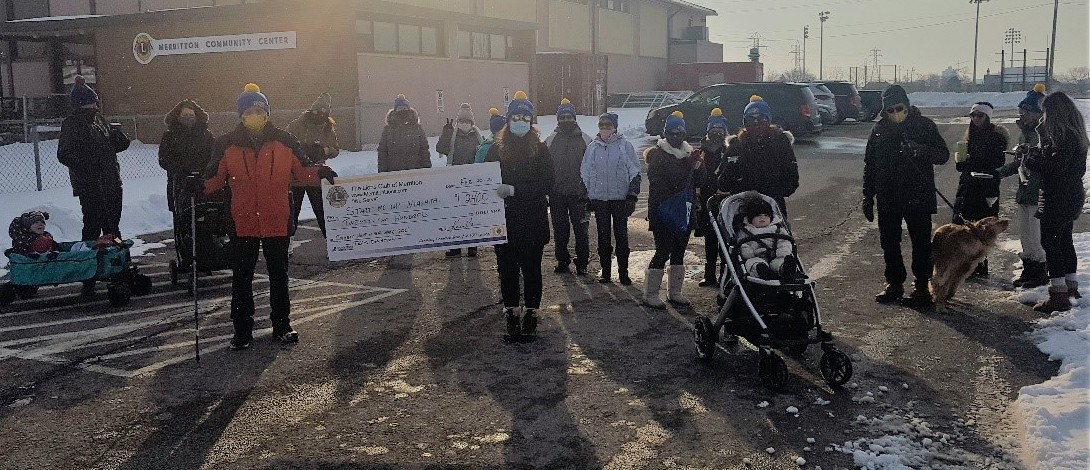 The Lions Club of Merritton, once again, was a supporting sponsor for Coldest Night of Year Walk held in St. Catharines on February 20, 2021. The Coldest Night of the Year is a family friendly walk-a-thon that raises money for people experiencing homelessness, hurt and hunger. The event is a major fundraiser for Start Me up Niagara, who offer a place of safety and support for those struggling with poverty and homelessness in the core of our city.
Keeping everyone safe, this year's event was completely virtual, with all walkers free to walk 2 or 5 km in their own community. Our club had a total of 15 members participate in the walk, along with 7 family members. At 90, Lion Dunc Tolley was our oldest walker and prospective member William Peddie, 17-day old son of Lions Natasha and Troy was our youngest.
With our sponsorship and fundraising our club was able to donate a total of $4500. The community was also incredibly supportive, as the goal of $150,000 was exceeded.
Next year, it would be great to see other Lions Clubs support the Coldest Night of Year walks held throughout our region.
February 2021
Fishervill Lions: "Making Ice" Since 2014
The Fisherville Lions opened the Multi Purpose Recreation Facility in 2014. The purpose of the facility was hockey, ball hockey, basketball, tennis, or renting it out for events. We have been putting in natural ice every winter we are able to. This year was a challenge, with the warm start to winter and Covid lockdowns and restrictions. On Thursday, February 4th, the rink was flooded for the first time. We proceeded to flood Saturday February 6th in the morning and afternoon, and Sunday February 7th in the morning, before opening the rink to skaters that afternoon. We have a dedicated crew of Lions and volunteers who come out nightly to flood the rink at 9:00 pm. We have a Zamboni that was donated to us by a member and his family and Lions who drive it proudly! Right now we ask that the Public only skate, with no hockey permitted right now and that everyone abide by all the Covid rules and regulations.
January 2021
Tillsonburg Lions Support Dog Guides - $1,700 Raised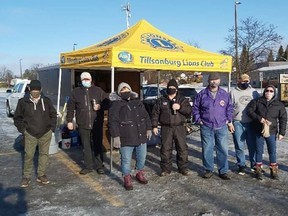 Tillsonburg Lions Club held its first post-New Year's bottle drive on Jan. 2 and community donations filled a trailer...and more!
"I think we were just a little over $1,700 raised," said Tillsonburg Lion vice-president Kelly Oatman. "It was an awesome day. It definitely exceeded our expectations."
"It was really good," said Blair Oatman, Lions Regional Zone Chair. "People started showing up about 8 a.m. and we shut it down around 12:15 p.m. and we filled an 8×12 trailer right to the ceiling."
"We actually had to start loading some of it into our pickup truck because we couldn't get any more in the trailer," said Kelly. "It was full!"
December 2020
Selkirk Lions Support Community Food Bank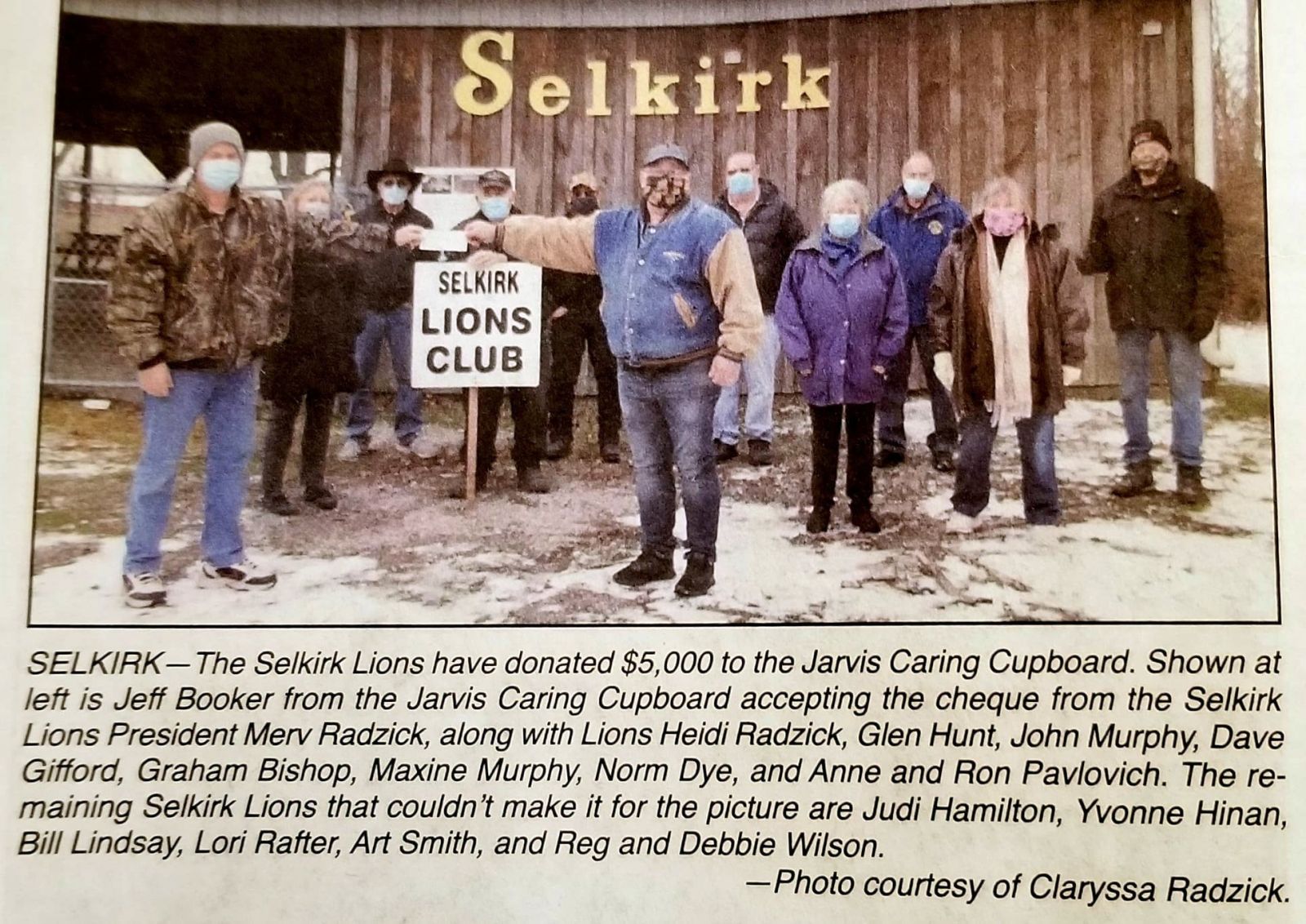 December 2020
Port Dalhousie Lions Community Outreach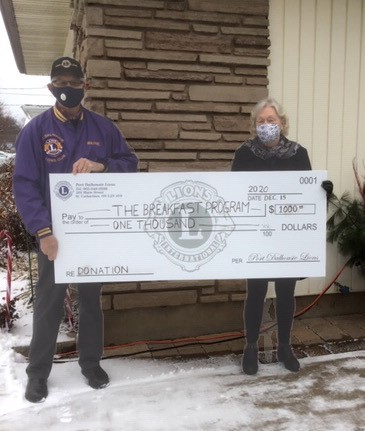 Port Dalhousie Club President Wayne Stoddart formally presents $1000 towarda a local schools
Breakfast Club Program.
December 2020


Grimsby Lions: Lending a Hand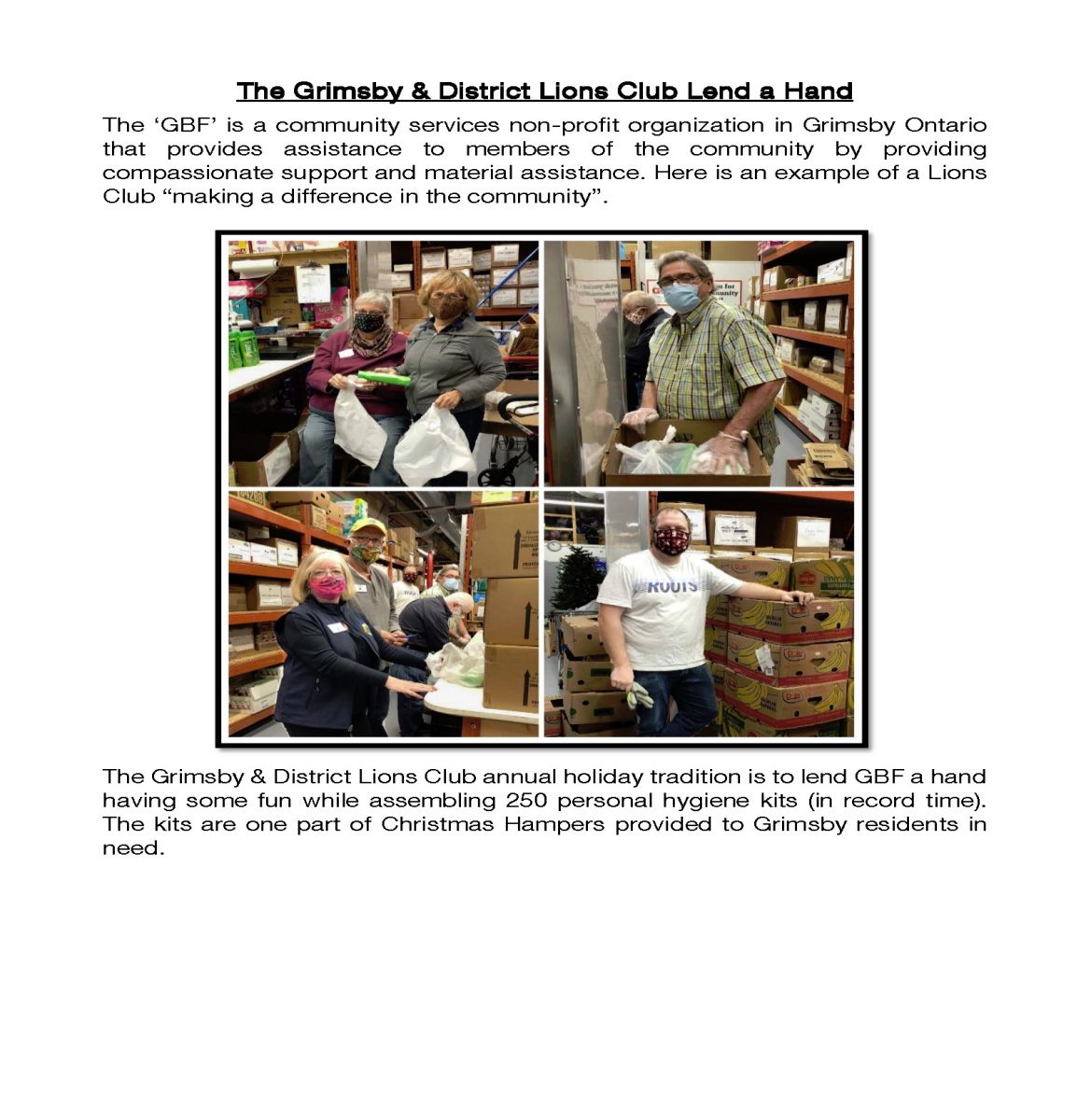 November 2020
St. Davids Lions Assemble Casserole Kits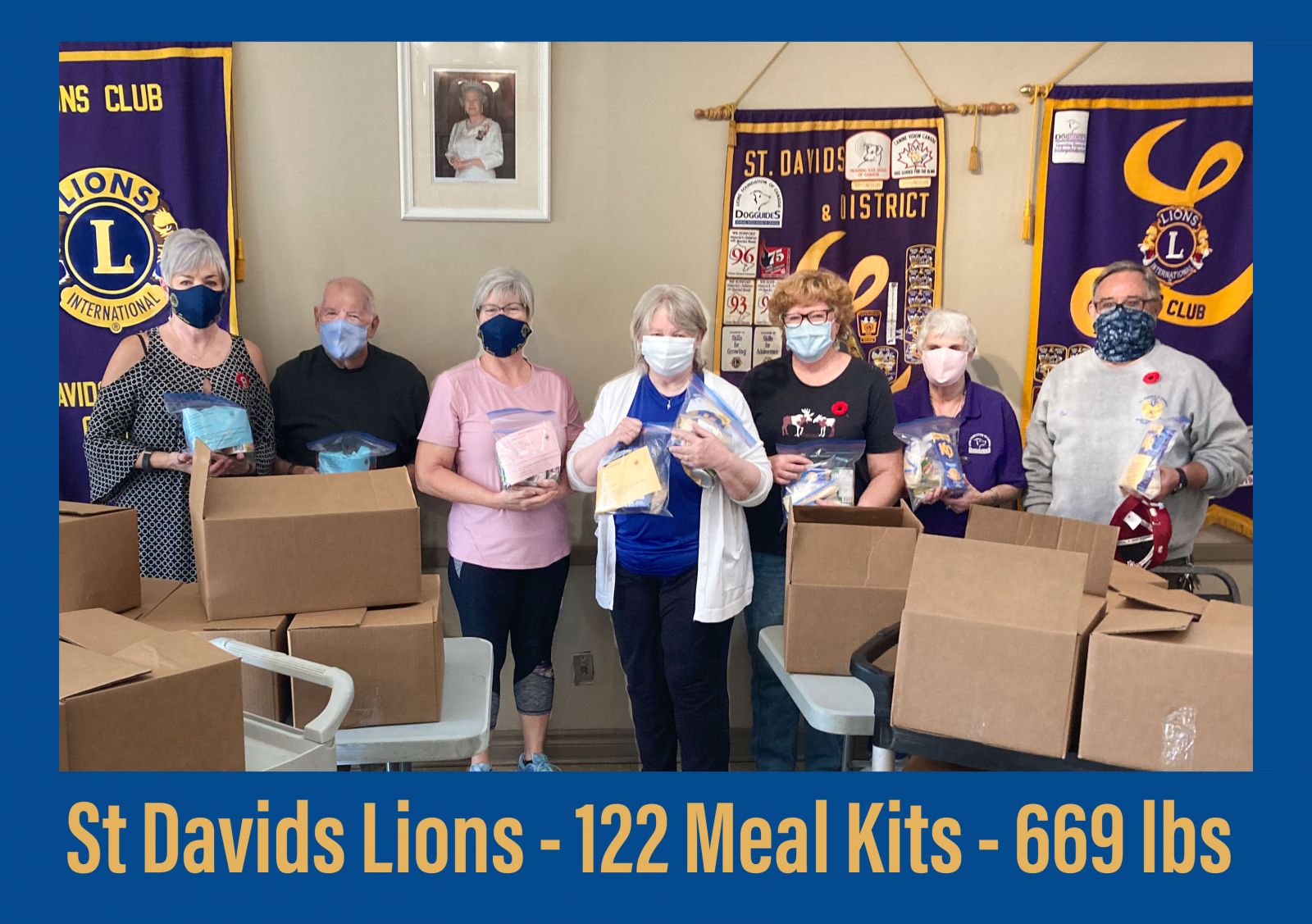 St. Davids Lions Club members donated the ingredients to prepare 122 Casserole meal kits. The kits are designed to provide a meal for a family of 4-6 members.
Each of the 6 casserole kit variations included a receipe, food stuff and spices.
The 122 meal kits were donated to the Niagara Falls 'Project Share' food bank. The club has plans to contribute additional meal kits to the Niagara on the Lake and St. Catharines food banks in early 2021.
November 2020
Merritton Lions Host "Merritton Gives" Day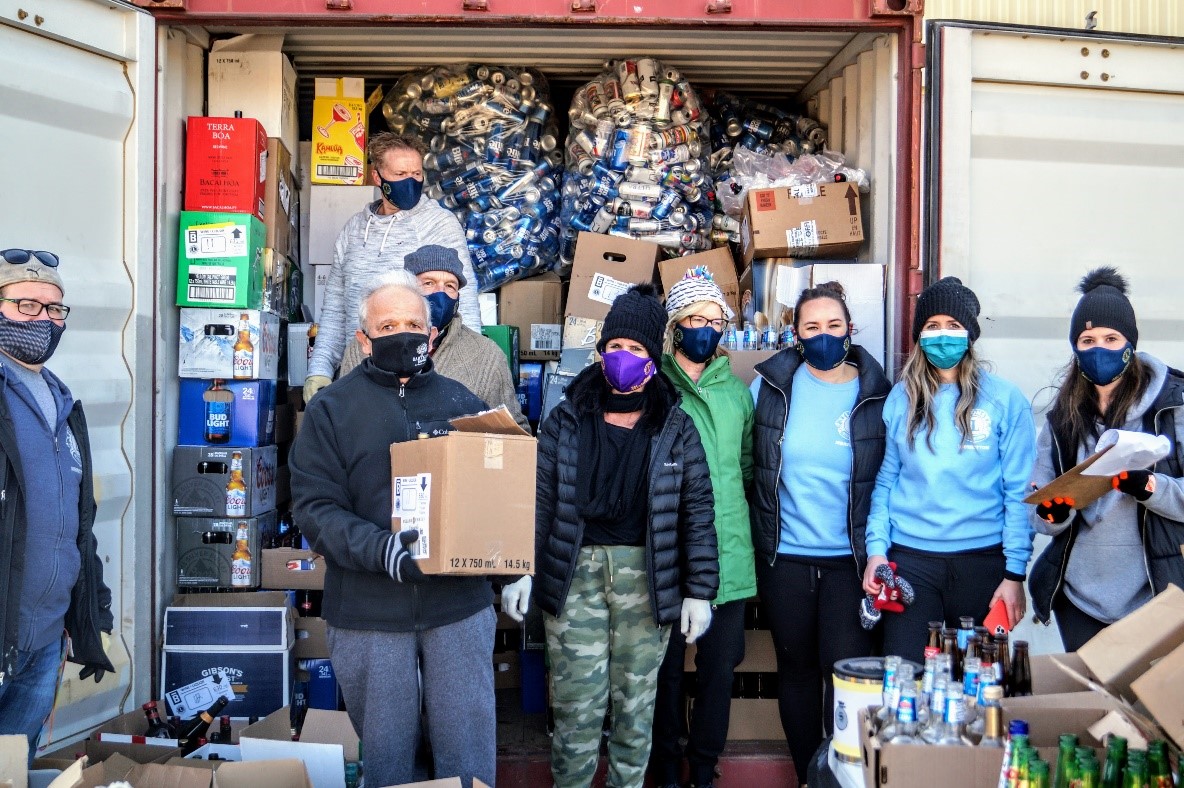 The Lions Club of Merritton hosted a successful "Merritton Gives" day on November 14, dedicated to helping our community in these challenging times. The Community was asked to donate non-perishable Food Goods, Winter Wear and Empty Bottles. Below is a summary of what was collected.
Food Drive – collected 1650 lbs of non-perishable food goods

Winter Clothing Drive - filled 4 bins, weighing over 175 lbs

Bottle Drive - along with cash donations netted over $2000
All food and clothing collected has been delivered to Community Care, St Catharines. All funds collected will distributed equally to the following four (4) organizations, who are dedicated to helping others.
• Community Care of St. Catharines & Thorold
• The Salvation Army Niagara Outreach Program
• St Vincent De Paul Lunch Program
• St. George's Anglican Church Breakfast Program
A follow-up drive is being planned for the spring of 2021.
September 2020
Ridgeway Lions Respond to COVID-19 Lockdown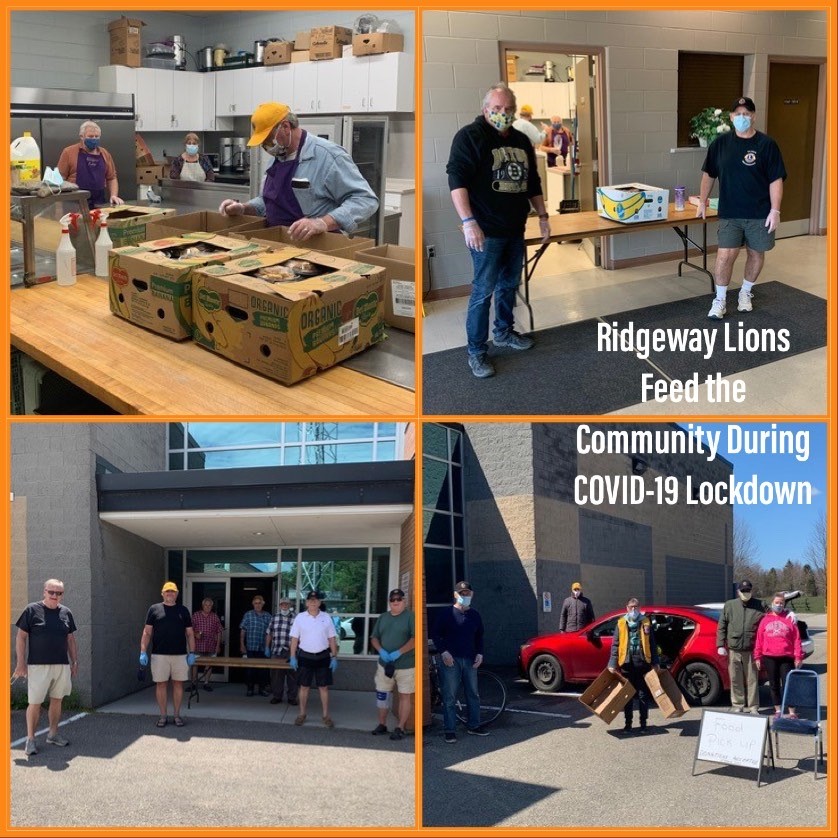 Click the Link Below to View a Community News Report
September 2020
THE RIDGEWAY LIONS COVID-19 RESPONSE
TO A FAMILY IN NEED
The Ridgeway Lions and the Chute-Pelosini Family partnered to host a golf tournament in an effort to support Benjamin Chute-Pelosini. Benjamin suffers from a rare disorder called septa-optic dysplasia. The disorder causes blindness and severe immune system vulnerabilities such as autism and he requires costly speech and physiotherapy therapies.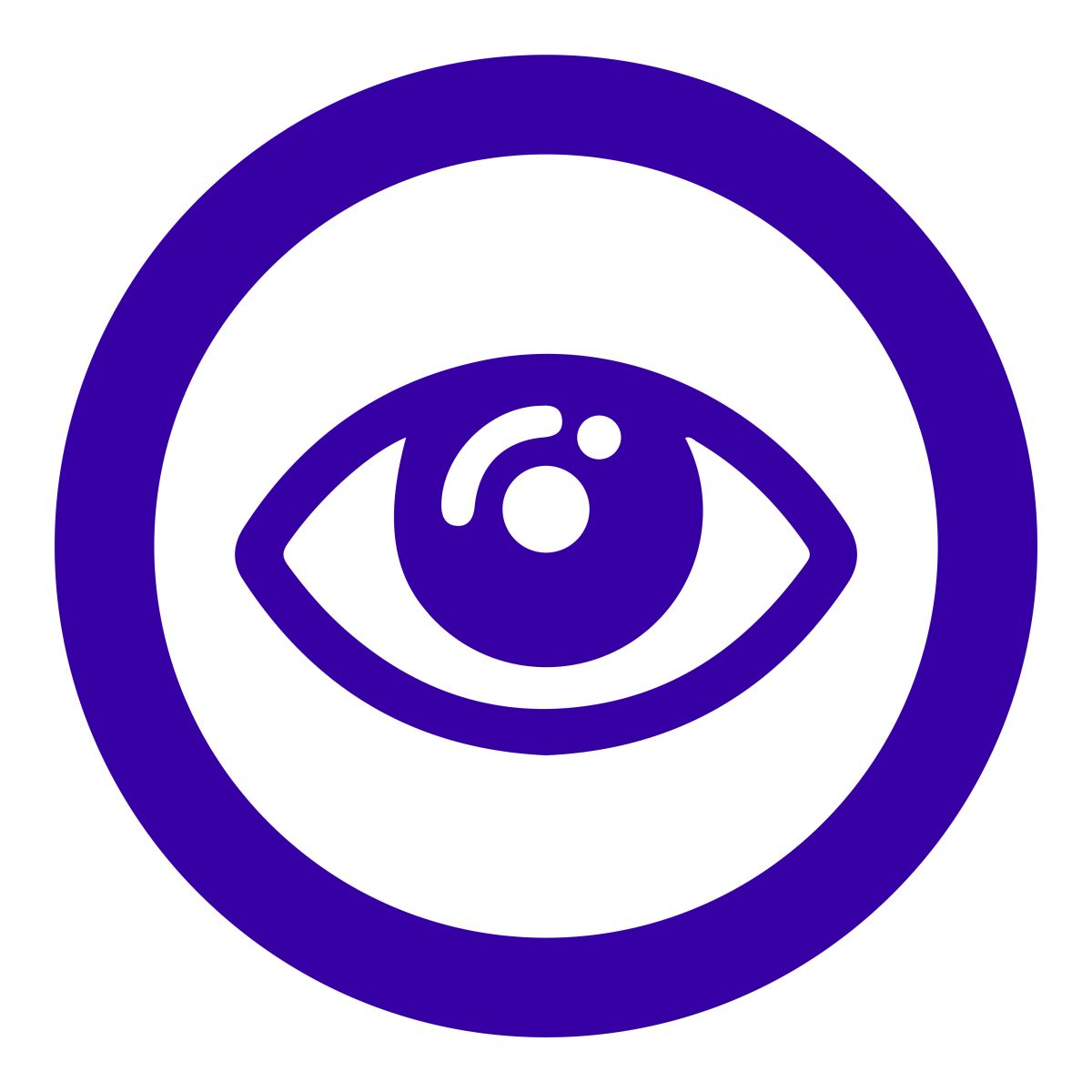 November 2020
St. Davids LEO Club - Eyeglass Recycling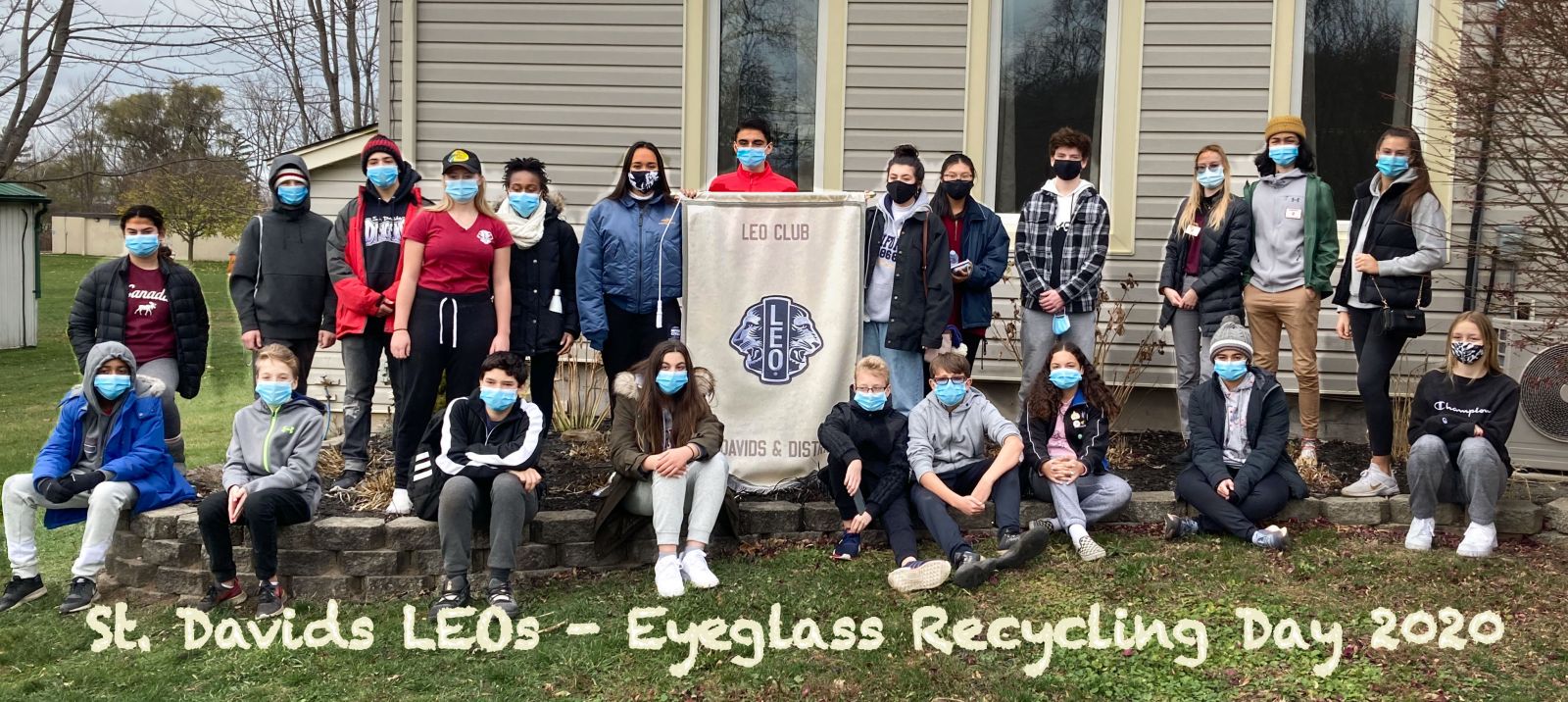 During a planned Wednesday school PD Day - 23 St. Davids LEOs gathered for more than 5 hours to sort through a 2 year stockpile of recycled eyeglasses (and hearing aids). At the end of the day 92 boxes containing 14,086 pair of eyeglasses were prepared for shipping to CLERC (Canadian Lions Eyeglass Recycling Centre) in Calgary.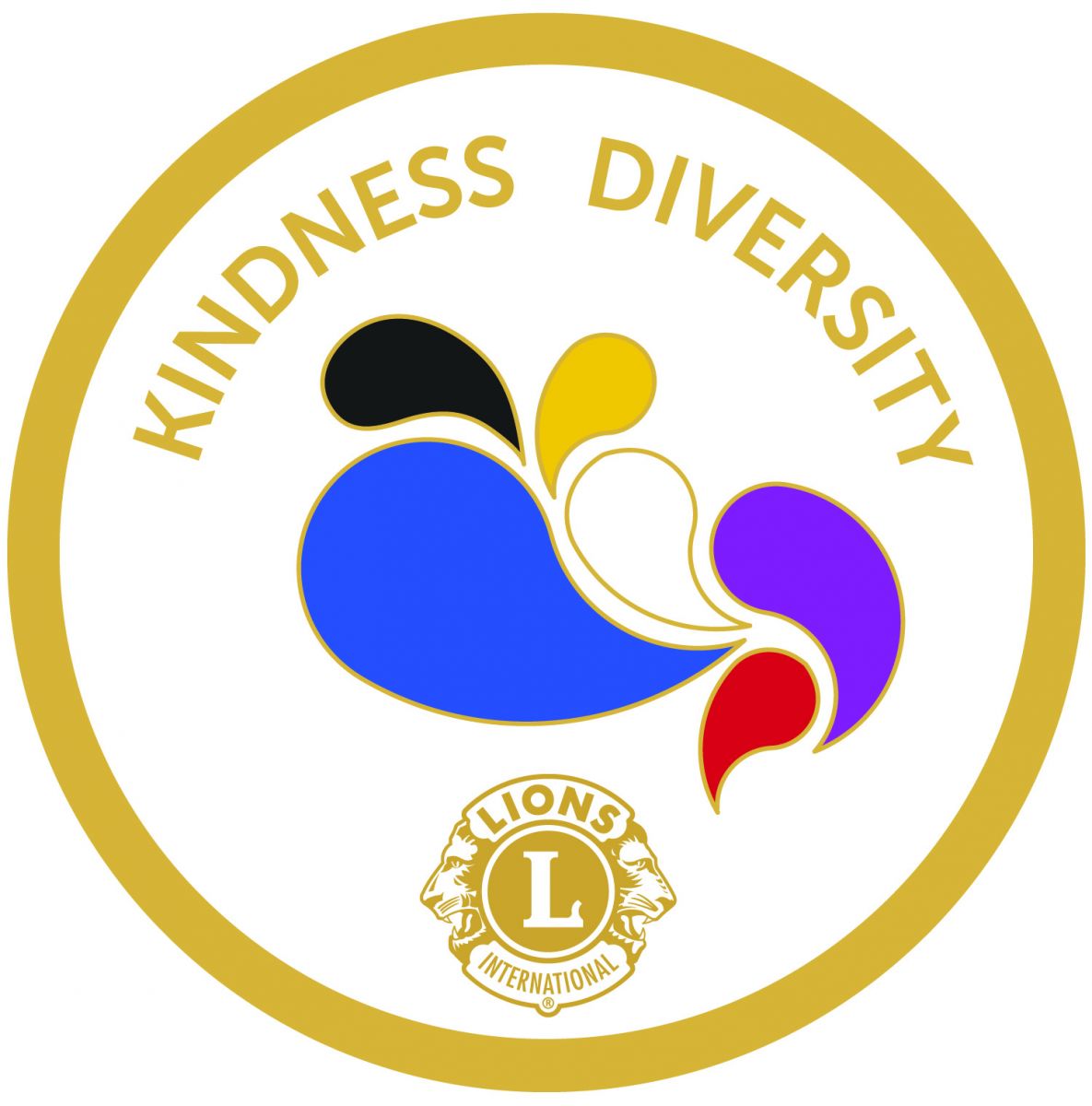 United in Kindness and Diversity
December 2020
Fonthill Lions Assist Community Needs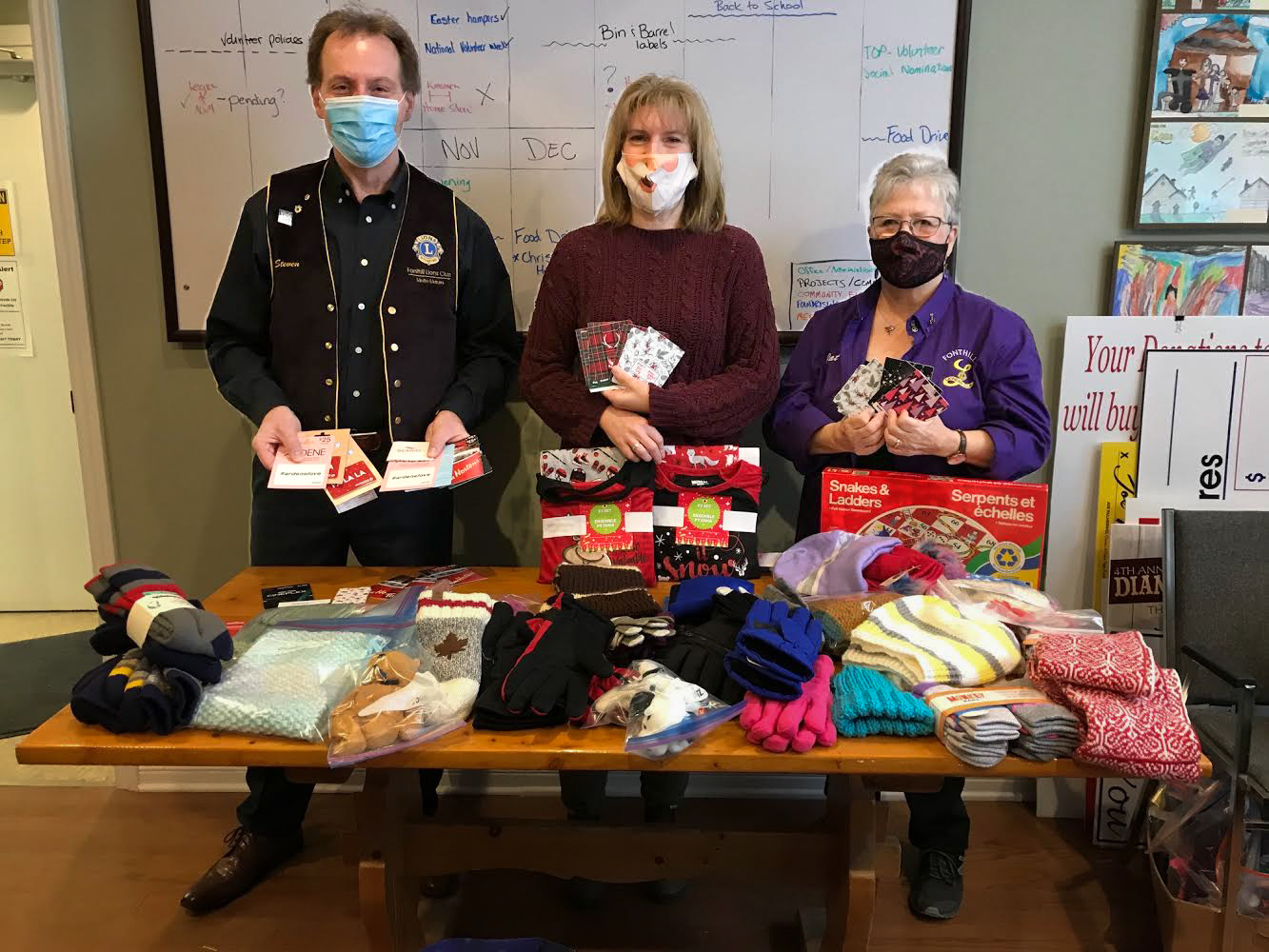 Fonthill Lions President Steve Pellerin and
Lioness President Pat Norton present Pelham Cares
with $600.00 worth of gift cards, plus toques, gloves, scarves, socks and pajamas.
October 2020


Port Dalhousie Lions Assist Disabled Community Resident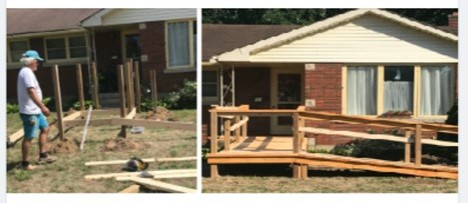 The Port Dalhousie Lions Club would like to thank the Delta Bingo Sponsors Association of St. Catharines for assisting our club in serving our community. The funds received allowed the club to assist a local resident in need.
Approached to assist a local Port Dalhousie disabled resident and her disabled daughter by improving access to their home: they were confined and not able to leave their home without significant assistance.
$1,400.00 was donated to cover the materials and the club provided the labour to build a ramp to the entrance of their home.
December 2020
Lynn Valley Lions: Empties can be Fulfilling